Slow Cooker Black Beans: Sweet, Spicy & Super Easy
Joli Selten-Forbes | Joli Selten-Forbes
Slow cooker black beans that are full of tropical island flavors. They're so easy to make, you'll be doing it all the time!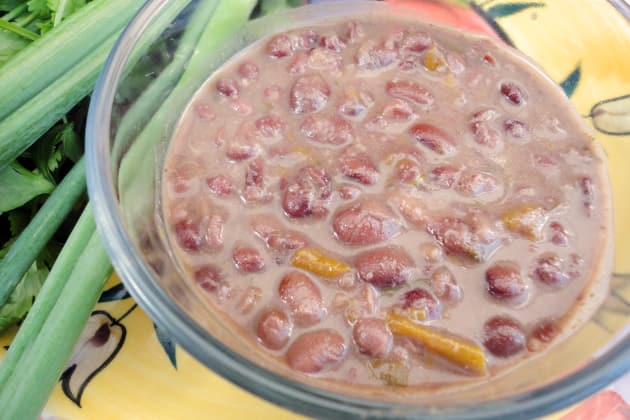 Spring is here and we've just bought our first travel trailer! My family is a "hit-road" bunch of folks and we are headed outta town!
Traveling to the mountains near the beautiful border town of San Diego, CA, we are meeting up with some friends for a weekend getaway. So my girlfriend and I are deliberating on how we can split up the meals between our two families—I've finally learned that splitting the cooking and the cleaning is the only way to go on short camping trips! So our first night out, we're going to have a Latin feast and I'm making this vegan, gluten-free black bean recipe that is both spicy and sweet; my two favorites!
Because I'm a super busy working mom, I'm going to call on my favorite cooking tool—my large crock pot—to help me pull this one off. So while I fold all the laundry and pack for the trip, the crock-pot will be cooking my beans. We make a great team!
I am planning on serving this recipe with a simple Spanish Rice (sautéed onions, garlic and a can of chopped tomatoes mixed with cooked rice… very basic) and Pollo Asada. These fragrant, coconut, creamy beans should be the perfect compliment side dish to such a menu.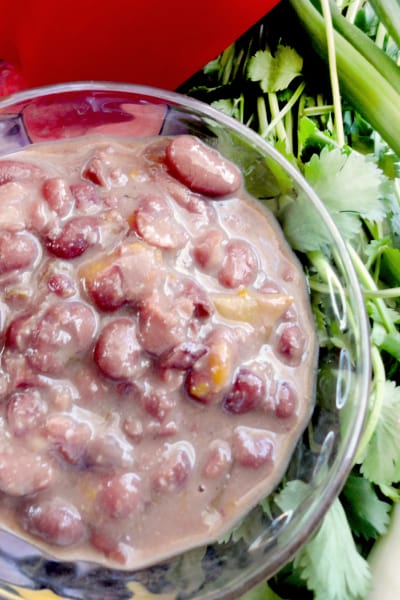 Personally, I like my beans slightly mashed, and mostly whole. However, you could easily refry these beans after they've been sufficiently slow cooked by adding coconut oil to a frying pan and mash/frying in small batches.  (The head chef at Mama Love Grub taught me that trick when we made the "Latin Lovers Catering Menu for a birthday party once.
You can play with the sweet and the spice to match your pallet's levels. Interchanging amounts of jalapeños, juices and coconut milk will alter these flavor elements. Also, while your testing and stirring after hour 3 (see Direction #6), feel free to make adjustments here… because your flavors have had time to meld into one another (though they will continue to change is it cooks and cools).
So for instance, my first pass at this recipe I made it too spicy. So I added more sweet coconut milk, agave nectar and salt to counteract the heat.  Play with it and make it your own!
Enjoy!!
xoxo
Looking for more gluten free, vegan side dishes? Try Joli's Barley Beet Salad and easy Microwave Spaghetti Squash!
Ingredients
Coconut Oil Cooking Spray, enough to coat the bottom of the slow cooker
2 cups Coconut Milk
1 cup Orange Juice, pulp free
1 cup Canned Pineapple, diced with juice
1 cup Boiling Water, preferrably filtered
16 ounces Black Beans, dry
Lime Zest, from one whole lime
Fresh Lime Juice, from 2 whole limes
1 ounce Canned Jalapeño Peppers, diced
1/2 large White Onion, diced
3/4 cup Fresh Cilantro, chopped
2 tablespoons Cumin
1 tablespoon Coriander Powder
4 cloves Garlic
Organic Agave Nectar, to taste (3 tablespoons recommended)
Sea Salt, to taste (3 tablespoons recommended)
Lemon Pepper, to taste (1 tablespoon recommended)
Directions
Place dried beans in a pot with water enough to cover and soak 8-12 hours.
Strain the water out of the beans in a colander. 
Rinse with cold water and discard any beans that are broken or discolored.
Place all ingredients into your crock-pot … order is irrelevant.
Cover and cook on "high" for 6-8 hours.
After the 3rd hour, check beans and stir once per hour until your desired softness is reached.
Let the beans cool for about an hour.
Mash beans with a potato masher.
Serve warm.
Notes
In case you added too many jalapeños, make sure to have some sour cream around to quell the fire!
Garnishing spicy black beans with a dollop of sour cream and chopped green-tail onions never hurt anybody… I'm just saying… except maybe a vegan.. HAA! Oh, and if you're not vegan, feel free to throw in Mexican Blend shredded cheese or even some sour cream to the crock pot at hour 5 and be sure to stir it in well.

Recommended
Tags: Vegan, Gluten Free, Vegetarian, Beans, Slow Cooker, Crock Pot, Easy, Pineapples