No Knead Artisan Bread: Crusty and Wonderful
Kate Donahue | Food Babbles
No knead artisan bread comes together in minutes with hardly any effort. All it needs is time to become something wonderful.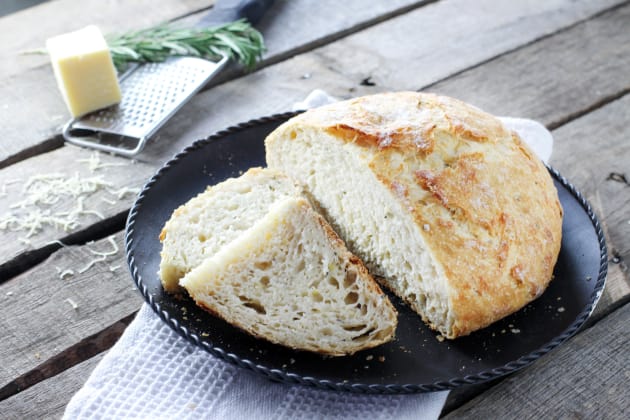 What you're feasting your eyes on right this very moment may, in fact, be the most beautiful loaf of bread I've ever baked. Want to know something else? It's by far and most definitely the easiest loaf of bread you'll ever bake. They don't call it "no knead" for nothin'. Which translates into "no work." Just sit back, relax and let the yeast do its thing.
I'm not kidding. You'll just get yourself a big bowl. Toss in some flour, yeast, salt and water. Grab a wooden spoon and stir it until a shaggy dough forms. Cover it up with plastic wrap and that's it. Now you'll let it take a nice long rest, about 12 hours. Put this dough together before you go to bed, then bake it the next day and you'll have fresh bread to go with dinner in the evening.
When you uncover it in the morning, you'll see that it has more than doubled in size and has little air bubbles dotting the surface. Now it's ready for baking. You didn't have to use any of those muscles you've built up from kneading other loaves of bread. Nope, just a little stir is all it takes. The only thing required to make this gorgeous loaf of bread is patience.
This no knead bread has the most beautiful crust I've ever made. The ease of this recipe is my favorite part, but after that I love that this bread is a blank canvas. It's pure perfection just as is. A golden crust, a pat of butter, nothing more is needed. But if you're anything like me, a loaf of bread like this just begs for experimentation.
For this particular loaf of bread, I added fragrant fresh rosemary, bright lemon zest and a scattering of nutty gruyere cheese. Those three flavors pair so nicely in this tender bread.
Have a sweet tooth? How about adding dried cranberries, almonds and orange zest or raisins with walnuts and cinnamon? Maybe you'd just like to add cheese to yours. Or maybe a mixture of herbs. Like I was saying, this crusty no knead bread is a blank canvas, so get creative!
Ingredients
3 cups Bread Flour
1 3/4 teaspoons Salt
1 teaspoon Instant Yeast
1 1/2 cups Gruyere Cheese, shredded
1 1/2 tablespoons Fresh Rosemary, coarsely chopped
Lemon Zest, from one large lemon
1 1/2 cups Water
Directions
In a large bowl, whisk together flour, salt and yeast. Make sure bowl is large enough to accommodate the dough rising 2 to 3 times it's current size.
Add cheese, rosemary and lemon zest. Gently stir just until evenly distributed in flour mixture. Add water and stir until a shaggy dough forms and all flour has been incorporated.
Cover bowl with plastic wrap and allow to sit covered at warm room temperature for at least 12 and up to 18 hours. Dough should double in size and have air bubbles dotting the surface once uncovered.
Remove plastic wrap. Ready a work surface by heavily flouring it. Dump dough onto heavily floured surface, like a pastry cloth or something that can later be lifted to transfer the dough. Gently shape into a round using floured hands. Dough will be very sticky. Be gentle and do not deflate dough as you shape it. Cover lightly with plastic wrap. Let it rest 30-45 minutes.
Place a covered cast iron pot (or any oven safe covered baker large enough to for your dough to fit in and able to handle the heat) into your oven. Preheat oven with pot inside to 450°F. Once oven has come to temperature, heat cast iron pot 30 minutes.
After 30 minutes, carefully slide pot out of oven and remove lid. Using your pastry cloth, gently transfer your dough to the hot pot and replace the lid. Bake in preheated oven 30 minutes. Remove lid from the pot then return the pot to the oven and bake 15 minutes longer.
Remove pot from oven and transfer bread to a wire cooling rack. Cool completely.
Recommended
Tags: Bread, Baking, Easy, Side Dishes, Cheese