Jello Cookies: Colorful Fun
Jamie Lothridge | My Baking Addiction
Jello cookies get their bright color and flavor from packaged gelatin. Choose your favorite for a fantastic custom cookie.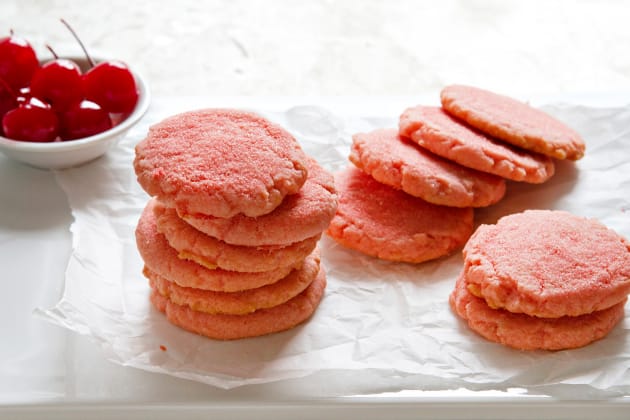 Growing up, I was never exceedingly fond of jello. There was just something about the – well, jiggly texture that didn't speak to me – at all. And let me tell ya, my Nana's lime jello fruit salad definitely didn't help matters. I'm fairly certain that the words jello and salad should never be used in conjunction. It's just wrong on so many levels.
Then Jell-o Jigglers happened and all the cool kids were running around the neighborhood with brightly hued, wiggly circle and diamond cutouts. I totally wanted in on the jiggly fun, so I begged my mom to make us a batch. And to make my Jell-o Jiggler experience complete, I demanded celestial cookie cutters. Because what better way to upstage a standard circle cutout than with suns, moons and stars?
Even though I was super proud of my perfectly shaped jigglers, I still couldn't handle the texture. Fast-forward 20 plus years and my sentiment is pretty much the same. Unless of course it's used to make cookies, then, I'm all about it.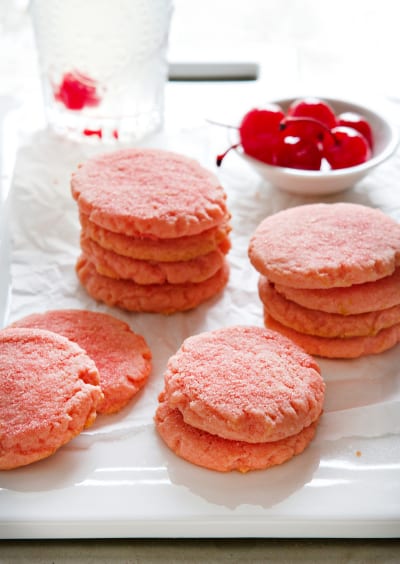 Not only are jello cookies delicious, they're super easy to make. And with so many color options and flavors to choose from, the possibilities are endless.
After coming across Cherry Lemonade Jell-o, I knew exactly what flavor cookies I'd be whipping up for all you Food Fanatics. I pumped up the lemon flavor by adding in freshly grated lemon zest. The fresh and fruity flavor of jello cookies makes them perfect for a spring party. Pair them with homemade cherry lemonade and you'll have a refreshing snack for upcoming poolside afternoons.
Whether you're looking for a new cookie recipe to try, or you simply want to use up a couple of the random boxes of jello hanging out in your pantry – these cookies for you!
If you're looking for more cookie inspiration, be sure to check out some of my other cookie creations here on Food Fanatic like these Giant M&M Cookies or these Meyer Lemon Cookies.
Ingredients
1 cup Granulated Sugar
Lemon Zest, from one medium lemon
3 1/2 cups All-Purpose Flour
1 teaspoon Baking Powder
1 1/2 cups Unsalted Butter, softened
2 Flavored Gelatin Dessert 3 ounce Packages, divided (I used Jell-O Cherry Lemonade flavor)
1 large Egg
1 teaspoon Pure Vanilla Extract
Directions
Preheat oven oven to 400°F. Line baking sheets with parchment paper. Set aside.
In a small bowl, combine sugar and lemon zest. Mix with fingertips until sugar becomes moist and fragrant.
In a medium bowl, combine flour and baking powder.
In a large bowl, with an electric mixer, beat butter until creamy. Add lemon sugar and 1 package of gelatin; beat until light and fluffy, about 3 minutes.
Add in egg and vanilla and mix to combine.
Gradually beat in flour mixture until thoroughly combined.
Shape dough into 1-inch balls. Place, 2 inches apart, on prepared baking sheets. Flatten dough balls with the bottom of glass. Sprinkle tops of cookies with remaining dry gelatin mix.
Bake cookies in preheated oven for 8 to 10 minutes or until edges are lightly browned. Cool on baking sheets for 3 minutes before removing to a wire rack to cool completely.
Cookies can be stored in an airtight container at room temperature for up to 3 days.
Notes
Cookies can be stored in an airtight container at room temperature for up to 3 days.
Recommended
Source: Slightly adapted from

Kraft

Tags: Cookies, Baking, Desserts, Party Food, Summer, Snacks, Family Meals and Snacks