Slow Cooker Pork Loin: Succulent Supper
Christina Lane | Dessert for Two
Slow cooker pork loin couldn't be easier. This is a meal worthy of Sunday, but easy enough for any weeknight dinner.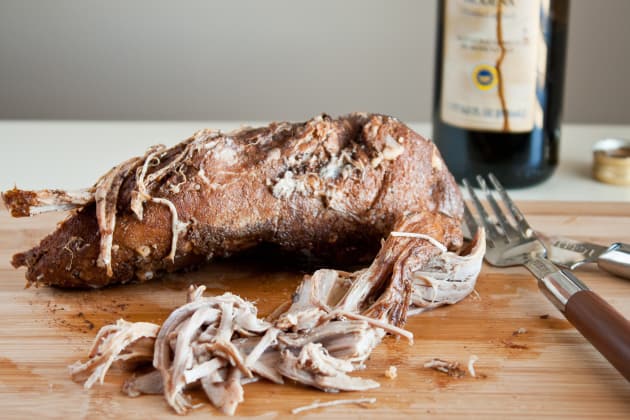 Easy slow cooker meals that serve double duty help me during those weeks that I overcommit to activities after work. We've all had those weeks. We could all use more recipes like this.
This pot of meat carries me through many dinners during one week. It can be exhausting to come up with new meal ideas daily, but this pulled pork takes the guess work out of it. Any situation where you would use shredded meat in a recipe, try substituting this pulled pork.
This slow cooker pork loin serves double duty because I can serve it one night in a crusty French roll topped with melted cheese, and I can pile it on top of buttery mashed potatoes the next night. Or, I can stuff the meat inside quesadillas and serve with guacamole. I could also stir it into macaroni and cheese. If I have any leftovers after that, I love using them to top a baked potato at lunch. The possibilities for using this shredded pork are endless!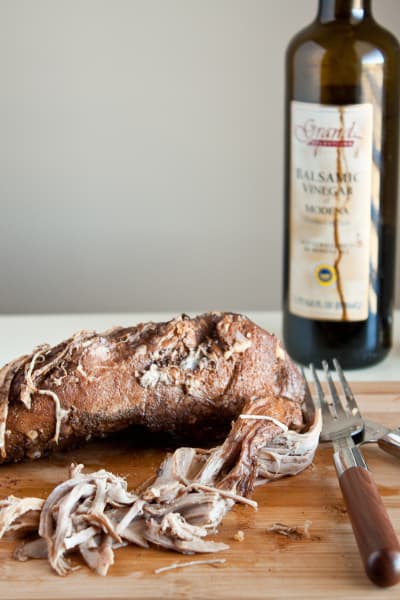 I love this recipe for two reasons. This recipe is a set it and forget it meal that doesn't require any pre-cooking. As delicious as it can be to brown meat before placing it in the slow cooker, to me, that is missing the point. I want to be able to toss cold ingredients in the slow cooker before I even drink my morning coffee, and end up with a deceptively delicious meal at dinnertime. Minimal effort crock pot cooking is all I'm capable of in the morning.
The second reason I love this meal is that it does not contain a lot of salt. Flavors tend to concentrate in a slow cooker over time, and I find many slow cooker recipes to be overly salty. This recipe relies on balsamic vinegar for the majority of its saltiness. The recipe does call for one tablespoon of soy sauce for flavor, but overall, the salt level is not bad for a full meal that serves 4 with leftovers.
Slow cooker dinners are lifesavers during the week. Round out your weekly meal plan with our slow cooker meatballs recipe, eggplant pasta, or amazingly simple slow cooker cobbler recipe.
Ingredients
3 pounds Lean Pork Tenderloin, (two 1.5 pound tenderloins)
1 cup Beef Broth
1/2 cup Balsamic Vinegar
1 tablespoon Chipotle Tabasco Sauce
1 tablespoon Soy Sauce
1 tablespoon Honey
1 teaspoon Smoked Paprika
1 teaspoon dried garlic granules
Directions
In a 5-quart slow cooker, add the pork tenderloins. Pour over all remaining ingredients.
Give it a gentle stir, and then set the heat to high.
Cover and cook for 3-4 hours.
I do not recommend cooking it any longer than 4 hours on high because the lean meat will dry out.
Notes
Garlic powder may be substituted for garlic granules. Use 1/2 a teaspoon.
Recommended
Tags: Slow Cooker, Crock Pot, Pork, Easy Dinners, Dinners, Sunday Suppers