Mushroom & Feta Hashbrown Skillet with KitchenIQ Giveaway!
Erin C. | The Law Student's Wife
This Mushroom & Feta Hashbrown Skillet is what's for dinner! Part double hash brown, part savory veggie pie, this dish elevates the humble spud from a simple side to a stunning meal.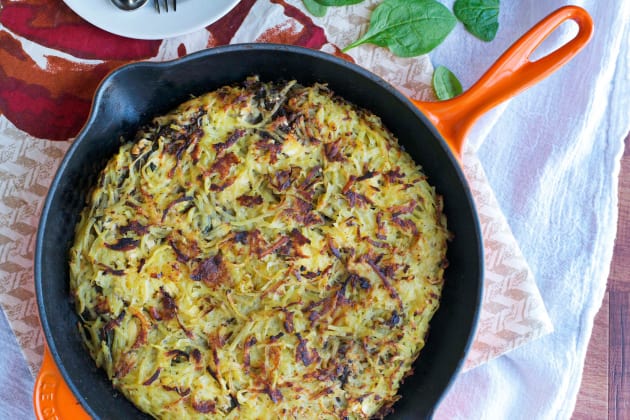 Growing up, potatoes as a side dish were a frequent occurrence. To satisfy her picky children, my mom turned to boxed instant potatoes in an assortment of flavors (Cheddar Bacon being the family favorite.) Now older and wiser, I've learned to expand my culinary horizons—why serve potatoes on the side when you can turn them into the main event? My case study: Mushroom & Feta Hashbrown Skillet.
Part giant double hash brown, part savory veggie pie, this is a golden skillet of spud goodness. It's hearty enough to be an entrée, but would also make a nice accompaniment to simply grilled or roasted meat. I could also see this dish at brunch, resting happily beside a plate of bacon.  Like the potato itself, this Mushroom and Feta Hashbrown Skillet is a crowd pleaser at any time of day.
This dish begins with a layer of grated, buttery Yukon Gold potatoes. I selected Yukon Golds for their rich flavor. Since this is a rather potato-centric dish, having a well-flavored potato is important.
We top the Yukon Gold potato "crust" with a layer of garlic and tarragon sautéed mushrooms. (Choose baby bellas, which pack more flavor that the white button variety). The mushrooms create a hearty, earthy filling, along with tasty feta and fresh spinach.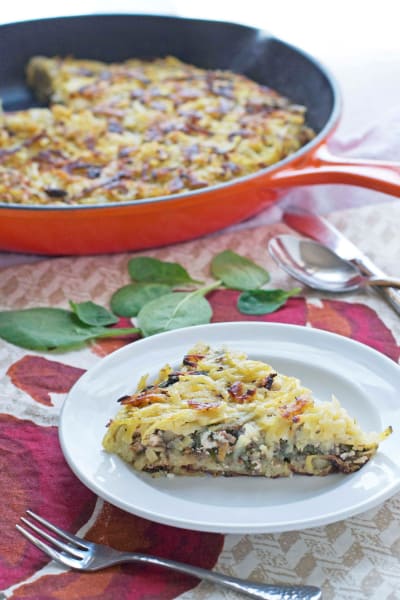 Since double-crust is always a good choice in the world of pie, whether they're served in a skillet or not, we finish our meal with an additional layer of Yukon Golds. Let each side of the sauté in the pan until golden (with a careful flip in between), slice into wedges, and ta-da! The humble potato transformed into the main event.
Instant potato flakes may have their place in a hurry (or in a fluffy batch Roasted Garlic Potato Rolls), but when it comes to the main event, take time for the real deal. Whether you serve it for brunch, dinner, or sneak a few bites cold out of the fridge at midnight (guilty!), my Mushroom & Feta Hashbrown Skillet is a satisfying dish sure to please even the pickiest eaters.
It would be fantastic with a poached egg on top, just like Shaina's Cheesy Grits and Eggs, and don't forget dessert! Katie's slow cooker cobbler should do the trick.  
Peeling and washing potatoes, grating garlic, cheese and more is a breeze with the newest KitchenIQ tools.
This healthy recipe from Erin came together with the help of the new KitchenIQ Potato Tool, Container Grater, Grate Ginger Tool, and Better Zester. Now you can win your own set!
KitchenIQ Food Prep Giveaway!
Ingredients
16 ounces Baby Portabello Mushrooms, finely chopped
3 pounds Yukon Gold Potatoes, peeled
2 large Eggs
8 tablespoons Extra Virgin Olive Oil, divided
1 tablespoon Lemon Juice, fresh
1 teaspoon Garlic, minced (about 2 cloves)
1 teaspoon Dried Tarragon, dried or 1 tablespoon fresh
3/4 teaspoon Kosher Salt, divided
1/2 teaspoon Black Pepper, divided
2 cups Spinach, fresh
4 ounces Feta Cheese, crumbled
Directions
Place the mushrooms in the bowl of a food processor fitted with a steel blade and pulse until finely chopped. Remove, set aside, and lightly wipe the food processor clean. Fit food processor with a grater blade and grate potatoes into long, thin strips. (Alternatively, you can finely chop the mushrooms and coarsely grate the potatoes by hand.)
In a large bowl, lightly beat the eggs with 1/2 teaspoon kosher salt and 1/4 teaspoon pepper. Fold in the grated potatoes until evenly combined. Set aside.
Heat 2 tablespoons olive oil in an 11 or 12-inch skillet over medium high heat. Add mushrooms and cook for 6 minutes, stirring often, until the mushrooms are soft and the mushroom liquid has evaporated. Add the lemon juice, tarragon, garlic, remaining 1/4 teaspoon salt and 1/4 teaspoon pepper, and cook 30 seconds. Add spinach and cook just until the spinach begins to wilt, about 1 minute more. Stir in half of the feta, then transfer from skillet to a plate and set aside.
In the same skillet you sautéed the mushrooms, heat 3 tablespoons olive oil over medium. Spread half of the potatoes over the bottom of the skillet in an even layer, pressing them gently, then top with the mushroom filling and remaining feta cheese. Gently press remaining half of the potatoes over the top of the filling to create a "lid." Let cook on medium until the bottom potato layer is crispy and golden, 5 to 6 minutes.
Run a heat-proof spatula between the potato dish bottom and skillet to loosen it (a long fish spatula works well). Quickly flip the potato skillet out and over onto a large, clean plate so that the cooked side is "up". Return skillet to heat, add remaining 3 tablespoons olive oil, then slide the potato dish back into the skillet, uncooked side down. Let cook until the bottom of the dish is golden and the potatoes are tender, 6 to 10 additional minutes. Slide onto a plate, cut into wedges, and serve.
Notes
If after the potato pie is flipped the bottom (now top) is not "golden" enough for your liking, you can finish toasting it under the broiler for ease, provided that you are using an oven-proof skillet.
Recommended
Tags: Stealthy Healthy, One Pot Meals, Easy Dinners, Dinners, Vegetables, Vegetarian, Potatoes, Mushrooms, Feta Cheese, Giveaways