Hamburger Helper Beef Pasta
Joli Selten-Forbes | Joli Selten-Forbes Updated
Hamburger Helper Beef Pasta made with real ingredients. This is the kind of comfort food we can dig into - a homemade, wholesome version of the American classic!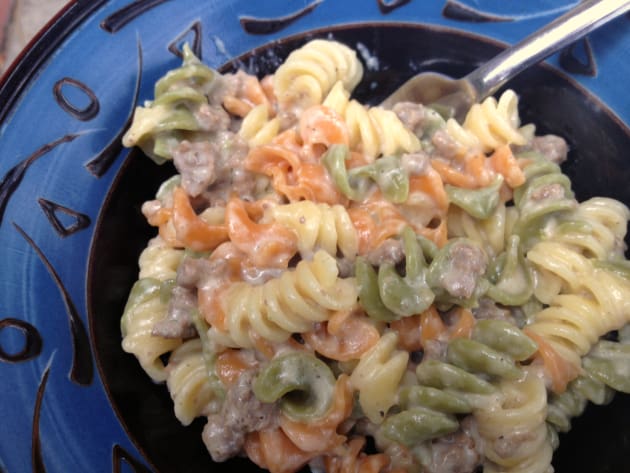 What the heck is MSG anyway and why in the world is it on my dinner plate? Guess what—it's not! With every passing day my family and I become a bit wiser and by proxy, a bit healthier by homemaking supermarket boxed meals using whole ingredients found in our fridge and pantry.
As matriarch here in my home, I'm hoping this will help us work toward a physically and mentally stronger, collective happiness. You can do it, too!
MSG, cottonseed and soybean oils, maltodextrin, disodium inosinate… when did it become ok to put these things into my food? It's actually not ok with me, but I'll be honest, cheeseburger macaroni… now that's just American deliciousness!
Hamburger Helper arrived on supermarket shelves with a friendly hand icon and a C- nutrition rating in the 1970s. I'm going to give it a 21st century consciousness by making it at home with whole ingredients, all of which I can pronounce! Making homemade hamburger helper beef pasta a true reality, and a crowd pleaser at that.
There are many ways to altar such a simple recipe to suit your dietary needs and desires. For example, to make it gluten-free you could use Quinoa Pasta noodles instead of semolina flour noodles. And to make it vegetarian you can use a meat substitute, seitan or tempeh.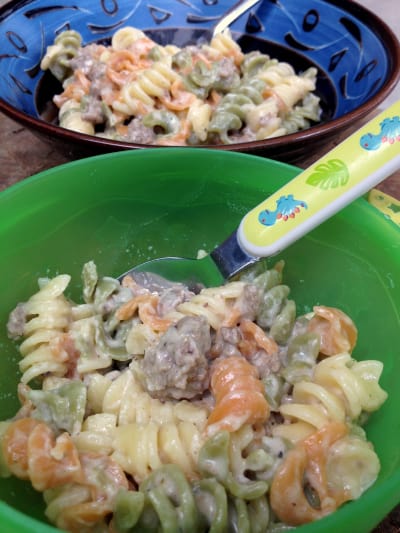 Or, you could get super crafty and make it vegan by making a sweet potato cream sauce with a meat substitute. Get creative… there are no restrictions to creativity and the sky is the limit!
I'm a mother of two and wife to one picky eater, so I'm going to keep my version as close to the original as I can while raising it up my family's "healthy meter." I used tri-colored Rotini noodles and will serve it with steamed broccoli. I used grass-fed Angus beef and a light shredded cheese blend that includes cheddar, Monterrey jack, and provolone.
Don't get me wrong, this version of the recipe is not low fat, nor is it dairy-free! But the dairy products and meat products are organic, and this is a perfect example of "Conscious Comfort Food" that Mama Love Grub likes to enjoy.
How would you re-do this recipe? I'd love to hear your version as well! 
Ingredients
Cooking Spray, preferably Coconut Oil cooking spray
12 ounces Rotini, tri-colored
1 clove Garlic
6 ounces Ground Beef, Grass-Fed, 85/15
Garlic Salt, to taste
Dried Thyme, to taste
dried Oregano, to taste
Sea Salt, to taste
Black Pepper, to taste
5 tablespoons Butter
1 cup Half and Half, organic
9 ounces Shredded Cheddar Cheese, Monterrey Jack, and Provolone
1/2-1 cup Beef Broth, organic
Directions
Boil noodles al dente per package instructions (whether or not to salt the water is completely up to you).
Meanwhile, spray a large cast iron skillet with coconut oil cooking spray and turn heat up to medium.
Add the garlic and beef and break it up into bite-sized pieces using a wooden spoon.
Sauté until the meat is browned, and season with herbs, salt and pepper to taste while stirring occasionally throughout the process.
Strain the pasta and rinse it with cold water to stop the cooking process, and return pan to stove while it's draining.
Turn heat down to low, and add butter and half and half to the pan, stirring continuously for approximately 3 minutes.
Add the pasta and the cheese, cover for 3 minutes and then open and stir.
Continue to cover and stir until the cheese has melted and ingredients have mixed together to your liking.
Add Organic beef broth to thin the sauce and add some flavor… amount will be to your taste.
Add garlic salt and pepper to taste.
Recommended
We're big fans of healthier copycat recipes. Don't miss our homemade red lobster biscuit recipe and Stephie's homemade velveeta mac and cheese too.

Tags: Copycat, Healthy Comfort Food, Comfort Food, Casseroles, Ground Beef, Cheese, Pasta, Easy Dinners, Easy