Gluten Free Rice Krispie Treats: Nutella & Peanut Butter Make 'em Awesome
Erin D. | Texanerin Baking
Gluten free Rice Krispie treats full of nutella and peanut butter-y goodness. You won't even miss the marshmallows!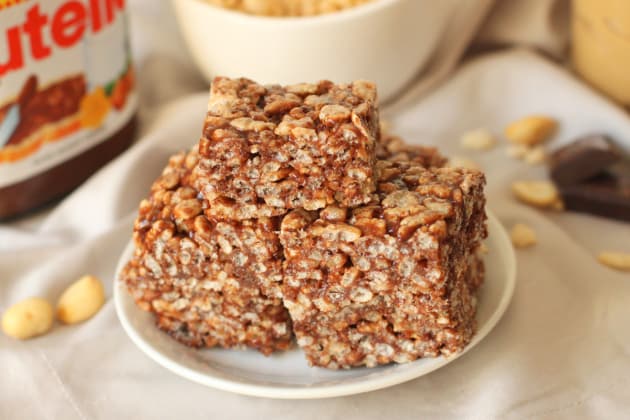 My husband is a Nutella fiend and oddly enough, he prefers that I not "waste" his Nutella on baked goods. I can't help myself, though, so I'm always trying to think of Nutella goodies that he might enjoy. I'm happy to say that these gluten free Nutella peanut butter Rice Krispie treats did the trick!
Originally, these bars were supposed to be just Nutella and not Nutella and peanut butter but I needed something to cut the sweetness. I didn't have any plain hazelnut butter on hand, so I used natural peanut butter and it worked perfectly!
I recommend making your own homemade peanut butter. It only takes a few minutes and all you need is peanuts and a food processor! If you prefer to use store bought peanut butter, it's important to use a natural kind that's just peanuts and salt. If it has added sugar, it'll just add to the sweetness rather than help de-sweeten.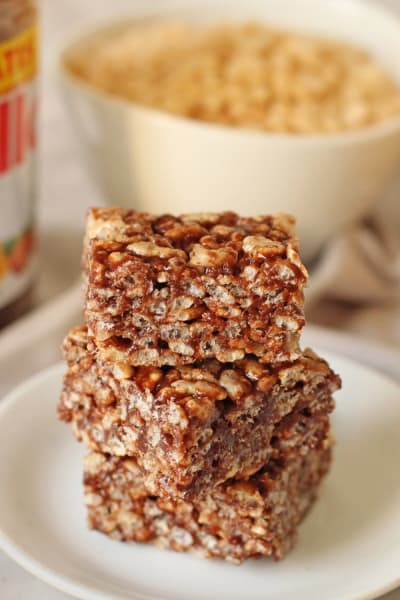 I wanted the Nutella to be the dominant flavor in these so the peanut butter taste is just subtle. You can easily add another 1/4 cup peanut butter for a more peanut buttery version! And for those of you who do have hazelnut butter around, use the same amount for an ultra hazelnutty version.
These Rice Krispie treats are marshmallow-free. The only time I use marshmallows is for traditional Rice Krispie treats, and when I make those, I eat the entire batch in a few hours. So I just don't keep marshmallows around! Problem solved. These use some pretty basic ingredients. Nutella, peanut butter, honey, butter and vanilla. All you do is melt everything together and then add in the Rice Krispies and stir. Super quick and easy!
I also love this recipe because you can halve (or double!) it. With a household of only two, we just don't need oodles of baked goods sitting around and tempting us.
If Nutella isn't your thing, try these peanut butter Rice Krispie treats! They also have crushed pretzels in them, making them all the more fun. And because peanut butter and chocolate are just so awesome together, give these gluten-free no bake cookies a gander.
Ingredients
2/3 cup Nutella
1/4 cup Natural Peanut Butter
2 tablespoons Honey
2 tablespoons Butter
2 teaspoons Pure Vanilla Extract
4 cups Rice Krispies, certified gluten free
Directions
Get out a piece of parchment paper.
In a medium saucepan over medium heat, mix everything except for the cereal until well combined.
Carefully stir in the cereal. If the mixture isn't sticking together well, use your hands to mix together.
Place the mixture on the parchment paper and pat it into your desired shape and thickness. I made mine in a rectangle which was about 1" thick. Make sure to firmly pat the mixture down so that it'll hold together.
Refrigerate the bars for about 30 minutes and then cut and serve.
Cover and store leftovers for up to 5 days.
Notes
Make sure to use certified gluten free rice krispies cereal
Recommended
Tags: Gluten Free, No Bake, Easy, Snacks, Family Meals and Snacks, Bar Desserts, Desserts, Nutella, Peanut Butter