Chicken Bacon Pasta: Creamy 5 Ingredient Supper
Christina Lane | Dessert for Two
With Chicken Bacon Pasta you're just five ingredients away from a great weeknight meal! A glass of wine, some salad, and you're set.
Since I cook for a living, I find that people assume that I make elaborate, multi-course French dinners each night at home. As much as I wish this was the case, sadly, it is not. I often pull together quick, simple meals for my family. Creamy pasta always pleases, but a cream sauce usually requires many steps---but not this easy cream sauce!
I always keep a carton of whole milk yogurt in the fridge. It has many uses: a whipped cream stand-in, a healthy snack with granola, a vital ingredient in a smoothie, or a creamy sauce for pasta. I love the way it can be used in a savory dish as easily as a sweet dish. Yogurt is so versatile in my kitchen.
For this easy meal, I put a pot of water on to boil the minute I get home from work. This buys me some time to prep the rest of the ingredients. While the water boils and cooks the pasta, I'm busy frying the bacon and shredding a chicken breast. I use a leftover store-bought rotisserie chicken breast for this meal, but any leftover chicken you have will work just fine.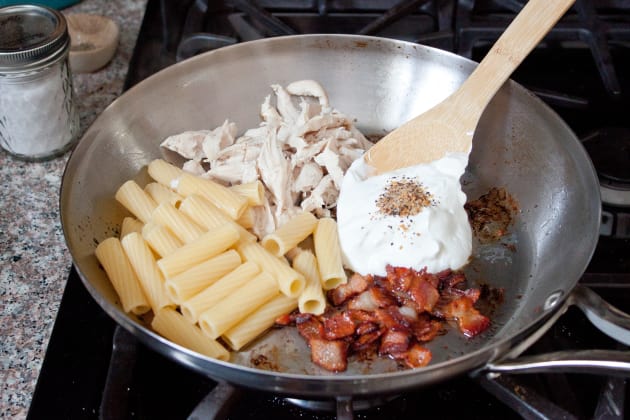 When the pasta comes out of the water, be sure to save some of the hot starchy cooking water, as it will help the sauce cling to the pasta. The final and fifth ingredient: all-purpose grilling seasoning. I use a grill spice mix that is made up of coriander seeds, black peppercorns, red pepper flakes, garlic granules, and salt.
When the pasta is done cooking, all we're going to do is stir in the yogurt. It melts over the hot pasta and creates a luscious cream sauce. The shredded chicken and bacon are great additions, but I've been known to eat this pasta dish with a mix of fresh herbs or salad mix in place of the meat.
Christina's weeknight solutions for two are the best! Don't miss her homemade Salisbury Steak recipe and vegetable pot pie recipe for two either. 
Ingredients
8 ounces Pasta, dry and any shape
3 slices Bacon
1 breast of Rotisserie Chicken, with skin removed
1/2 cup Plain Greek Yogurt
1/2 teaspoon All Purpose Grilling Seasoning Mix
Directions
In a large stockpot, bring water to boil for pasta. Once the water is boiling, salt the pasta water (if you like), and then add the pasta. Stir once, and then cook for the recommended amount of time on the pasta box.
Meanwhile, slice the bacon and cook it in a medium skillet over medium heat. When it is cooked through (but before it is all the way crispy!), remove from the pan and drain. While the bacon cooks, shred the chicken breast, and then warm it through in the bacon grease left in the pan.
When the pasta is al dente, drain (saving some pasta water), and add to the skillet with the chicken. Stir in the bacon, yogurt, and seasoning. Add a bit of pasta water, a few tablespoons at a time, and toss until a sauce forms and evenly coats the pasta. Serve immediately. Leftovers do not keep well.
Recommended
Tags: Cooking for Couples, Pasta, Bacon, Leftover Rotisserie Chicken, Rotisserie Chicken, Easy Dinners, Easy