Vegan Stew with Irish Flair
Joli Selten-Forbes | Joli Selten-Forbes
This vegan stew is made hearty with the addition of Guinness Extra Stout. Hello, Meatless St. Paddy's Day! (And now there's more room for beer..)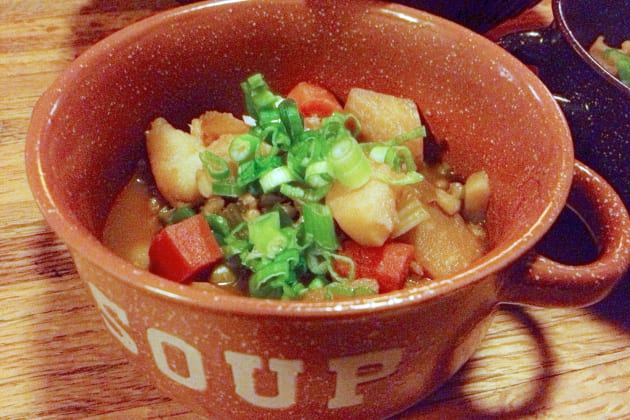 My husband is an Irish meat eater who scoffed when I told him I was creating this recipe. "A Vegan Irish Stew? What does that even mean," he sneered. "I'm not sure yet," I replied, "but I'm determined to figure it out!"
Irish Stew is a traditional Celt recipe that dates back to the 17th Century. And I'm pretty sure there are purists out there who would say what I'm creating here isn't called "Irish Stew" at all! Historically it would have onions, potatoes and mutton (sheep neck meat) and that's about it… possibly some root vegetables… and it would be cooked in a heavy iron pot oven over open flame.
My recipe uses Guinness Extra Stout beer, no sheep meat or broth, organic pearl barley, a splash of apple juice and a splash of apple cider vinegar and was cooked atop my gas stove, so I guess I am rattling the Uilleann pipes with this one!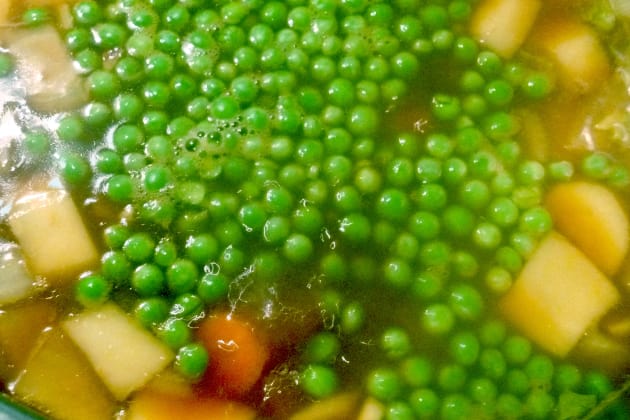 Now, I'm not much on meat substitutes. I'd rather just leave out that element all together and focus on plant-based recipes. However, I have seen vegan mutton online made out of mushrooms and soy, so anything's possible and you're welcome to add this to the stew in lieu of lamb chops.
I served this to my family along with a steamed artichoke and garlic aioli and it made for a hearty and healthy meatless Monday dinner. My meat-eating husband didn't complain once and he even took some to work the next day, so I think I've got a winner here!
In my opinion, this recipe is a work in progress, and is in need of your opinions, expertise and comments! Please send me feedback so when my company, Mama Love Grub, serves this at a festival, we'll know it's worthy of celebration!
Looking for more vegan inspiration? Don't miss Steph's farro risotto recipe, and Joli's microwave spaghetti squash!
Ingredients
1 teaspoon Olive Oil
1/2 medium White Onion
4 cloves Garlic
4 cups Vegetable Stock
4 cups Boiling Water
1 Parsnip
2 Red Potatoes
1 teaspoon Nutritional Yeast Flakes
2 large Carrots
1 cup Frozen Peas, thawed (organic)
1/3 cup Apple Juice, organic
1 Bay Leaf
1 teaspoon Apple Cider Vinegar
Sea Salt, to taste
Black Pepper, to taste
1/4 teaspoon Ground Sage, (a pinch or two)
6-12 dashes Worcestershire Sauce
1/2 cup Guinness Draught, Extra Stout
Directions
Sauté onion and garlic in olive oil over medium heat for 8 minutes.
Transfer to large stock pot.
Add all the rest of the ingredients and heat over medium-high until the boiling point.
Cover, reduce heat and simmer for up to 2 hours stirring approximately every 30 minutes.
Recommended
Tags: Vegan, Vegetables, Vegetarian, St. Patrick's Day, Irish, Soups, Stews, Easy Dinners, Dinners