Lemon Ricotta Muffins Full of Sunshine
Kate Donahue | Food Babbles
Lemon ricotta muffins will remind you of little bites of sweet sunshine. Light and airy muffins to make your breakfast happy!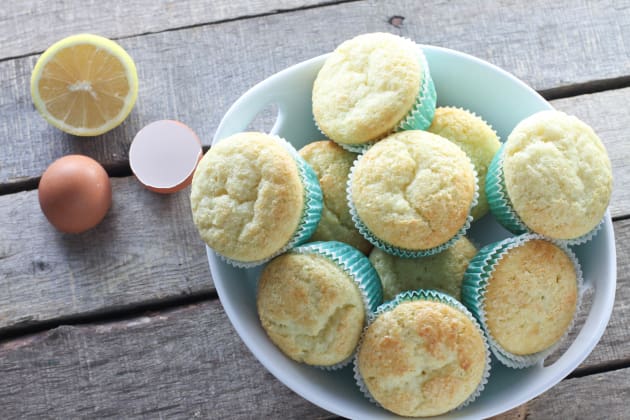 In the cooler months, I find myself a little blue. I'm not a big fan of snow unless I'm playing in it. Skiing, snow tubing or sledding and I'm the biggest kid out there, but if I'm holed up in my house I get cranky. I don't like being cooped up and I yearn for the warmer days of spring to arrive. I look forward to shedding our puffy winter coats, our furry boots and fuzzy caps for sunshine, flowers and fresh air.
In the meantime, having one of these lemon scented ricotta muffins is like a burst of spring sunshine in the deep freeze of winter. I often make lemon thyme muffins when I need a little pick me up. I love pairing citrus with fragrant herbs in unexpected places. Not a fan of herbs in your muffins? Then these little lemon muffins will be more your speed.
They're light and fluffy, tender and moist with the brightness of lemon to brighten those winter blues. A sprinkling of coarse Turbinado sugar over these golden muffin tops adds a sweet little satisfying crunch.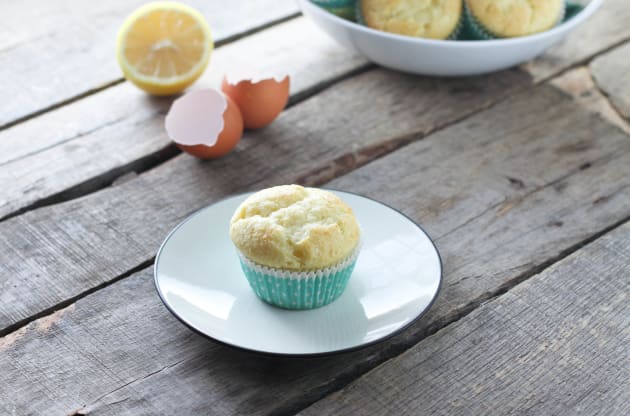 Want to know what the best thing about these lemon ricotta muffins is? They're the perfect little something any time of the day. Lemon muffins are a wonderful, vibrant way to start off your day or a special afternoon snack with a cup of tea. Have a late night craving? These lightly sweetened muffins will quell your sweet tooth. Any time you please, these muffins are just the treat you need.
The girls and I couldn't get enough of them! The base recipe would lend itself well to other fruits too. Think orange, lime, or even strawberry (though I'd still use lemon zest if I added some strawberry juice).
There's nothing like a warm muffin to start your day or pick up your afternoon, I can promise you that. That they come together in under half an hour is just a bonus.
Love Lemon? Don't miss Megan's Lemon Poppyseed Muffin recipe or my Lemon Swirl Rolls.
Ingredients
1 3/4 cups All-Purpose Flour
3/4 cup Granulated Sugar
2 1/2 teaspoons Baking Powder
1/4 teaspoon Salt
3/4 cup Ricotta Cheese, part-skim
1/2 cup Water
1/4 cup Olive Oil
1 tablespoon Lemon Zest, finely minced
2 tablespoons Lemon Juice, fresh
1 large Egg, lightly beaten
2 tablespoons Turbinado Sugar
Directions
Preheat oven to 375°F. Line a 12-cup muffin tin with paper liners and spray lightly with nonstick cooking spray. Set aside.
In a large bowl, whisk together flour, sugar, baking powder and salt. Make a well in the center and set aside.
In a medium bowl, whisk together ricotta cheese, water, olive oil, lemon zest, lemon juice and egg. Add ricotta mixture to well in flour mixture and stir just until moistened, preferably using a dough whisk.
Divide batter evenly among prepared muffins cups. Sprinkle turbinado sugar evenly over tops of muffins. Baking in preheated oven for 18-20 minutes until a toothpick inserted in the center comes out clean and tops are lightly golden. Cool in pan on a wire rack 5 minutes then remove muffins and cool completely on a wire rack.
Recommended
Source: From Cooking Light, May 2011

Tags: Muffins, Baking, Breakfasts, Brunches, Lemons, Easy