Farro Salad: Full of Possiblities
Steph S. | ::steph chows::
Farro salad is warm and comforting, full of spinach and bright pineapple. What else would you add?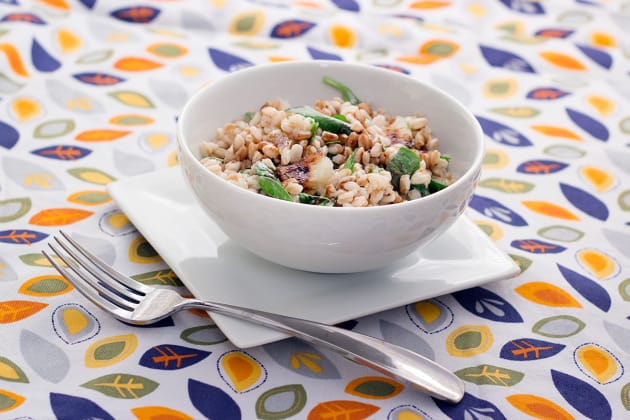 Have you heard of this new awesome grain called farro? They just invented it! I bet the Egyptians wished they had some back in the day! The pyramids would have gone up in no time flat. Wait, what's that? You're saying farro is called an ancient grain… Ok, maybe farro has been around for awhile… but not like this!
If you're looking for a hearty and healthy main dish that only has a handful of ingredients, look no further. Nutty farro pairs perfectly with spinach and pineapple. Add in a drizzle of balsamic reduction and I'm in love.
Farro is taking over, I'm telling you. Quinoa is great, sure. But farro is the new (old) alternative to things like orzo wheat pasta or rice. Hardly any carbs, and a nutty taste you just can't beat. It pairs easily with so many things, you'll be reaching for it again and again.
What's that, you've got a picky eater in the house that wont eat something unless it has meat in it? The husband likes to pretend that if a meal doesn't have meat in it, it doesn't count as a meal. Silly husband, luckily I love rotisserie chickens for this exact situation. At $5 a bird, they are a super bargain and require no prep on your part. Shred ½ the meat and toss with the salad for an even more filling meal.
Looking for a side dish instead? Served warm or cold this salad works great playing second fiddle. Talk about versatile! :) Personally I like it just as I have it written, no added chicken, no side dish, just a big bowl of hearty comfort.
If you are on a farro kick like me, make sure to check out my latest farro risottopost! Delicious!!
Looking for more ways to use farro? Try subbing it for quinoa in this Mediterranean Quinoa Salad.
Ingredients
3 cups Farro, cooked
1/2 cup Pineapple, chopped (fresh or canned will work)
1 cup Baby Spinach, packed
2 tablespoons Pineapple Juice
Salt, to taste
2 teaspoons Balsamic Vinegar Reduction
Directions
Heat 2 1/4 cups water in a small pot until boiling.
Add 8oz dried farro and stir. Cover with a tight lid and reduce to a simmer, cook for 35 minutes undisturbed.
Measure out 3 cups cooked farro and place in a large bowl. Add remaining ingredients through salt and stir until spinach is slightly wilted and starting to break apart.
Separate into 2 bowls and drizzle with balsamic reduction. Serve warm or place in refrigerator overnight and serve cold. 
Recommended
Tags: Healthy, Salads, Farro, Whole Grain, Lunches, Dinners, Spinach, Pineapples