Olive Oil Roasted Almonds: Perfect Snack Food
Rachel Gurk | Rachel Cooks
Olive Oil Roasted Almonds are simple, delicious snacking at its best. Irresistible as a midday snack and perfect with a cold beverage at the end of the day.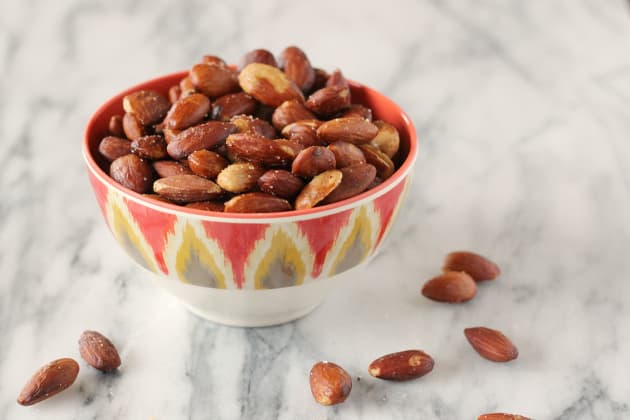 My days pretty much all the look the same. I get up before the sun with my son – he usually wakes me up between 5AM and 6AM.  Then it is pretty much coffee-coffee-coffee until my daughter wakes up around 7. Everyone gets breakfast, we all play a little, and then little man goes down for a nap.
My daughter and I hang out while he sleeps, and we get dressed and ready for the day. He wakes up, we all have a quick snack and we're out the door. Our destination changes, but we all need to get out of the house during this time of day. Then we rush home for lunch around noon and the kids are down for naps by 1:30. I work-work-work during their naps and then I crash at 3 p.m.
What is it about 3:00 in the afternoon? I just want to crawl back into bed and hide, but the fact of the matter is that there is dinner to be made and kids who need attention. I truly believe the culprit many times is that I am lacking protein and need a little snack. I love having snacks like these olive oil roasted almonds around. They are filling, healthy and give me that little boost I need to get my butt into the kitchen to make dinner.
And the best thing is – they couldn't be easier to make. Just toss the almonds with some extra virgin olive oil, sea salt and a little cayenne and roast until they are golden brown and fragrant. It only takes 20 minutes! Store them in an airtight container and you're all ready for snacking. These would also be great for after the kids go to bed. Something tells me they'd be terrific with a cold, frothy adult beverage. Just a hunch.
If almonds aren't your thing, you might want to get your snack on with homemade cheez-its, quick sweet potato chips, or peanut butter lover's trail mix. 
Ingredients
3 cups Whole Raw Almonds
2 tablespoons Extra Virgin Olive Oil
1 teaspoon Sea Salt, fine
1/4 teaspoon Cayenne Pepper
Directions
Preheat oven to 350°F.
In a medium bowl, toss together all ingredients until almonds are well coated.
Spread into a single layer on a large baking sheet.
Roast for 10 minutes, stir, and continue roasting for another 10 minutes.
Cool completely on baking sheet before storing in an airtight container.
Recommended
Tags: Nuts, Snacks, Party Food, Quick, Easy