Mexican Hot Chocolate Bread to Spice Up Your Afternoon
Kate Donahue | Food Babbles
Mexican hot chocolate bread is full of chocolate, cinnamon and just a pinch of spicy cayenne for that signature heat. We love it with a cup of coffee!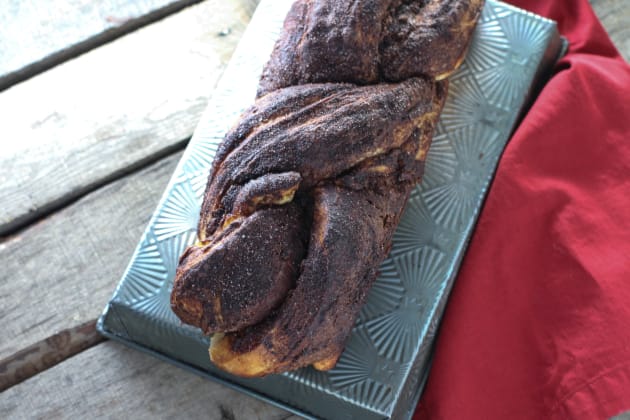 In the cold winter months we tend to eat warmer, more comforting foods. You know the kind I'm talking about. Foods that even their scent can make you feel like it's wrapping its arms around you in a big hug.
Eating these types of food warm you from the inside out and even the mere thought of them makes you feel cozy inside. Macaroni and cheese is my ultimate comfort food. Tender noodles swimming in melt-y, cheesy goodness. I like to use horseradish cheddar in my recipe for a pleasant little kick.
The spicy scent of a pot filled with warm mandarin mulled wine is intoxicating all on its own without taking a sip. I love coming into my kitchen to ladle the wine into a mug, closing my eyes and just taking in that spiced fragrance. I love curling up on the couch in front of a fire and quietly sipping this special winter treat.
This Mexican hot chocolate bread definitely falls into that comfort food category. Have you ever had Mexican hot chocolate? I can remember the first time I made it. It was unlike anything hot chocolate I'd ever tasted before. It is best described like drinking a candy bar. A dark, bittersweet candy bar with hints of cinnamon and a spicy undertone.
This tender sweet bread was inspired by that fabulous hot chocolate. It's filled with Nutella, cinnamon and a just a touch of spiciness. Once twisted together, your filling is both inside and out, which means that every bite is filled with warm spiced chocolate. A heavy sprinkling of cocoa-laced cinnamon sugar is the finishing touch.
That sprinkle ups the chocolate factor even more while adding a nice crispness outside. The end result is a sweet twist that will certainly be topping your list of comfort foods from here on.
Ingredients
For the Dough:
3 1/4 cups All-Purpose Flour
1/4 cup Potato Flour
3 tablespoons Granulated Sugar
1 1/2 teaspoons Instant Yeast
1 1/4 teaspoons Salt
3 tablespoons Unsalted Butter, room temperature
1 teaspoon Pure Vanilla Extract
1 large Egg
1 cup Milk, room temperature
For the Filling:
1/4 Granulated Sugar
1/4 cup Unsweetened Cocoa Powder
1/2 teaspoon Cinnamon, preferrably Vietnamese
1/16 teaspoon Cayenne Pepper
1 cup Nutella
2 tablespoons Unsalted Butter, melted
Directions
In a large bowl, whisk together flour, potato flour, sugar, yeast and salt. Add the butter, vanilla, egg and milk. Mix together until a shaggy dough forms. Cover with plastic wrap and let rest for 30 minutes.
Knead dough for 10 minutes. Dough will be sticky and soft. Spray a large bowl lightly with nonstick cooking spray. Place the dough in the bowl, turning to coat all sides. Cover again with plastic wrap and let dough rise until doubled in size, 1 1/2 to 2 hours.
In a small bowl, whisk together sugar, cocoa powder, cinnamon and cayenne. Set aside.
Preheat oven to 350°F. Lightly spray two 9x4-inch loaf pans with nonstick baking spray. Set aside.
On a lightly floured surface, roll the risen dough to a 10x18-inch rectangle. Spread Nutella over dough, leaving a 1-inch border. Sprinkle half the sugar cocoa mixture over the Nutella.
Starting with a long side, tightly roll dough to form an 18-inch log. Pinch and seal edge and place roll seam side down. Using a large, sharp knife trim the ends to even. Cut the log in half lengthwise then cut each log in half again lengthwise so that you have 4 logs. Twist 2 logs together to form one twisted loaf. Pinch and seal together each end of the log and fit it into prepared loaf pan. Repeat with remaining two logs.
Place in middle of preheated oven and bake 15 minutes. Working quickly, briefly remove loaves from oven. Brush tops with melted butter and sprinkle with remaining sugar cocoa mixture then return to oven. Continue baking 15-20 minutes more.
Cool on wire rack and serve warm or at room temperature.
Recommended
Tags: Bread, Baking, Desserts, Snacks, Chocolate, Spicy