Low Carb Chili & KitchenIQ Giveaway
Lisa Grant | Jersey Girl Cooks Updated
Low carb chili full of flavor and spice, but no beans! This is how they do chili in Texas, and it's the best for hot dogs too.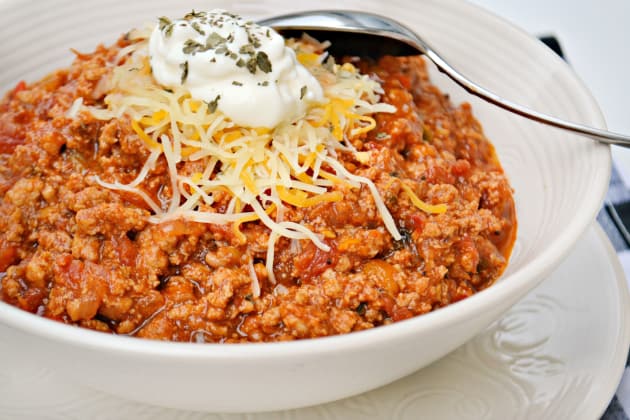 How do you like your chili? Beans or no beans? Spicy, mild or screaming hot? Green or red sauce? Everyone has a different chili they prefer. For some reason I hated beans as a child, so I always got excited when someone made a bean-less pot of chili.
Even when I was in my twenties, I remember going to a restaurant that specialized in chili and being happy to see that they had a no-bean chili served with spaghetti. As an adult, I started to like the idea of eating beans, especially baked beans next to a side of barbecue. But there is nothing wrong with making a big pot of chili and skipping the beans.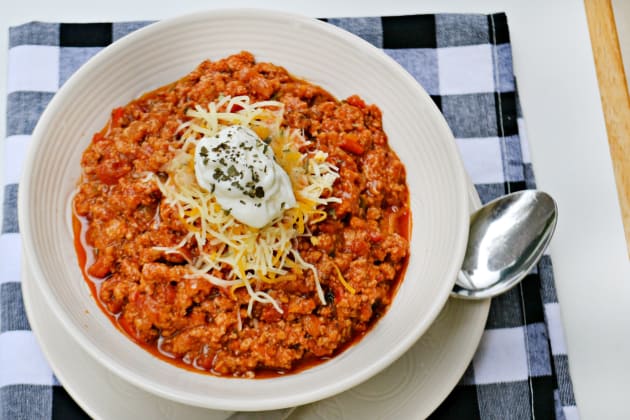 Chili is one of my favorite fall and winter dinner staples. It freezes easily and warms you up in a hurry. I always make a huge pot so there are leftovers to freeze. There is nothing better than knowing you can pull a meal from the freezer on a busy night. It's pure comfort food and this chili is low in fat and carbs so you could place it right in the healthy category.
I love eating chili next to a side of tortilla chips, cornbread, or in this bread bowl if you are not counting carbs or calories. To me, chili without beans is also the best kind to pile on a hot dog. There are so many different ways you can use leftover chili to recreate a meal. My husband's favorite is to wrap some up in a tortilla and pile on the cheese. It then transforms to a chili burrito. Don't forget the Fritos!
I particularly love chili in the fall and winter, but no matter what season it is, it's still one of my dinner favorites. Let's all think about the warmer weather when we can grill those hot dogs, and pull some of this chili from the freezer to create grilled chili dogs!
Chili is always better with tons of sharp cheddar grated on top, don't you think? 
Win an entire KitchenIQ Grater set! 
(1) KitchenIQ Container Grater
(1) KitchenIQ Extra Coarse Grater
(1) KitchenIQ Coarse Grater
(1) KitchenIQ Fine Grater
Worth over $90!
Ingredients
1 tablespoon Olive Oil
1 1/4 pounds Ground Turkey
3 cloves Garlic, crushed
1 small Onion, peeled and chopped
2 Jalapeños, deseeded and minced
1/4 cup Bell Peppers, chopped
1 cup Salsa
14 ounces Diced Tomatoes, 1 can
1/2 cup Boiling Water
1 tablespoon Red Chili Powder
Salt, to taste
Crushed Red Pepper, to taste
For Garnish:
Sour Cream
Shredded Cheddar Cheese
Directions
In a French oven, heat oil on medium high and cook ground turkey for a few minutes or until it starts to brown.
Add garlic, onion, jalapeno peppers and sweet peppers. Cook for five more minutes or until veggies start to wilt.
Add salsa, canned tomatoes, water and chili powder to the pan. Reduce heat to low and stir. Cover the pan and simmer for 30 minutes while stirring occasionally. More water can be added if a thinner chili is desired.
Serve with sour cream and shredded cheddar cheese if desired. 
Recommended
---
This giveaway is provided to you by KitchenIQ. The views and opinions expressed by contributors on Food Fanatic are based entirely upon the contributor's experiences with KitchenIQ products. Neither the contributor nor Food Fanatic was compensated monetarily by the brand for this post, but the contributor did receive the items listed for review. Please see the RaffleCopter Widget link for complete Terms & Conditions.

Tags: Easy Dinners, Chili, Easy, Soups, Dinners, Ground Turkey, Tomatoes, Onions, Giveaways