Homemade Chili's Chicken Fajitas for the Dinner Win
David Dial | Spiced Blog
Homemade Chili's Chicken Fajitas made in the cast iron skillet are a great go-to when the grill is covered in snow. Not that we know what that's like..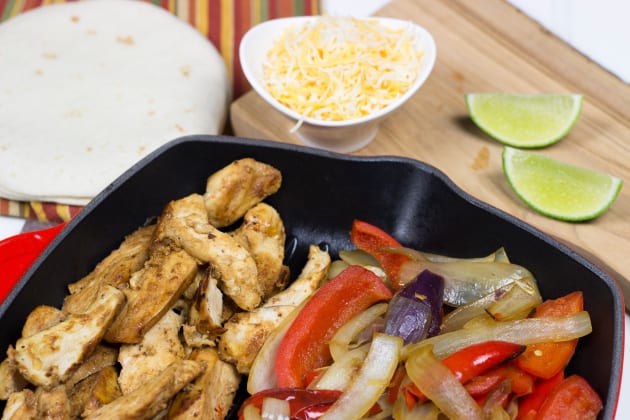 My family has been going out to eat at Chili's ever since I can remember. In fact, I still remember how special it felt to go out for dinner when I was a kid. Never mind the fact that I almost always ordered the same thing. (You see, I'm a creature of habit, and I can still recite my exact order verbatim—the cheeseburger.)
But as I got older, I ventured out and tried new things, and the Chili's Chicken Fajitas became an instant favorite. I've tried fajitas in plenty of restaurants, and there's something about the Chili's Chicken Fajitas that makes them stand apart from the rest. So when I began learning my way around the kitchen, I decided that I wanted to recreate these fajitas at home.
I wandered around plenty of recipe websites and tried a handful of different varieties until I came up with this recipe that is pretty darned close to the authentic Chili's Chicken Fajitas.
This fajita recipe is so tasty that we've used it for parties and casual get-togethers on a number of occasions. (Yes, it's company worthy!) The chicken does need to be marinated overnight, so there is a bit of advance planning required here. But trust me when I say that the time spent is well worth it!
Don't be intimidated by the long list of ingredients, either. Most of the ingredients are whisked together into one of the two marinades.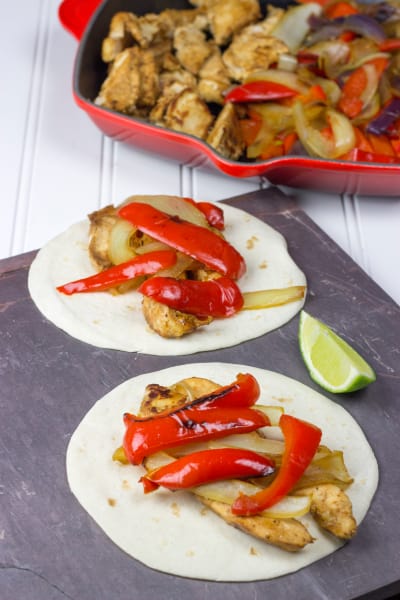 We often make these fajitas as a "special" weekend meal, and we usually make enough to have leftovers. After making this recipe a number of times, I've picked up a couple of tips that I'm happy to share with you:
Cook the chicken breasts for about 10 minutes and then slice them horizontally on a cutting board. Transfer the chicken strips back into the skillet to finish cooking. This helps cook the chicken faster without drying it out. (Plus, the chicken is already in fajita-ready strips this way!)
Begin sautéing the bell peppers about 5-6 minutes before adding the onions. The peppers take longer to cook, so this way the peppers and onions will be done about the same time. And make sure that both the peppers and onions are cut into similar-sized strips. (I prefer using red bell peppers, but a mix of red and green works well, too.)
These fajitas work great for a party. You can make a double (or triple) batch of the veggies and chicken before guests arrive and then keep them covered in a warm oven until needed. Create a "fajita bar" with the chicken, veggies, tortillas and assorted toppings (shredded cheddar cheese, salsa, pico de gallo, sour cream, guacamole, and shredded iceberg lettuce). And don't forget the tortilla chips!
Ingredients
For the Marinade:
1/3 cup Fresh Lime Juice
1/3 cup Boiling Water
2 tablespoons Vegetable Oil
2 cloves Garlic, minced
1 tablespoon White Vinegar
1 tablespoon Soy Sauce
1/2 teaspoon Liquid Smoke
1 teaspoon Salt
1/2 teaspoon Red Chili Powder
1/2 teaspoon Cayenne Pepper
1/4 teaspoon Black Pepper
1/4 teaspoon Onion Powder
For the Vegetable Finishing Sauce:
2 tablespoons Boiling Water
2 teaspoons Soy Sauce
1/2 teaspoon Fresh Lime Juice
1/4 teaspoon Black Pepper
1/4 teaspoon Salt
For the Fajitas:
5 Boneless Skinless Chicken Breasts
2 tablespoons Olive Oil
3 medium Bell Peppers, sliced into 1/2" strips
2 large Onions, sliced into 1/2" strips
12 Flour Tortillas
Optional Toppings:
Shredded Cheddar Cheese
Salsa
Sour Cream
Lettuce, shredded
Directions
In a small bowl, combine all of the Chicken Marinade ingredients; whisk together until fully combined.  Use a fork to pierce each chicken breast in several places and then place the chicken breasts in a medium-sized glass baking dish.  Add Chicken Marinade to the baking dish; cover and refrigerate overnight.
Place a large cast iron skillet over medium-high heat.  Once skillet is hot, add olive oil and peppers.  Sauté for 6-7 minutes, and then add the onions.  Continue sautéing for 15-20 more minutes or until onions and peppers soft, stirring occasionally.
Meanwhile, place another skillet or fry pan over medium-high heat.  Place marinated chicken breasts in pan and cook until done (~15-18 minutes), flipping after 10 minutes.
In a small bowl, whisk together all of the ingredients for the Vegetable Finishing Sauce.  When the peppers and onions are almost done, reduce heat to medium low, add the Vegetable Finishing Sauce and simmer for 2-3 more minutes.
Once chicken breasts are cooked, transfer them to cutting board and slice thinly.
Place chicken, onions and peppers on a flour tortilla.  Top with optional toppings as desired.  (Tip: Wrap the stack of tortillas in a wet paper towel and microwave for 30 seconds before adding toppings.  This will both warm and soften the tortillas.)
Recommended
Tags: Cast Iron Cooking, Easy Dinners, Dinners, Tex Mex, Chicken Breasts, Chicken, Peppers, Tacos