Funfetti Cupcakes to Make Your Day
David Dial | Spiced Blog
Funfetti cupcakes are a sprinkles smörgåsbord! Need some cheer in your day? These cupcakes are where it's at.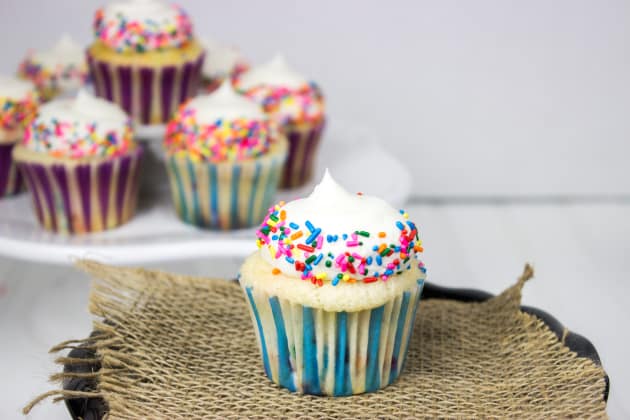 Sprinkles make me happy. In fact, I have a whole bucket full sprinkles in my baking pantry. Need red and green sprinkles for Christmas? I've got those. What about orange, green, and brown for Autumn? Yup, got those, too. Heck, I've even got red and white sprinkles with little candy hearts in there for Valentine's Day.
No matter the time of the year, I've got the sprinkles covered! (I think I may have a sprinkle problem…but that's a topic for another day.) And what's my favorite thing to do with all of these sprinkles, you ask? Make Funfetti Cupcakes of course!
These Funfetti Cupcakes are festive, colorful, and, well, fun. And the best part is how easy they are to make! I use my go-to white cake recipe and then just add about 1/2 cup of various-colored sprinkles. (I used multi-colored sprinkles for this batch, but you could easily change the sprinkles to match the appropriate holiday.) You may notice that the cake recipe for these Funfetti Cupcakes doesn't include any egg yolks. That helps make the cake super white, which in turn makes the sprinkles show up better when you take a bite of the cupcake.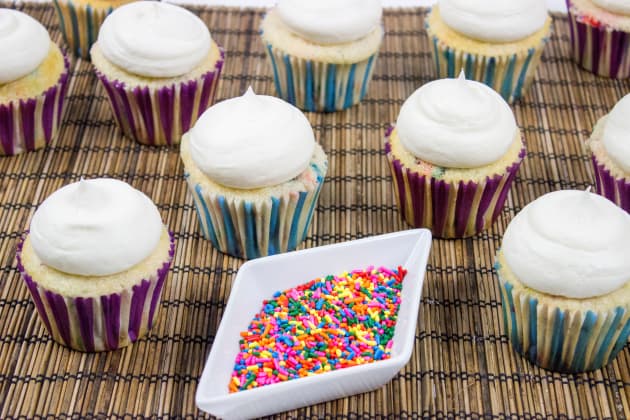 There's tons of different ways to frost the tops of these cupcakes, but lately I've been quite fond of using a (very) large round frosting tip. (I used the Ateco #809 tip for these cupcakes, but the Wilton 1a tip would also work.) I think the result is simple, but rather striking… especially when you gently roll the sides of the cupcake in a bowl of sprinkles.
So if you're looking for a fun (and festive) dessert idea, give these Funfetti Cupcakes a shot! (Oh, and if you come across some unique sprinkle colors, you know where to find me.)
One little note - Have you ever noticed that frosting often tastes very powdered sugary when it's first made? I have, and while I like powdered sugar, sometimes it can be a bit overwhelming. My secret for fixing this problem is simply to make the frosting the day before. After the frosting rests overnight, the flavors meld together, and the powdered sugar isn't as stark. The frosting will certainly be fine either way, but I prefer to make mine the day before and then just fluff it back up with a dash of milk or cream.
If you are a serious sprinkle fan, then I also suggest whipping up some of Aimee's Funfetti Cookies and Funfetti Cookie Dough Truffles.
Ingredients
For the Cupcakes:
8 tablespoons Unsalted Butter, softened (1 stick)
1 1/3 cups Granulated Sugar
2 1/4 cups Cake Flour
1 tablespoon Baking Powder
1/4 teaspoon Salt
2 teaspoons Pure Vanilla Extract
4 large Egg Whites
1 1/4 cups Milk
1/2 cup Rainbow Sprinkles
For the Frosting:
6 tablespoons Unsalted Butter, softened
1/4 cup Shortening
1 tablespoon Pure Vanilla Extract
3 1/2-4 cups Powdered Sugar
4-5 tablespoons Milk
1/3 cup Rainbow Sprinkles
Directions
For the cupcakes:
In the bowl of a countertop mixer fitted with the paddle attachment, cream together the butter and sugar until light and fluffy (2-3 minutes on medium speed).
In a separate bowl, mix together the cake flour, baking powder, and salt.  Add the vanilla, egg whites, and ½ of the flour mixture to the mixer bowl.  Mix on low speed just until combined.
Add the remaining 1/2 of the flour mixture and mix on low until combined.
Add milk and mix on low until batter is fully combined.  (Don't forget to scrape down the sides of the bowl with a spatula to ensure the batter is evenly mixed.)
Fold in the sprinkles.
Line a muffin tin with paper liners; fill each tin approximately 2/3 full.
Bake at 350°F for 26-28 minutes, or until a toothpick inserted into the center of the cupcake comes out clean.
Let cupcakes cool before frosting.
For the Frosting:
In the bowl of a countertop mixer fitted with the paddle attachment, add the butter and shortening and mix on high speed until fully combined.
Add the vanilla and powdered sugar 1 cup at a time, mixing after each addition until fully absorbed.
Add the milk 1 Tablespoon at a time until frosting reaches the desired consistency.
Frost cupcakes as desired; garnish with sprinkles.
Recommended
Tags: Cupcakes, Vanilla Cupcakes, Baking, Copycat Desserts, Desserts, Party Food