Top Chef Recap: Oui Si a Challenge
Emily Caruso | Jelly Toast
Top Chef is back with a new episode. Read on for our exclusive Food Fanatic recap and review.
In all the seasons of Top Chef, this week's episode, proved to be one of the most intense and controversial that I've seen.
It's not shocking that Nicholas once again finds himself smack dab in the middle of the drama bubble, although his usual nemesis, Carlos, is surprisingly absent. The events bring out many questions regarding the format and rules of the show, particularly this late in a season, and most definitely bring strong feelings to the surface.
The episode kicks off with a particularly nerve wracking Quickfire Challenge that is judged by Jacques Pepin. The chefs must recreate a dish of Chef Pepin's after having watched him prepare it. The dish is full of precise technique and the challenge puts the chefs on edge.
Nicholas manages to harness the right qualities of the dish that Pepin is looking for and wins his first Quickfire Challenge as well as immunity in the Elimination Challenge.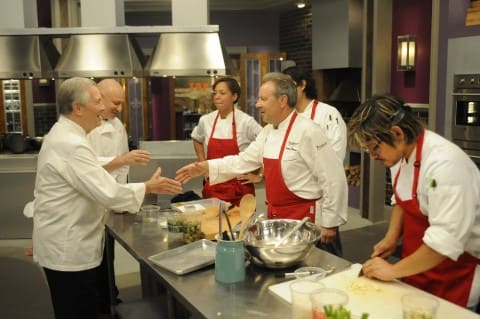 Elimination Challenge
For the Elimination Challenge, the chefs are split up into two teams, French and Spanish, and are paired up with Master Chefs Dominique Crenn and Julian Serrano. Each team will work with their master chef to create a five course meal incorporating five common ingredients that are found in both French and Spanish cuisine: olives, almonds, mussels, chicken and chocolate.

The chefs draw knives and Nicholas, Shirley and Stephanie are on the French Team with Chef Crenn and Nina, Carlos and Brian are on the Spanish Team with Chef Serrano.

Right off the bat, it's obvious that Chefs Crenn and Serrano have very specific ideas of what they want their teams to create. Chef Crenn is pushing her team toward modern, avant garde French fare while Chef Serrano is all about old school, traditional Spanish comfort food.

Stephanie is feeling way out of her element with this wacky, modern cuisine and this is where things start to get hairy. During the menu planning and cooking portions, Stephanie is generally feeling off about several elements of Nicholas' dish. Going with the suggestions of Chef Crenn, Nicholas is cooking an unusual chocolate and chicken recipe with several bizarre garnishes including a 'corn silk nest'.

It's this nest that Stephanie is having serious concerns about and voices her opinion, only to have her oppositions be squelched by Nicholas. The problem comes in with the fact that Nicholas has immunity and won't be going home. True, this is a common issue on Top Chef - the chef with immunity goes off the rails and creates a hot mess of a dish, sending a less deserving chef packing.

Stephanie (and Shirley for that matter) are quite concerned about the fate of their team, and for good reason.

During the tasting portion of the meal, Chefs Crenn and Serrano are at each other's throats snidely commenting that they dislike the other team's dish, even in the face of the rest of the table enjoying the dish. They exchange (very) thinly veiled insults and it's obvious that the rest of the judges are feeling awkward about the whole thing - and as a viewer, I was beginning to get concerned that the teams were led astray with the menu planning. Watching them bicker and criticize the other team's food left a bad taste in my mouth.

Here is a rundown of the two menus that the chefs served up:

French Team
Shirley: Snapper Ceviche with Dehydrated Olives & Ice Cream
Stephanie: Pickled & Poached Mussels, Crustacean Jus & Tomate
Shirley & Stephanie: Chicken Liver Mousse with Roasted Chicken Bouillon
Nicholas: Cornish Game Hen & Spiced Chocolate with Corn Silk Nest
Nicholas: Almond Flan, Plum & Dark Cocoa

Spanish Team
Nina: Ensaladilla Rusa with Green Olives, Gulf Shrimp & Potatoes
Nina: Ajo Blanco with Almonds, Crab & Cherries
Carlos: Mejillones A La Romesco with Crispy Leeks
Brian & Carlos: Pollo Con Arroz - Chicken & Saffron Rice
Brian: Flan De Chocolate & Strawberries

Judges Table
The judges choose the Spanish Team as the winning team, awarding Nina the coveted prize of ultimate winner. They loved her simple but perfectly cooked potato salad recipe, commended her on how she handled each element of the dish perfectly. Nina is solid and I expect her to go all the way to the finale.

That leaves the French Team on the bottom. The problem lies in the fact that the sole reason they're in the bottom is due to Nicholas' poor performance in both of his dishes - yet he has immunity. Tom and Chef Pepin call Nicholas out and question if he will resign from the competition in order to save Stephanie and Shirley. Nicholas declines to resign and the judges send Stephanie home.

My initial emotion was anger that Nicholas didn't resign. He has talked a big game the entire season about being an honorable chef and cooking with integrity, just to turn around and throw Stephanie under the bus when he clearly slipped up. How dare he not take responsibility for his actions and go home when he's clearly the deserving one?

But then I got to thinking. It's not fair to ask Nicholas to give up his immunity when, according to the rules of the show, he earned it fair and square. I think that the show misstepped by giving immunity when there are only six chefs remaining. At this point in the season, immunity and team challenges should be off the table.

Period. Cook for yourself and be consistent - that's the way you will end up in the finale - not due to some loophole you managed to squeeze through. I disagree with the fact that immunity was given in this episode, although, I don't blame Nicholas for not volunteering to pack up his knives and leave. As we've said before, it's a competition, after all and he's just playing by the rules.

I would love to know, do you think Nicholas should have resigned?

Tags: Top Chef, Cooking Shows
Sign Up for Weekly Personalized Recipes. FREE!