Top Chef Recap: Mississippi Mud Bugs
Emily Caruso | Jelly Toast
Top Chef bugged out for its first episode of 2014. Read on for an in-depth recap.
The chefs are back this week and cooking up some crawfish and some drama. Let's start with the crawfish, shall we? 
Guest judge, and Louisiana native, John Besh is back and hoping to taste some seriously succulent étouffée. For the Quickfire Challenge, the chefs have to share their versions of étouffée featuring local, fresh crawfish in the hopes of winning immunity.
Poor Stephanie suffers from a serious shellfish allergy, so she must rely on Nicholas to taste her dish for seasoning. He does a good job, and John Besh is appreciative of the flavor she extracted from the crawfish shells, but feels her dish is more of a bisque than an étouffée. It's Shirley's version of étouffée that draws him in. Chef Besh even declares that he could eat an entire bowl of her dish.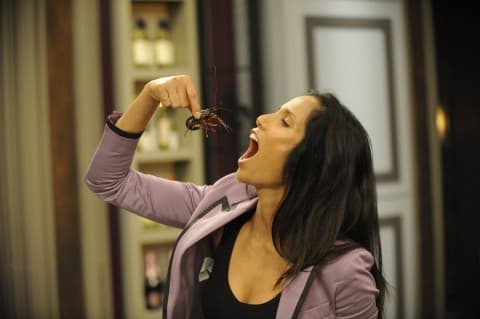 After the Quickfire Challenge, the chefs have the chance to go hang out at John Besh's breathtaking country home. John Besh's laid back style is just so adorable, it's no wonder that Nina is making plans to move into his guest room. By the looks of it, he'd have room for me, too.

Elimination Challenge
For the Elimination Challenge, the chefs will create a dish for the Louisiana Seafood Festival that must feature two different types of seafood. Stephanie, Brian and Carrie all cook their seafood, while the remaining chefs go for raw or cold applications like crudo or ceviche. It's with all the ceviche that the drama comes into play.

Nicholas and Carlos are butting heads once again. After throwing Nicholas under the bus during the last challenge by accusing Nicholas of 'stealing his oven' to the judges and whining like a preschooler, Carlos has the nerve to ask Nicholas to borrow his sushi knife in order to get better cuts on his raw fish dish for this challenge.

Nicholas is a bit taken aback, but in the end lets Carlos borrow it because he's a decent guy. Nicholas should have let him twist in the wind because this is a competition after all, and Carlos should not have chosen to do a raw fish dish if he didn't have the proper tools to do it well. That's his misstep and it was out of line for him to ask Nicholas to borrow his knife. To add insult to injury, Carlos leaves the fish-crusted knife on the counter underneath a pile of garbage which leaves it spotted and stained. Nicholas has every right to be furious and will undoubtedly in the future be much less willing to help the other chefs…or at least Carlos.

Despite the drama, the chefs turn out some pretty fantastic and refined dishes, and while not all were completely perfect, no one completely fell on their face.

Brian: Grilled Sordfish, Shrimp & Sweet Onion Puree with Fennel Daikon Relish
Nicholas: Oyster Leek Soup, Champagne Emulsion, Green Apple Yogurt & Cured Amberjack
Carrie: Flounder Croquettes with Oyster Emulsion & Pickled Cucumbers
Shirley: Tuna & Amberjack Ceviche with Aged Soy Sauce, Lime Dressing & Toasted Pecans
Nina: Marinated Wahoo with Salsa Verde, Tonnato Sauce & Pickled Vegetables
Carlos: Amberjack Ceviche with Rustic Peach & Shrimp Relish
Stephanie: Fried Lousiana Oysters with Tuna & Pickled Beech Mushrooms

Judges Table
The judges were particularly thrilled with Brian and his choice to cook his fish and serve a warm dish. They commend him for the risk he took and how well he pulled off his swordfish recipe.

They were also pleased with Nina and her decision to cook Wahoo as well as the incredible spice mixture she used to season her dish. It is Stephanie's fried oyster, however, that wins the hearts of the judges panel. Stephanie kept the integrity of the oyster and did a phenomenal job frying them to order. While her service was a bit slow, she kept the quality consistent and her pickled salad was the perfect brightness in contrast to the rich, fried oyster. She cooked with passion and the judges noticed.

In the bottom were Nicholas, Carlos and Carrie. Nicholas had wonderful technique, but his oyster soup lacked texture and a bit of seasoning. Carlos, with all his sushi knife drama, ended up cutting his fish too thin, making it almost nonexistent and therefore impossible to judge it's flavors.

But Carrie's manipulation of the fresh fish and her choice to turn it into a cured, pureed and fried croquette had the judges scratching their heads. They were disappointed that she did not uphold the integrity of the beautiful piece of fresh fish and ended up sending her home.

Carrie going home was a bit of a shock based on how well she did at the beginning of the season. She was one of the chefs to watch, but in the last couple of episodes, has slipped down to the bottom and now ultimately out of the competition. Which means one thing - we get at least one more installment of the Carlos/Nicholas drama which is sure to be interesting.

Tune in next week when the chefs are joined by the legendary Jacques Pepin in a battle between French and Spanish cuisines.

Tags: Top Chef, Cooking Shows
Sign Up for Weekly Personalized Recipes. FREE!