Lemon Blueberry Bread: Sunshine Sweet
Lisa Grant | Jersey Girl Cooks
Lemon blueberry bread brings to mind sunshine on a wintery day. The sweet and bright flavors will make you happy!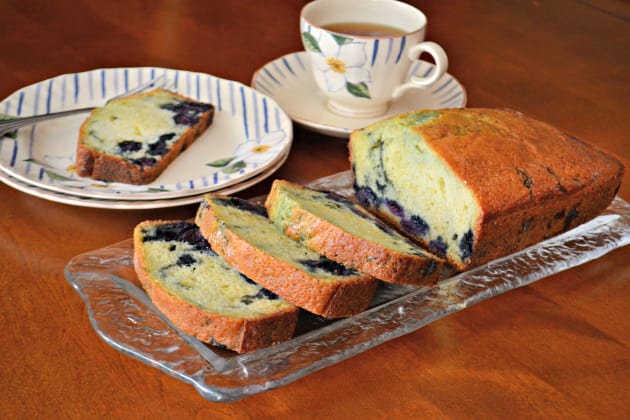 Spring and summer are long gone but every once in a while I need to be reminded of long summer days and warm sunshine. Lemon and blueberries remind me of just that. There's nothing better on a chilly morning than to have a cup of coffee or tea with a moist piece of lemon blueberry bread. It reminds me that the days of spring are right around the corner.
While lemons are always plentiful year round, blueberries are scarce in the fall and winter. If I do find some fruit, their quality is not always the best. In the summer, I am all about local produce and making muffins , waffles and jams with fresh Jersey blueberries. But in the fall and winter, I always keep a couple of bags of frozen blueberries in my freezer. They are great to bake with but also wonderful in smoothies.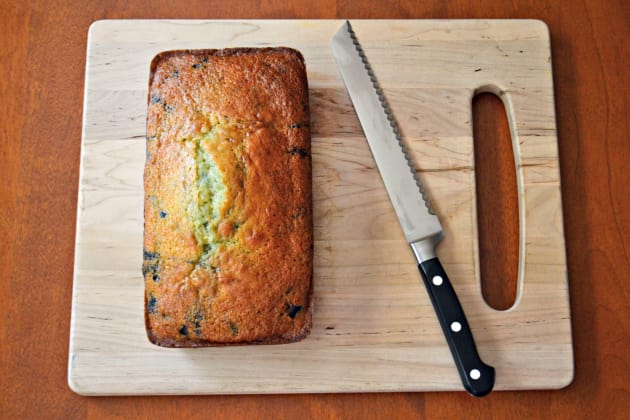 Baking with frozen blueberries is very easy. Just be sure to add the frozen blueberries at the very end right before baking. If you add them sooner and they sit, you might end up with green batter. The blue color will run into the yellow batter causing it to look green. It will still taste good if you don't mind green colored bread.
I baked this bread into one large loaf but it could be made into several mini loaves too. It is perfect to wrap up in some pretty paper and give as a gift during the holidays. I often make an assortment of mini breads such as chocolate chip bread or beer bread for my kids' teachers. I wrap them and attach a gift card from the local coffee shop. Teachers are always happy to have a homemade gift.
This moist loaf is perfect to make and freeze. There are always the times of unexpected company and I love being able to pull a treat out of the freezer. Give me a slice and I am in blueberry lemon heaven!
Ingredients
1 1/2 cups All-Purpose Flour
1 teaspoon Baking Powder
1 teaspoon Baking Soda
3/4 cup Granulated Sugar
3 tablespoons Lemon Juice, fresh
Lemon Zest, from one large lemon
1/2 cup Buttermilk
3 large Eggs
1/2 cup Canola Oil, or vegetable oil
1 1/4 cups Frozen Blueberries
Directions
Preheat the oven to 350°F. Spray an 8 1/2-x-4 1/2-inch loaf pan with cooking spray.
Whisk together the flour, baking powder and baking soda together in a small bowl.
Put the sugar, zest and juice in a medium bowl and rub the ingredients together until the sugar is fragrant. Mix in the buttermilk, eggs and oil. When the mixture is well blended, gently whisk in the dry ingredients. Switch to a spatula and fold in the blueberries.
Pour the mixture into the baking pan and bake for 50 to 55 minutes or until top is golden and a toothpick inserted into the center of the cake comes out clean.
Cool on a rack for at least 20 minutes before slicing and serving.
Notes
This bread can be wrapped and kept at room temperature for 4 days or frozen for a month.
Recommended
Tags: Quick Bread, Bread, Baking, Breakfasts, Bananas, Blueberries