Leftover Soup for the Soul
Steph S. | ::steph chows::
Leftover Soup is what you make of it! Steph used butternut squash and mushrooms in this super comforting soup. What will you use?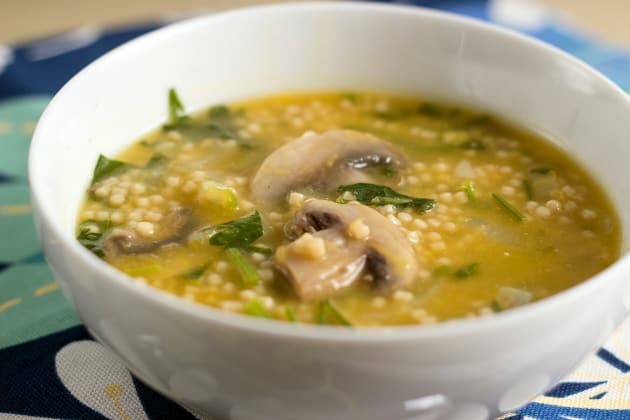 Most nights of the week I don't know what I'm making for dinner until I walk through the door after work. I let my belly and whatever is in my fridge inspire the meal. Sometimes this leads to horribly random meals… and sometimes it ends in delicious inspiration. That's where this leftover soup comes from.
I had a big container of mushrooms hanging out in a drawer and then spotted a huge hunk of parsley leftover from some stuffing John made. Add to that some roasted butternut squash from the night before, and I wasn't sure WHERE I was headed.
The great thing about soup is that you can pretty much throw any ingredients in a pot, and given enough simmering time, they'll turn into something wonderful. Stock in a box heeds this process, and for that reason, I always have it on hand. You can take this recipe and swap in any vegetables you'd like. Carrots and celery, sweet potatoes and squash – the soup world is your oyster.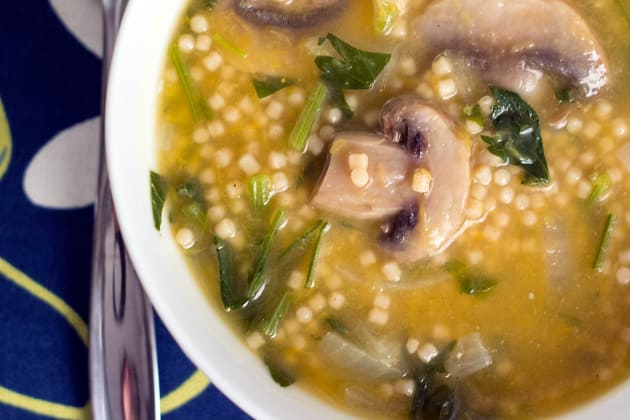 All pulled together, John asked if this soup was Italian wedding soup… umm sure, if that will make you eat it? Needless to say, we both inhaled it and were happy to have some left over to pack up for lunch the next day.
Don't feel like you have to follow this recipe to the T. Think of it more as an inspiration to the leftover you have sitting in your house. Make sure to serve it up with some crusty bread or a freshly made biscuit, better for sopping up the delicious bits at the bottom of the bowl. I mean, c'mon – is there anything better than that?
What is your favorite leftover meal to reinvent?
We can think of a few Fanatic recipes that would make great soups the next day, like this roasted broccoli recipe.
Ingredients
1 large Onion, chopped
2 cloves Garlic, chopped
4 cups Mushrooms, sliced
2 cups Butternut Squash, cubed and roasted
2 cups Fresh Parsley, leaves and stems, chopped
2 cups Chicken Stock
1 cup Boiling Water
8 ounces Pasta, small noodles of your choice
Directions
In a large soup pot sauté onions, garlic, and mushrooms until golden brown.
Add squash, chicken stock, and water.
Bring to a simmer then add in butternut squash and parsley.
In a separate pot boil water and cook pasta according to package directions.
Drain half the pasta water and pour pasta and remaining liquid into the soup pot.
Stir together and serve with crusty bread.
Recommended
Tags: Soups, Vegetables, Easy Dinners, Easy, Dinners, Simmering, Butternut Squash, Mushrooms, Pasta