Grilled Chicken Caesar Salad: Classic Dinner for Two
Christina Lane | Dessert for Two
Grilled chicken caesar salad is a classic. Christina's homemade dressing will have you remembering why!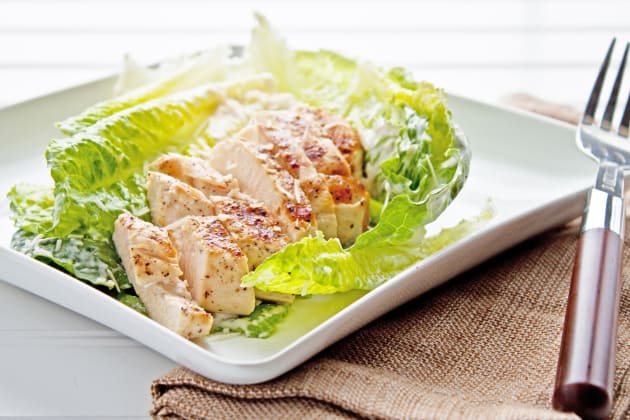 Grilled chicken Caesar salad is one of my favorite items to order in restaurants. I didn't think it was possible for me to make a garlicky, creamy Caesar dressing at home. I was also dubious about the raw egg yolk in the dressing. Then, my best friend introduced me to her raw egg-free Caesar dressing recipe, and I become hooked. All it needed was the perfect grilled chicken breast and cool, crisp Romaine lettuce for serving.
The Caesar dressing comes together easily with store-bought mayo. Buy the real stuff, please. Then, stir in Parmesan, fresh lemon juice, plenty of freshly cracked black pepper, salt, and a grated clove of garlic. Once the garlic infuses into the dressing, it tastes just like the restaurant dressing.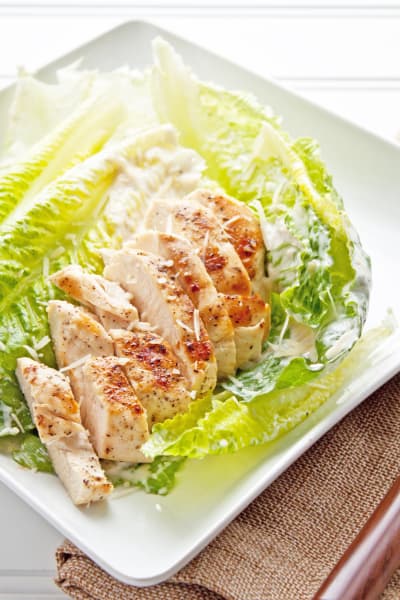 The extra touch that I think this salad deserves is hand-torn lettuce. Have you ever noticed the Romaine in the salad bag always has brown edges from oxidation? Lettuce does not like to be cut. Trust me, I did my Master's thesis on the stuff. Hand-torn lettuce breaks on the edges of the cell walls and reduces browning. A knife cuts directly through cell walls, and the result is weepy lettuce. Buy a whole head of Romaine, and tear the leaves apart yourself. You will notice the difference.
This recipe for Chicken Caesar is the perfect Saturday lunch for two. Or, make it ahead and take it on a picnic. Remember, two garlic breaths cancel out each other!
We think this salad is perfect on its own, but who could say no to a Red Lobster biscuit on the side? Or maybe some of Kate's Rosemary Roasted Garlic Bread!
Ingredients
1 tablespoon Extra Virgin Olive Oil
Salt, to taste
Black Pepper, to taste
2 Boneless Skinless Chicken Breasts, 6 ounces each, or 1 large breast, butterflied
1/2 head Romaine Lettuce, hand torn
Directions
Preheat a grill pan on high heat. Sprinkle both sides of the chicken breasts with salt and pepper. When the grill is hot (you can hold your handle over the surface for 3 seconds), brush with the olive oil and place the chicken breasts on the surface.
Cook for 5-7 minutes, turning 45° half way through for perfect grill marks. Flip the chicken and cook until meat registers 165°. Let rest on a cutting board for at least 5 minutes. You can make the chicken ahead of time and store in the fridge for up to 3 days.
Tear the Romaine into bite size pieces and place in a large bowl. Top with the dressing and toss. Slice the chicken and scatter on top of salad. Serve immediately.
Recommended
Tags: Salads, Cooking for Couples, Easy Dinners, Easy, Lunches, Chicken, Dressings