Gluten Free Banana Bread: Homey Goodness
Erin D. | Texanerin Baking
This healthier gluten free banana bread has the most amazing texture and is full of cinnamon-y goodness! We know you'll love it.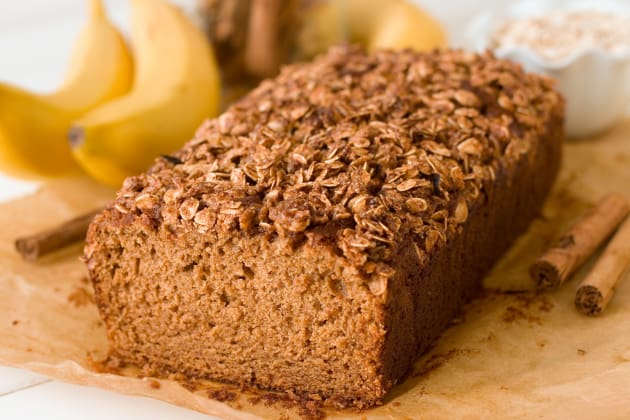 What is it about homemade banana bread that's so comforting? I can't think of anything else that feels so homey. I love it so much that banana bread was the first recipe I ever posted. It was whole grain and is still my favorite gluten-filled bread. And this gluten free banana bread? It was so incredibly good that I have no intention of ever attempting another gluten free banana bread recipe. The texture was spot on and the banana and cinnamon flavors prominent.
If you like, you can add a cup of nuts to turn this into banana nut bread. Or if you want an even sweeter bread, some chocolate chips would be a nice addition! One cup might be a tad bit excessive so I wouldn't add any more than 3/4 cup chocolate chips to the batter. And maybe a sprinkle or two of chocolate chips over the top wouldn't hurt, either.
In my gluten free baking, I usually stick to almond flour, coconut flour and oat flour. It's practically impossible to get really great textured bread out of these three, so I sometimes step out of my comfort zone when it comes to bread. And it worked amazingly well here! I used brown rice flour, tapioca starch, and coconut flour.
The people who tried this banana bread didn't even realize it was gluten free. That's a pretty big accomplishment if you consider how funky some gluten free bread can be. To be fair, my taste testers weren't bakers and probably don't even know what gluten free really means, but at least they didn't detect anything "off" about it.
And the oat topping is super crunchy and oddly way more tasty than I thought it would be! Oats, sugar, cinnamon and... applesauce? It works! I haven't tried it but I imagine you could replace the applesauce with some oil or melted butter if you don't happen to have an open jar of applesauce. And hey, if you open up some applesauce, you can make this gluten-free granola! Then you can go to town on some cinnamon oat-y goodness. 
Need more of Erin's gluten free breakfast bread goodness? Check out this gluten free muffins recipe chock full of cranberry and orange flavor!
Ingredients
Wet Ingredients:
1 cup Banana, overly ripe and mashed (about 3 bananas)
2 Eggs
1/4 cup Coconut Oil, melted
1/2 cup Coconut Sugar, or brown sugar
3/4 cup Unrefined Cane Sugar
1 tablespoon Pure Vanilla Extract
Dry Ingredients:
1 cup Brown Rice Flour, or sorghum flour
1/2 cup Tapioca Starch, or potato starch (not potato flour)
1 tablespoon Coconut Flour
2 teaspoons Baking Powder
3/4 teaspoon Xanthan Gum
1/2 teaspoon Baking Soda
1/4 teaspoon Salt
1 tablespoon Cinnamon
Oat Topping:
1/3 cup Old Fashioned Oats, certified gluten free
1/4 cup Unrefined Cane Sugar, or brown sugar
1 tablespoon Unsweetened Apple Sauce
1 teaspoon Cinnamon
Directions
Preheat the oven to 350°F.
Line a 9"x5" loaf pan with parchment paper or spray it with cooking spray.
In a large bowl, mix together the wet ingredients until well combined.
In a medium bowl, mix together the dry ingredients until well combined.
Add the dry mixture to the wet mixture and stir just until combined.
Pour the batter into the prepared loaf pan.
In a small bowl, mix together the topping ingredients.
Sprinkle the topping evenly over the top of the loaf.
Bake the loaf for 50 - 60 minutes or until a toothpick inserted in the middle of the loaf comes out clean.
Let the loaf cool for 5 minutes in the pan and then turn out onto a wire rack to cool completely.
Store the loaf, tightly covered, at room temperature for up to 3 days. If anything is left after the third day, store in the refrigator.
Recommended
Tags: Gluten Free Baking, Gluten Free, Baking, Breakfasts, Brunches, Quick Bread, Bread, Bananas