Food Fanatic's 1st Birthday Giveaway!
Amber Bracegirdle | Bluebonnet Baker
Food Fanatic turns 1 today. We've had a wonderful first year, and we're givin' out the birthday presents to say thank you!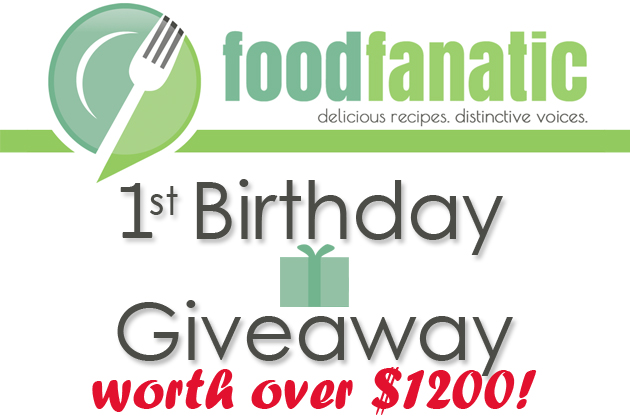 Today marks a very special day for us here at Food Fanatic - we turn 1! The past year has been so full of delicious food and fantastic friendships, we don't know where to begin. 
Then Eric and
I
met at a food blogger conference. Anyone who knows me knows that I can be a little outspoken when I need to be, and I guess I caught Eric's attention. 
From there, we talked about our dream contributors list. I'm more than a little chuffed to say that the Food Fanatic family is pretty much right on par with every dream we ever had. 
When you write about food, and create recipes, it's such a personal - such a visceral thing. First and foremost, we hope that each contributor's passion for the food they love is coming across to you. 
One of my personal favorite things about Food Fanatic is the opportunity the contributors have to write about food that really revs their engines - even if it's the kind of recipes they don't normally cover on their own site. 
We've also loved opening up the doors to introduce our readers to new products that we love. The brands we've worked with this year;
Le Creuset
,
Swissmar
,
Dreamfarm
,
Magimix by Robot-Coupe
,
KitchenIQ
- each brand is known for their quality, craftsmanship, and excellent utility in the kitchen.
We're excited to partner with them today to have one GIANT giveaway for all our wonderful readers. Thanks for sticking with us in our first, growing-pain filled year. 
We love you guys, and we have so many exciting plans for 2014! 
One lucky Food Fanatic reader will win this entire giveaway
worth over $1200 with products from all our favorite brands.
Good luck!
These are some of our favorite recipes from the past year. Visit your old favorites or find a new one!

Tags: Giveaways