Teafu Review
Brandy O'Neill | Nutmeg Nanny
Dreamfarm's Teafu makes your cup of tea even more fun. It comes in a range of colors too!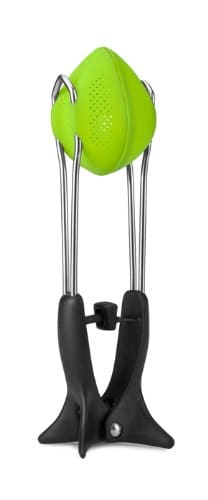 Brewing loose-leaf tea doesn't not have be a hassle. Classic tea infusers often need to infuse and then when pulled out of the hot tea they have to rest on a plate or go into the sink. This simple design allows you to infuse your tea, squeeze out the flavor and not worry about a dripping tea infuser.
The tea hall portion of the Teafu is made from silicone so it's flexible and safe for temperatures up to 500°F.  My only concern about the Teafu is that the silicone head seems thing so I worry about the durability for long term or heavy use.
It's small enough to store in a utensil drawer but it is bigger than a classic tea infuser ball. The Teafu also has a round head that works as a scooper/spoon to help gather and measure out loose-leaf tea. There is also a nice locking mechanism so you do not have to worry about the Teafu opening while your tea is steeping. 
Pros:
Easy to use
Silicone head which helps makes it cool to the touch
Nice locking mechanism
Cons:
Silicone feels very thin so I worry about long time durability
Takes up more space than a traditional tea infuser 
Tags: Dreamfarm, Tea, Product Reviews