Homemade Teriyaki Sauce: Easy and Tasty
Joli Selten-Forbes | Joli Selten-Forbes
Homemade teriyaki sauce that's gluten free and all kinds of delicious. You won't believe how easy it is to make!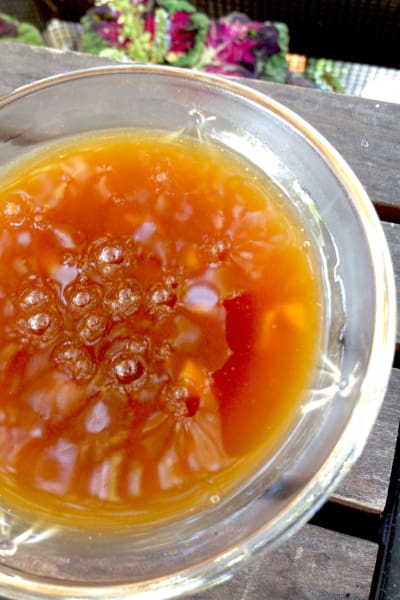 "Teriyaki" is defined as a dish that is marinated in specific ingredients and then grilled, fried or broiled. It used to be that when I heard "teriyaki" I thought of chicken, salmon or beef. People are getting funky these days, and so it's now not so strange to find inventive teriyaki dishes such as teriyaki veggie stir-fries and my new favorite, Gluten-Free Meatballs.
The word "teriyaki" can also be defined as a Japanese sauce itself, of course, and that's what we're talking about here. Sweet and savory, the sauce runs the gamut of delicious, and it is as simple to make as it is to enjoy. This is why it's so commonly used in Hawaiian, Chinese, Japanese, Korean and pretty much every Asian fusion menu across the world.
Creating a gluten-free version of homemade teriyaki sauce simply means spending a couple extra bucks and shopping at the health food store. You are probably doing both of those things if you're gluten-intolerant or if you have been diagnosed with Celiac Disease.
The reason we'd need to seek out a gluten-free recipe is that teriyaki sauce is traditionally made with soy sauce, which is commercially produced with wheat (gluten). Our solution - substitute soy sauce with tamari, which is a soy sauce alternative made without wheat.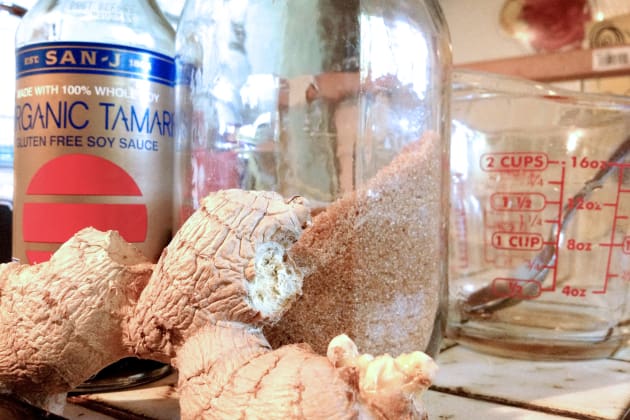 Tamari is made with 100% soybeans. So you can either seek out a GF soy sauce (which is not hard to do these days) or you can use tamari. Tamari has a slightly stronger flavor than wheat-filled soy sauce. (I guess that's because it's not full of wheat which is a flavor-absent filler.) However, when the final product finished cooking, the color was a warm auburn as opposed to a dark brown… interesting!
The main ingredients in gluten-free, homemade teriyaki sauce are simple, and as always, organic is best. Because this is a "traditional" recipe, I have not strayed from the usual suspects here, but rather chosen the most conscious ingredients my pocket book could afford!
Some suggestions might be adding pineapple juice or pineapple chunks or açai berries might add a pungently sweet twist. Because I'm making gluten-free, homemade teriyaki meatballs with steamed rice, I'm keeping things old school - no twists here, just plain, old deliciousness! 
We think Joli's Glass Noodles recipe would go great with this teriyaki sauce and meatballs. Give it a try!
Ingredients
1/4 cup Tamari
1 1/4 cups Boiling Water, cold
1/2 teaspoon Fresh Ginger, freshly grated
1/4 teaspoon Garlic Powder
5 tablespoons Brown Sugar
For the Slurry:
2 tablespoons Cornstarch
1/4 cup Boiling Water, cold
Directions
Mix Tamari, 1 cup cold water, ginger, garlic and sugar in a small sauce pan and begin to warm on low-medium heat.
In a separate cup, mix starch in remaining 1/4 cup of cold water until it has dissolved.
Add starch mixture to the saucepan and gently stir.
Heat until the sauce thickens to your desired thickness. 
Notes
You may use the same amount of ground ginger, but it's not as good!
Tags: Gluten Free, Asian, Sauces, Quick, Easy