Healthy Banana Bread: Breakfast Champion
Steph S. | ::steph chows::
Healthy banana bread makes use of those brown bananas sitting on the counter. In mini loaves, they're perfect for tiny hands.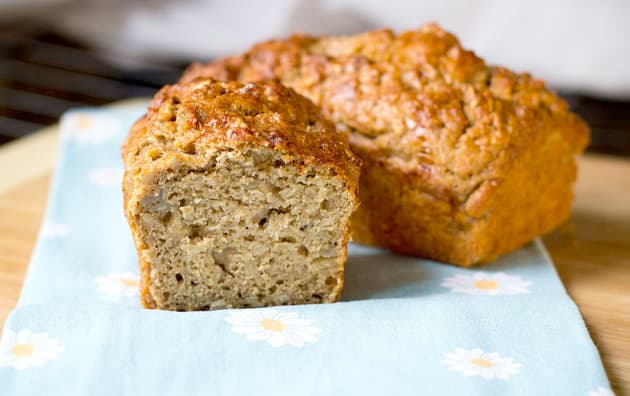 Brown bananas. They seem to multiply on my countertop. But I don't mind, because it means I get to make more healthy banana bread, in mini loaves. Everything is cuter in mini form, don't you agree?
Packed up in brown paper and a little bit of bakers twine, it's the perfect hostess gift. Or you can keep them all for yourselves for a snack or part of breakfast. These are also great for weekday mornings, and their mini form fit into little hands perfectly. An on-the-go breakfast that won't make a huge mess in the car on the way to school.
What do you mean this isn't a breakfast food? It has fruit in it, and yogurt, that totally makes it an acceptable breakfast! Sure, most quick breads are more dessert-y, but this banana bread boasts whole wheat, wheat germ, and fat free yogurt. But it tastes so good, the healthiness is secondary in my mind.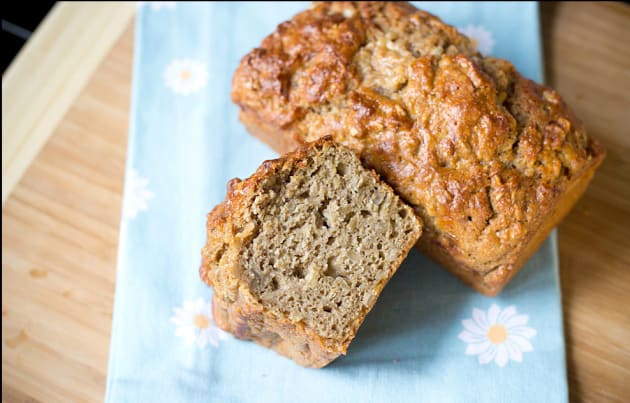 You might notice that one of the loaves is missing both ends. This is because I have a loaf-end stealing husband. Leave something out to cool for too long and magically the ends are missing. This is another good reason to make mini loaves, more ends to eat!
I added cinnamon for a warm winter flavor, but any of your favorite spices work here. Ginger, cloves, nutmeg or allspice could all be switched in and adjusted in quantity to suit your tastes. Adding sunflower seeds gives you a nice crunch while maintaining a nut-free status, but you can sub in your favorite nut if you'd like instead. This healthy banana bread is exactly what you make of it!
Looking for more breakfast options? Check out my apple cider oatmeal recipe and Ethan's broiled grapefruit recipe too. Either go great alongside this banana bread!
Ingredients
1 cup Whole Wheat Flour
3/4 cup All-Purpose Flour
1/4 cup Wheat Germ
2 teaspoons Baking Powder
pinch of Salt
1 1/2 teaspoons Cinnamon
3 tablespoons Butter
1/3 cup Granulated Sugar
1/3 cup Brown Sugar
3 Bananas, very ripe
6 ounces Nonfat Plain Yogurt, or flavored - I used Blueberry
2 Eggs
3/4 cup Hulled Sunflower Seeds
Directions
Preheat oven to 350°F.
In a medium bowl whisk together dry ingredients.
In a small bowl cream butter and sugars.
Once combined, cream in bananas, yogurt and then eggs one at a time.
Gently mix dry with wet, then stir in sunflower seeds.
Place in 3 greased mini loaf pans and bake at 350°F for 45 minutes or until done.
Recommended
Tags: Healthy Eating, Healthy, Baking, Easy, Bananas, Nut Free, Quick Bread, Bread, Breakfasts, Brunches