Glass Noodles: Ancient Greens, Gorgeous Salad
Joli Selten-Forbes | Joli Selten-Forbes
This Glass Noodles Salad is a simple dish that doubles as a great lunch box filler too. Keep it vegetarian, or serve it alongside your favorite stir fried meat.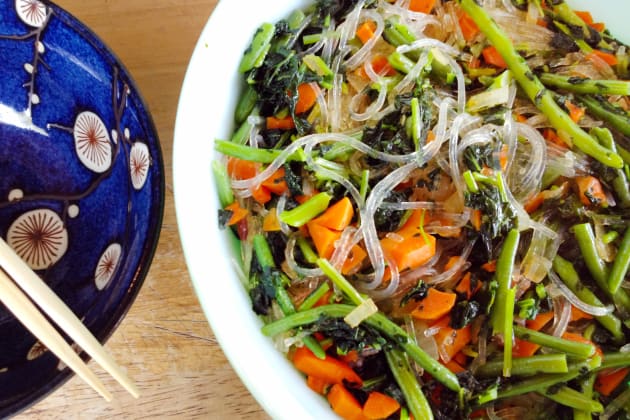 My very first job was a hostess position at a Chinese restaurant. I seated patrons, took to-go orders, packaged them up, and whenever possible ate EVERYTHING on the menu. This particular restaurant's food was healthy and light, unusual for Americanized Chinese fare - and perfect for my pallet. I became addicted.
I am sad to report—25 years later—that my family does not share my addiction. It is a rare occasion these days that I get the opportunity to indulge in my culinary obsession and go to my still-serving, and very popular, high school first Chinese food love.
So instead, I cook foods full of Asian flavors and ingredients for my baby and me when the hubby and big kid are out! A girl's gotta do what a girl's gotta do.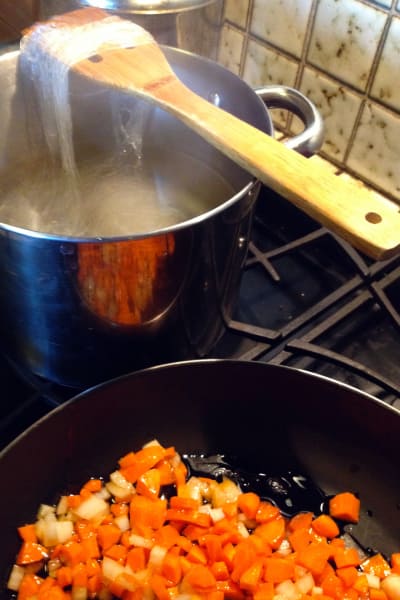 This Asian inspired, gluten free Glass Noodles recipe is also dairy free. It uses frozen vegetables to make life easy for those moms out there who need to use up the "rest of that bag that's been in the freezer forever!" We all know how that goes!
It's great as a side with some sautéed beef or chicken, or toss it in your lunchbox (and the kid's) for a filling and vegetarian lunch that keeps the sandwich blues at bay.
Looking for more great salads with Asian flare? Don't miss Emily's Edamame Salad Recipe!
Ingredients
1 package Bean Thread Cellophane Noodles
16 ounces Frozen Organic Kale
2 cups Frozen Organic Green Beans
2 Organic Whole Carrots, peeled and chopped small
1/4 Onion, peeled and chopped small
For the Sauce:
2 tablespoons Sesame Oil
2 tablespoons Coconut Oil
1/2 teaspoon Sea Salt
1 teaspoon Sriracha Chili Sauce
2 tablespoons Honey
1 teaspoon Worcestershire Sauce, (low sodium Worcestershire Sauce was used in this recipe)
Tamari, to taste, added when serving the salad
Directions
Cook and strain bean thread noodles according to package directions and set aside.
Whisk all sauce ingredients together in a medium bowl and set aside.
Add carrots and onions to the sauce.
Add mixture to sauté pan and cook for approximately 10 minutes.
Halfway through add 1 teaspoon low sodium Worcestershire Sauce.
Bring medium sauce pan of water to a boil and add salt if desired.
Once boiling, add frozen kale and green beans and return to boil for approximately 9 minutes until green beans are no longer frozen. 
Strain and add to carrot mix.
Return all to the sauté pan and cook on medium heat for approximately 10 minutes so flavors mix.
Add garlic salt and onion powder to taste.
Add tamari when serving, add to taste in each bowl.
Notes
I used Ziggy Marley's Coco'Mon Organic Coconut Oil in Lemon Ginger flavor to add extra zing.
To ensure the gluten free integrity of this recipe, please make sure you use a Tamari that is certified gluten free. Some contain small traces of wheat.
Tags: Gluten Free, Asian, Pasta, Dairy Free, Vegan, Vegetables, Vegetarian, Side Dishes