Bruschetta Chicken Pasta: Easy Weeknight Italian
Lisa Grant | Jersey Girl Cooks
This roasted Bruschetta Chicken Pasta is healthy comfort food at its best. You'll love this quick Italian meal!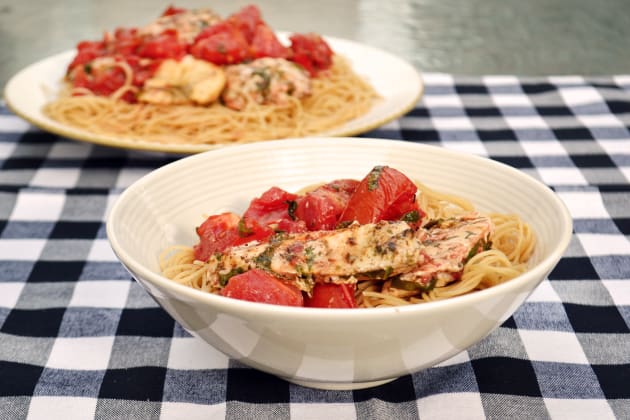 Creating quick meals is my passion and I love being able to help others by cooking for them. Recently my next door neighbor had a health issue and was in the hospital for a few days. I thought it would be nice if he could come home to a healthy comforting meal. This roasted Bruschetta Chicken Pasta fit the bill.
I used chicken tenders to make this dish because they cook quickly and are a lean white meat. Since I did not want to add a lot of salt to the meal, I used plenty of fresh herbs and spices. You can add extra salt if you wish, but the sweet roasted tomatoes and other ingredients give it plenty of flavor without too much sodium.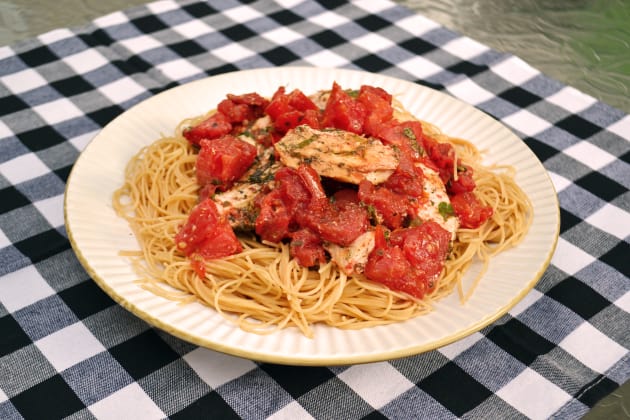 This whole meal can be prepared in less than 45 minutes, so it is another great choice for an easy week night dinner. I served it with whole wheat angel hair pasta, but feel free to cook rice, orzo or another starch. It would even be good with some sourdough bread to soak up the yummy juices.
This dinner also pairs well with a vegetable side dishes like this cucumber tomato salad recipe. If you're like me, you can never have too many tomatoes on your plate!
Happy eating!
Ingredients
2 Tomatoes, large, cut into 2" pieces
1 pound Boneless Skinless Chicken Tender
2 tablespoons Olive Oil
2 tablespoons Fresh Basil, chopped
2 tablespoons Fresh Parsley, chopped
1/2 tablespoon Garlic, crushed
1/2 tablespoon Italian Seasoning
1/2 teaspoon Salt
1/2 teaspoon Black Pepper
12 ounces Whole Wheat Pasta
Directions
Preheat oven to 375°F.
Place the tomatoes and chicken in a large mixing bowl. Add the olive oil, basil, parsley, garlic, seasoning, salt and pepper. Mix well so that tomatoes and chicken are well coated.
Place the mixture on a large baking sheet. Place in oven and cook for about 30 minutes or until chicken is cooked and juices are clear.
While chicken is roasting, cook pasta in a pot of boiling water according to package directions. Drain and keep warm until ready to serve.
Mix the juices and some of the tomatoes with the pasta. Top with remaining tomatoes and chicken.
Notes
I used whole wheat angel hair pasta, but any whole wheat pasta works here.
Recommended
Tags: Easy Dinners, Easy, Chicken, Pasta, Tomatoes, Whole Grain, Italian, Family Meals and Snacks