Zucchini Chips: Fried Up Fabulous
Christina Lane | Dessert for Two
Zucchini Chips are a great way to use up extra zucchini. With an easy yogurt dip, they make a perfect football snack!
As the summer draws to a close in the western and southern part of the US, I'm betting that you're up to your ears in zucchini. Whether you planted too many plants in your garden, or your neighbor keeps dropping them on your porch, you're fully-stocked in squash. Lucky you! And what should you make after you have had your fill of zucchini muffins with lemon glaze? You make these crispy, salty zucchini chips!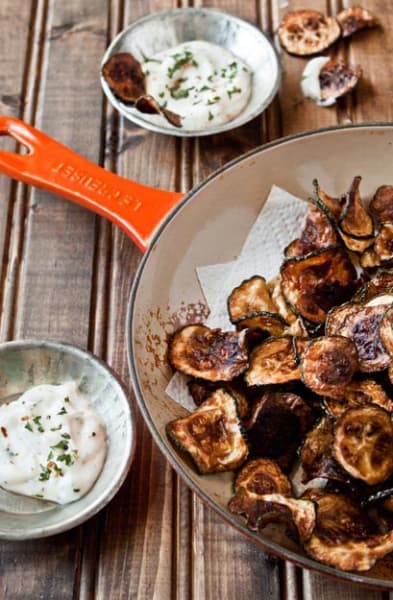 For the crunchiest zucchini chips, all it takes is a quick fry in a neutral-oil, like canola or safflower. I alternated between using a mandolin and a knife to thinly slice the zucchini—both work great.
Thin, young zucchini work best for the this recipe because the skin of the zucchini is what gets crispy while frying. If you use old, over-sized zucchini, your chips won't be as crisp.
Enjoy the last few days of summer with these addictive zucchini chips! I've given you an easy yogurt dip recipe to go with them, but I bet they'd also be great dipped in Emily's
Feta Cheese Dip Recipe
too!
Ingredients
zucchini chips:
4 cups Vegetable Oil, for frying - you can also use safflower or canola oil
4 pounds Zucchini Squash
2 teaspoons Salt, 1/2 teaspoon per batch
Yogurt Dip:
1/2 cup Plain Yogurt
1/4 teaspoon Garlic Powder
1/4 teaspoon Black Pepper, freshly cracked
1/2 teaspoon Dried Parsley, dried
1/8 teaspoon Salt
Directions
For the Zucchini Chips:
Heat the oil to 400°F in a 3-quart sauté pan over medium-high heat. Attach a candy thermometer to the side with the tip just barely in the oil.
Thinly slice the zucchini using a mandolin or knife.
Once the oil reaches temperature, fry a handful of zucchini slices at a time, monitoring the oil temperature. It will drop about 20° each time you add zucchini, but it should quickly come back to temperature. If it doesn't, turn up the heat.
Fry each batch for 5-7 minutes, until deeply golden brown.
Use a wire spider or fork to toss the zucchini gently in the oil while frying. Remove from the oil and place on paper towels. Sprinkle lightly with salt. Repeat with remaining zucchini.
For the Yogurt Dip:
To make the yogurt dipping sauce, stir together all ingredients, and serve with the chips.
Recommended
Tags: Zucchini, Vegetables, Vegetarian, Fried, Easy, Snacks, Family Meals and Snacks