The Pioneer Woman Review: "Sweet Deliveries"
Emily Caruso | Jelly Toast
Ready to chow down, The Pioneer Woman viewers? Read on for a recap of the latest installment.
The Pioneer Woman is mixing things up this week with a show that is filmed largely from the cab of her red pick up truck.
Ree is heading all around Oklahoma (well, maybe not all around) making sweet deliveries to her family and friends. Each recipe that she's delivering are updated versions of classic recipes from her blog, ranging in difficulty from quick and easy to a bit more complicated.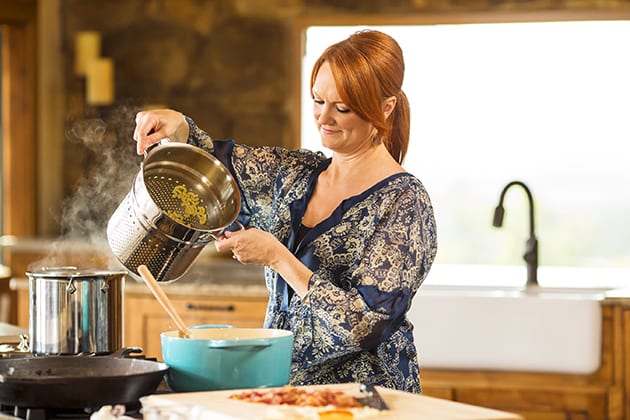 First up on Ree's revamp list are her Marshmallow Pops. Quick and easy, the marshmallow pops are put together with just a handful of ingredients and a few minutes of time. The most difficult thing about these pops is melting the chocolate coating. Ree and her daughter, Paige, melt various colors of almond bark and gather sprinkles, crushed cookies and nuts for dipping.

To assemble the marshmallow pops, Ree dips a popsicle stick in the melted bark and then inserts it into the marshmallow. Then the entire marshmallow gets dipped into the melted bark and sprinkled with the sprinkles, cookie crumbs or nuts. That's it!

This is more of a method than a recipe, but it would be a great treat to make for kids or even to have as an activity at a birthday party.

Next up is a twist on Ree's favorite Citrus Butter Cookies. She is adding a bit of coconut and lime to create Coconut Lime Butter Cookies. Coconut and lime are a fabulous flavor combination for a dessert recipe. Ree starts these cookies by creaming together several sticks of butter and lots of sugar. Into the butter and sugar she adds egg yolks and the zest and juice from a few lemons and lime. In goes some flour and the dough is ready to bake.

To top these sweet, citrusy cookies, Ree whips up a lime coconut glaze with powdered sugar, coconut cream and more citrus zest.  While these cookies scream summer, they will be a perfect treat to make at the peak of citrus season, right in the middle of winter.

Last on today's sweet redo menu are her variation on Chocolate Devils. The Chocolate Devils have several steps making this the most complicated recipe of the episode.  While the steps don't look difficult, you will have a stack of pots and pans to clean when all is said and done. She begins by making her classic chocolate sheet cake recipe that was handed down to her from her mother-in-law.

This sheet cake recipe is the shining star of these Chocolate Devils because you can make it without a mixer! While I love my trusty KitchenAid, there is something about going back to the basics with a simple baking recipe. Once her sheet cake is baked, Ree turns the cake out and cuts round pieces from the large cake using a standard biscuit cutter.

While the sheet cake recipe was simple, assembling the cake into her Chocolate Devils recipe is where things begin to get involved.  After cutting the cake into rounds, Ree mixes together a white, sweet creamy filling made with flour, milk, sugar and vanilla. The filling gets piped between two rounds of chocolate cake. The Chocolate Devils get topped with a slathering of smooth and decadent chocolate ganache made with cream, vanilla and good quality semi-sweet chocolate. As if that weren't sweet and rich enough, Ree places not one but three cherries on top of each little devil. Complicated? Yes. Worth it? Probably. Especially if you don't have to clean the kitchen at the end.

The lucky recipients of these Chocolate Devils are Ree's sweet father-in-law and her BFF Hyacinth and her kids. No one seems even the least bit disappointed with their sweet deliveries. I wonder how long it would take Ree to drive to my house…

While the format of today's show broke from her traditional style, it reflected Ree's mission of reworking the classics. She doesn't shy away from discussing her blog on her show, either. Her blog is the reason for her massive following, and as a reader of her blog and fellow food blogger, I geek out with excitement a bit when I see her doing bloggy things on her show. What can I say?

It's comforting to me that I'm not the only one teetering my camera on the edge of my kitchen counter next to a bowl of melted chocolate.

Be sure to catch The Pioneer Woman next week when she whips up a Tex-Mex feast for the cowboys - and be sure to visit our section of Pioneer Woman recipes now!

Tags: The Pioneer Woman, Food Network, Cooking Shows