Sweet Potato Chocolate Chip Cookies: Sweet Treat for Halloween
Erin C. | The Law Student's Wife
These tender Sweet Potato Chocolate Chip Cookies burst autumn flavor and are perfectly dressed in black and orange for your Halloween party.
With their lovely orange hue, black chocolate spots, and warm dose of spices, Sweet Potato Chocolate Chip Cookies are the perfect dessert to serve at your Halloween party and to satisfy your fall-flavor craving all season long.
Yes, yes pumpkin is the stereotypical fall flavor choice, but sweet potatoes deserve their turn in the oven (Don't believe me? Check out Jen's crazy good looking Kale and Sweet Potato Pizza Recipe for proof.) Like pumpkin, sweet potatoes have a naturally sweet taste and add fantastic moisture to baked goods.
Unlike pumpkin, sweet potatoes are easy to use outside of the can. Sorry pumpkin, I adore you, but I hate scooping out your seeds and dealing with your fussy rind. When baking with pumpkin, I opt for the can; with sweet potatoes, I start with the real deal. A simple roasting in the oven enhances their natural sweetness and transforms them into baking material.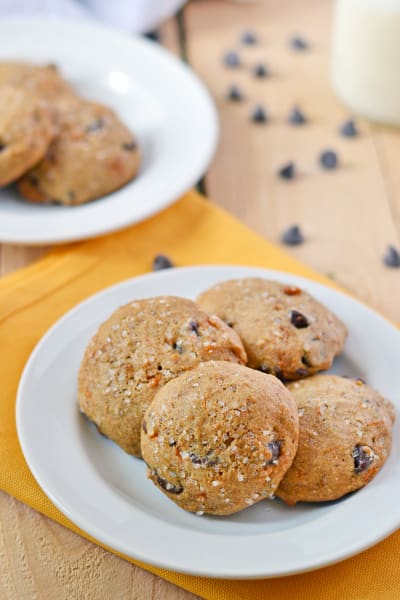 Sweet potatoes also offer a stealthy-healthy bonus: they are high in moisture, low on fat, and (duh) sweet. For an extra health boost, the base of Sweet Potato Chocolate Chip Cookies is a sneaky blend of whole wheat flour and all purpose flour, but you can keep that secret to yourself.  
And the dose of chocolate chips? It's just the right thing to do.
Celebrate Halloween with Sweet Potato Chocolate Chip Cookies for their festive orange and black color, then eat them all fall long for their warm autumn flavors!
If you need more cozy cookies for the holiday, don't miss Aimee's Oatmeal Chocolate Chip Cookies recipe either. Put those chocolate chip cookies to use!
Ingredients
1 Sweet Potato, medium, about 8 ounces
1 cup All-Purpose Flour
1 cup Whole Wheat Flour
1 1/2 teaspoons Baking Powder
1 teaspoon Baking Soda
1 teaspoon Cinnamon
1/4 teaspoon Ground Cloves
1/4 teaspoon Coriander Powder
1/4 teaspoon Kosher Salt
2 large Eggs, room temperature
1 cup Light Brown Sugar, packed
1/4 cup Canola Oil
1/4 cup Unsweetened Apple Sauce, or substitute additional canola oil in equivalent amount
2 teaspoons Pure Vanilla Extract
1 cup Chocolate
Directions
Place rack in upper third of oven preheat to 400°F. Clean and scrub sweet potato, pierce all over with a fork, then roast directly on the oven rack for 40 minutes, until fork tender in the thickest part of the potato. Once cool enough to handle, peel away the skin, mash, and measure out 1 cup of puree for baking the cookies. Reduce oven temperature to 350°F. Line a baking sheet with parchment paper or a silpat mat. Set aside.
In a large bowl, whisk together the all purpose flour, whole wheat flour, baking powder, baking soda, cinnamon, cloves, coriander, and salt.
In a separate bowl, beat together the eggs and brown sugar until thick and smooth. Slowly mix in the oil, applesauce, and vanilla, then carefully fold in the sweet potato puree.
Add sweet potato mixture all at once to the flour mixture. Fold in by hand, just until no streaks of flour remain. Do not over mix. Gently fold in the chocolate chips.
Drop cookies by rounded tablespoonfuls onto the prepared baking sheet 2 inches apart (they will look fairly small). Bake for 9-11 minutes, until a toothpick inserted in the center comes out clean. Let cool for 10 minutes on the baking sheet, then remove to a wire rack to let cool completely. 
Notes
Store leftover cookies in an airtight container at room temperature for up to 4 days, separating any cookie layers with wax paper to prevent sticking.
Recommended
Tags: Stealthy Healthy, Baking, Chocolate Chip Cookies, Cookies, Desserts, Chocolate