Sourdough Bread Bowls: Jazz Up Your Soup
Stephie Predmore | Stephie Cooks
Who doesn't love soup in a bread bowl? This sourdough recipe is easy, and so delicious!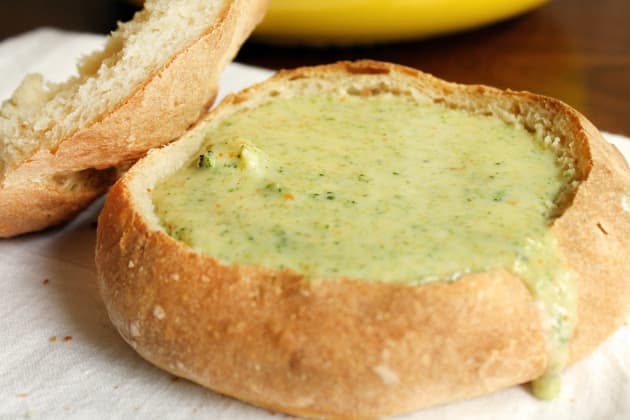 I have a confession to make: I can't get enough of broccoli cheese soup.
If you offer me that soup in a bread bowl? That's it. Game over. I'm done, set for life.
Do I serve my homemade broccoli cheese soup in bread bowls all of the time? Certainly not. But when the weather starts to get cool, and all you want is a big bowl of comfort, you can bet your bottom dollar that I am going to plan on the occasional carb-heavy meal, complete with a homemade sourdough bread bowl.
Now, you might be thinking, "Stephie. Are you insane? I could go buy some bread bowls at the nearest Panera Bread and call it a day." But hang in there with me. This sourdough bread recipe (made using my incredibly easy sourdough starter - and there's a sourdough starter recipe here on Food Fanatic too) is one of the easiest I have in my arsenal, and while baking bread does take some time, the actual hands-on time for this recipe is only about 15 minutes. Total. How easy is that?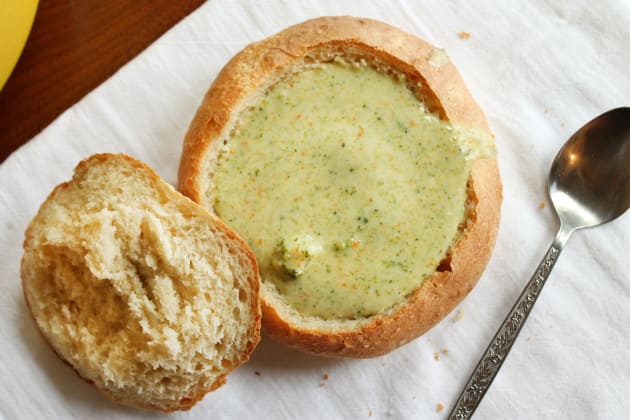 Still not convinced? You won't believe how incredible homemade bread will make your home smell. Truly, it is one of the best scents on the planet.
Give this recipe a shot. Your family will love you forever, you friends will think you're unbelievably cool, and your house will smell like a bakery. You can write me a thank-you note later.
Looking for other soups to serve in your bread bowls? This Tomato Soup with rice and spinach would be amazing!
Ingredients
1 cup Sourdough Starter
1 1/2 cups Water
2 1/4 teaspoons Instant Yeast, (1 package)
1 tablespoon Granulated Sugar
2 1/2 teaspoons Kosher Salt
1 cup Bread Flour
4 cups All-Purpose Flour
Directions
In a stand mixer fitted with a dough hook, combine all of the ingredients, kneading on low to medium speed until a smooth dough forms. Place dough in a lightly oiled bowl, cover with a clean tea towel, and allow to rise in a warm place until doubled in size, about 90 minutes.
Gently pour the dough onto a floured surface; it will deflate slightly. Divide the dough into four equal portions, then gently shape each piece into a circular loaf. Place shaped loaves onto a greased or parchment-lined baking pan. Cover lightly with the tea towel and allow to rise until very puffy, about 1 hour.
Towards the end of the rising time, preheat the oven to 425°F.
Spray or brush the top of each loaf with lukewarm water. Using a sharp knife, make two perpendicular cuts into the top of each loaf to form an "x". 
Bake for 25-30 minutes, until loaves are a deep golden brown. Remove from oven and cool on a rack before serving. To serve, use a small serrated knife to cut a round out of the top of the loaf, making sure not to cut all the way through the loaf. Scoop out as much of the inside of the loaf as you like (you can either eat these now or save them for breadcrumbs later!) and fill with soup. Enjoy!
Recommended
Tags: Bread, Baking, Soups, Easy, Fall, Bowls