Pickled Peppers with Black Bean Pâté: Easy Sophisticated App
Emily Caruso | Jelly Toast
Go on a pickling spree with this pickled peppers recipe. When you add in black bean pâté, it's time for a party!
A few weeks ago, I found myself amongst a staggering amount of pickle jars. I'm not entirely sure how I ended up with all of those pickle jars, but there they were: pickled fennel, pickled onions, pickled peppers and the classic: pickled cucumbers. I think I was on a pickling frenzy as a way to divert my focus from the fact that my kiddo was starting kindergarten, and I really wasn't ready to face the reality of him being gone for 7 1/2 hours a day. So, I pickled my troubles away.
But it turns out, having endless jars of pickles can cause a whole different type of problem: too many pickles. How in the world does one eat all of these pickles? Yes, I like pickles just as much as the next girl (obviously) but I had crossed the line into absurdville with this amount - especially because they were quick pickles. These quick pickles are ready to eat in two hours but needed to be eaten up in about 2 weeks.
Typically, this is the perfect timeline for me because I'm a quick pickle kind of girl. I can't be expected to wait the standard fermenting time for a regular batch of pickles. I really don't have that type of attention span. This two week deadline starts to get iffy when we have 4 people in the house and 4 times as many jars of pickles.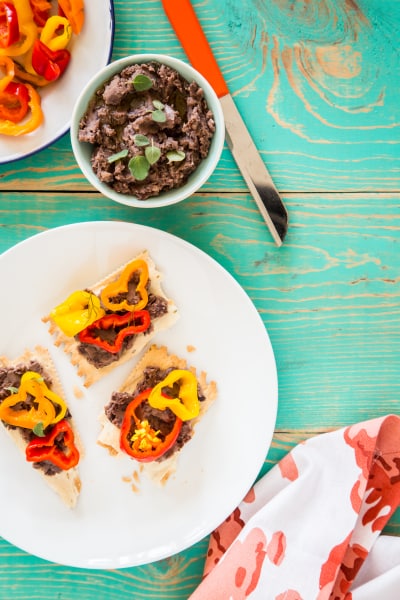 Anyway, they had to be eaten (not a real hardship), but I wanted to get creative about how to eat them, as eating bowls of nothing but pickled veggies got boring after a day or two. Maybe three.
But, pickles as toppers, accent flavors and bright, briny garnishes could keep things intriguing for the full two weeks. That is how these little Black Bean and Pickled Pepper appetizers were born.
An herbed and creamy black bean pâté spread on crunchy flatbread crackers and topped with sweet and briny pickled peppers make a surprising and satisfying snack for any get together. Not to mention a brilliant way to use all of your pickled peppers. You know, if you have an extra jar or 10 to spare.
Enjoy!
Got bonus baby bell peppers? Don't miss Emily's Stuffed Mini Peppers Recipe either! Also great for game day. 
Ingredients
pickled peppers:
1 pound Mini Bell Peppers, sweet
1 1/2 cups Cider Vinegar
3/4 cup Granulated Sugar
1/2 teaspoon Yellow Mustard Seed
1/2 teaspoon Celery Seed
1/8 teaspoon Tumeric
1/2-3/4 cup Dill, fresh fronds
black bean pâté:
1 15 oz can Black Beans, unseasoned, rinsed and drained
1 tablespoon Extra Virgin Olive Oil
Salt, to taste
Black Pepper, to taste
1 teaspoon Fresh Oregano, chopped
appetizer:
Directions
For the Pickled Peppers:
To a small saucepan add vinegar, sugar, mustard seeds, celery seeds and turmeric.
Bring mixture to a boil over medium high heat and stir until all the sugar is completely dissolved. In the mean time, remove the stems and seeds from your peppers and slice them into 1/8 thick rings.
In a clean, quart sized mason jar, layer pepper rings and dill fronds in alternating layers until jar is full.
Pour hot brine over the peppers and place the lid on the jar. Allow mixture to cool at room temperature for 2 hours.
For the Black Bean Pâté:
In a small bowl, mash black beans with a fork. Add extra virgin olive oil, salt, pepper and oregano.
Mix well with a fork until mixture is spread-able.
To Assemble Appetizers:
Spread 1 Tablespoon of the Black Bean Pâté onto a cracker.
Top with 2 to 3 pickled pepper rings and serve.
Enjoy!
Notes
Store extra pickled peppers in brine filled jar in the fridge for up to 2 weeks.
Tags: Appetizers, Peppers, Snacks, Beans, Party Food, Pickled