Parsley Pesto and Easy Elegant Pasta with Green Beans
Urvashee Patel | Dessarts
Parsley pesto is an easy way to add personality to your pasta dinner. You'll love the addition of green beans, tomatoes, and feta too.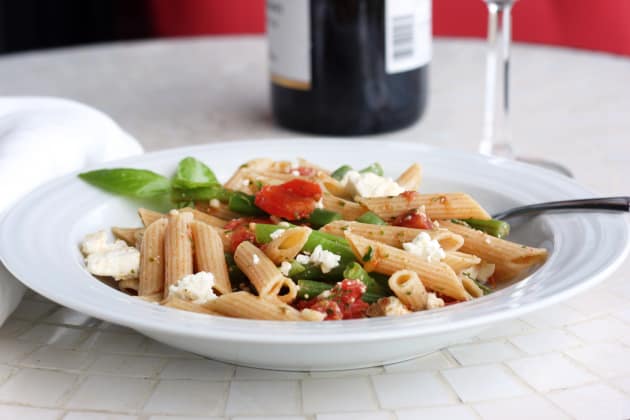 My family never wants anything but tomato sauce with pasta, but sometimes I need a break. There are plenty of ways to make veggie pasta, so why not try something different? At least that's what I try to tell them. Why not this Kale Pesto Recipe, I ask? But, baby steps. This pasta, made with parsley pesto, green beans and tomatoes is just as flavorful as anything made with marinara.
My herb garden this year had an abundance of parsley. As I was searching for inspiration to use it, I came across several parsley pesto recipes. A pesto with some veggies thrown in sounded good to me!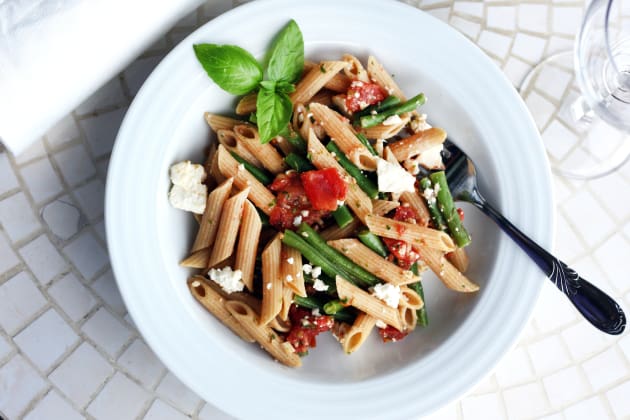 I love the crunchy texture of green beans and happen to have a bunch, so I used them as my main vegetable. Of course, I had to include some tomatoes too since there was no tomato sauce.
This dish comes together quickly and requires few ingredients. I liked it served warm but I think I enjoyed eating the leftovers cold the next day even better.  So there's a bonus for you. Make a quick, warm, flavorful dinner and have a ready-to-go lunch the next day! 
If you love this pasta with green beans from Urvashee, we think you'll adore her Baked Eggplant Parmesan Recipe too. Check it out!
Ingredients
For the Pesto:
2 tablespoons Olive Oil
1/2 cup Fresh Parsley, loosely packed
1 tablespoon Pine Nuts
For the Pasta:
7 ounces Green Beans
8 ounces Penne
1/2 tablespoon Garlic, minced
2 cups Tomato, chopped
1/2 cup Feta Cheese, crumbled
Salt, to taste
Black Pepper, to taste
Directions
Add 1 tablespoon of oil, parsley and pine nuts to a small electric chopper and grind into a paste. Set aside.
Trim and cut the green beans into 1½ inch pieces.
Boil about 8 cups of water in a large pot. Add two teaspoons of salt.
Add the beans to the water and let them cook for 3-4 minutes. Remove the beans with a strainer and immediately add them to a bowl of ice to cool. Drain.
Add the pasta to the boiling water and cook until al dente.
While the pasta is cooking, heat 1 tablespoon of oil in a large skillet over high heat. Once the oil is hot, add the garlic and turn the heat to low. Let the garlic cook slowly for 3-4 minutes to let the flavor out, being carful not to let it burn.
Add the chopped tomato and mix, bringing the heat back up to a medium. Cook until the tomatoes are soft and salt and pepper to taste.
Remove from the heat and mix in the parsley paste.
Toss the sauce, pasta, beans and feta together in a large bowl. Mix until all the pasta is well coated.
Recommended
Tags: Vegetarian, Vegetables, Tomatoes, Pasta, Easy Dinners, Easy, Dinners, Pesto