Gluten Free Apple Pie Bars
Erin D. | Texanerin Baking Updated
Packed with cinnamon apples, you won't miss the gluten or grains in these quick and simple gluten-free apple pie bars! A great way to celebrate the start of fall.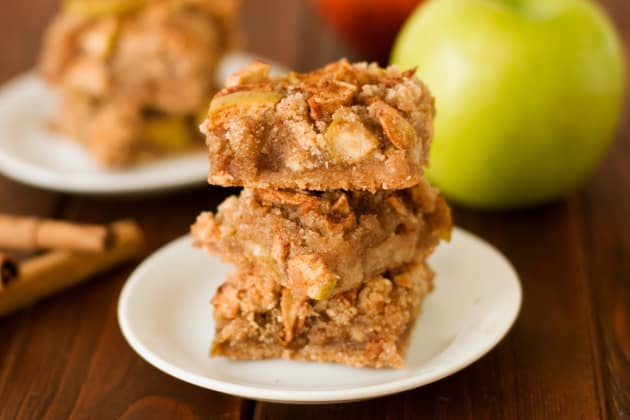 For me, early fall is all about apples. I know a lot of people would like to completely skip over apple season and get right to pumpkin but for me, there has to be a transition between light summer baked goods like this gluten free lemon bars recipe and pumpkin. On the first of September, I go on a cinnamon apple rampage. It's all apples, all the time!
These grain-free apple bars are a favorite around here. Instead of having a layer of some cake-like base and a layer of topping, you just have two layers of topping. You and I both know the topping is where the fun is at so why mess around with cake?
So on top of each topping layer, you've got a layer of cinnamon apples. You just dice them, add cinnamon and sugar and that's it. No cooking or peeling or any of that. It's a pretty quick and simple recipe.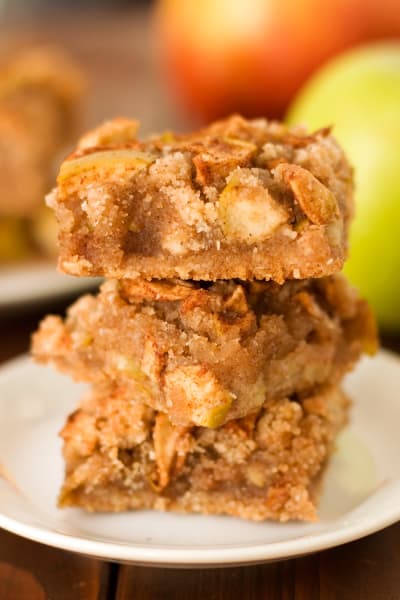 Sometimes gluten-free baked goods can have a bit of a funky texture, but these? These grain-free apple bars are incredibly moist, chewy and completely lacking in weirdness! They're a little delicate and seem to hold their shape better when chilled so I recommend keeping them in the refrigerator.
And while you've got the oven on, why not try these cinnamon apple chips? They're significantly cheaper than store bought and they're also fun to make!
Ingredients
base:
1 3/4 cups Almond Flour, (165 grams)
1/3 cup Granulated Sugar
1 1/2 teaspoons Baking Powder
1 teaspoon Cinnamon
1/8 teaspoon Nutmeg
1/8 teaspoon Salt
2 tablespoons Canola Oil
1 tablespoon Apple Juice
1/2 teaspoon Pure Vanilla Extract
cinnamon apples:
1 1/2 cups Apple, unpeeled, cored, and diced
3 tablespoons Granulated Sugar
1 teaspoon Cinnamon
Directions
Preheat the oven to 350°F and line a 9" x 5" loaf pan with parchment paper or spray it with cooking spray.
In a large bowl with a large wooden spoon, mix together all of the base ingredients. Set this aside.
In a medium bowl, mix together the apples, sugar and cinnamon.
Reserve one cup of the base mixture and set aside.
Lightly pat the remaining dough onto the bottom of the loaf pan.
Sprinkle half of the apples over the dough.
Add the remaining dough and then the remaining apples. Lightly press down on the dough.
Bake for 36 - 40 minutes or until lightly browned.
Remove from the oven and let the bars cool completely in the pan.
Cut into bars, cover, and store in the refrigerator for up to 5 days. They can also be kept at room temperature; they just fall apart easier.
Recommended
Tags: Apples, Gluten Free Baking, Baking, Bar Desserts, Desserts, Grain Free, Snacks, Family Meals and Snacks