Avocado Pasta: Simple Comfort
Christina Lane | Dessert for Two
Quick and easy avocado pasta is great for date night, girlfriend night, or any weeknight at all.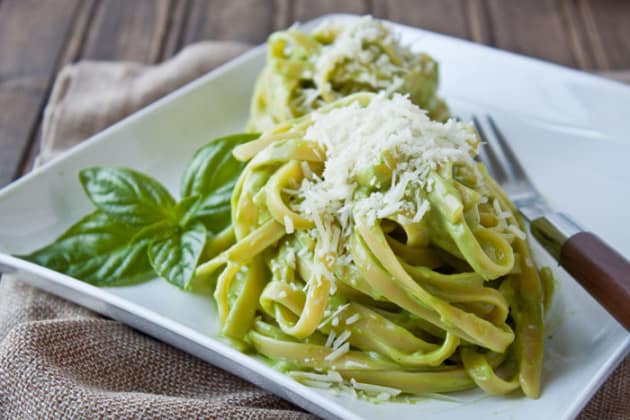 There is at least one night a week in which I need a fast, hearty dinner.  We do a lot of activities and events after work, and sometimes I have an hour from the time I walk in the door to when we have to leave again.  On those nights, I make this easy and filling avocado pasta.  
If your evening plans include drinks with friends, this pasta provides enough carbs and healthy fat to get you through the night---even your best friend's post-breakup drinking binge.  (A few more nights like that, and I will re-name this from Avocado Pasta to 'Break Up Pasta'!)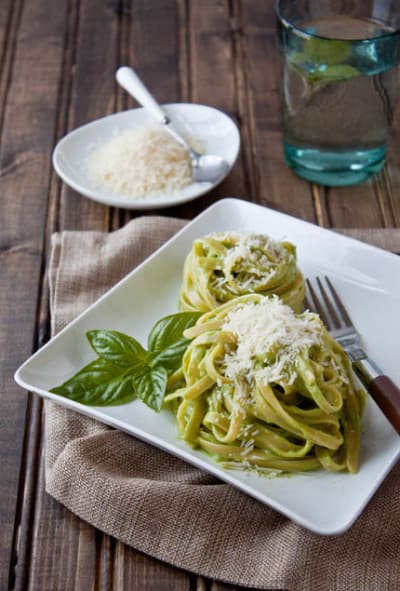 The minute you walk in the door, put a large pot of water on to boil for the pasta, and have your blender ready.  You are just minutes away from your new favorite easy weeknight meal. Plus, who can resist creamy avocados mixed with cheese? Not me, that's for sure. 
Ingredients
1/2 pound Fettuccine, dry
1 Avocado, large, very ripe and pitted
1 tablespoon Extra Virgin Olive Oil
1 teaspoon Lemon Juice, freshly squeezed
1/2 cup Grated Parmesan Cheese
Salt, to taste
Black Pepper, to taste
Directions
Bring a large pot of salted water to a boil.  
Add the pasta to the pot and cook until al dente, or according to the package instructions.  Do not drain the water after cooking — you need the cooking water for the sauce.
Meanwhile, in a blender, place the avocado halves, olive oil, lemon juice and Parmesan cheese.  
Pulse briefly to combine, and then stream in 1/2 - 3/4 cup of the pasta cooking water until a smooth, creamy sauce forms.  Taste and add salt and pepper, if needed.
Combine the pasta and avocado sauce and serve with extra Parmesan on top.
Recommended
Tags: Cooking for Couples, Easy Dinners, Dinners, Avocados, Quick, Easy, Pasta