Apricot Coconut Balls: No Bake Nutrition
Steph S. | ::steph chows::
Apricot Coconut Balls are a great go-to snack. Throw them in the lunch box as a treat, or eat 'em straight out of the fridge.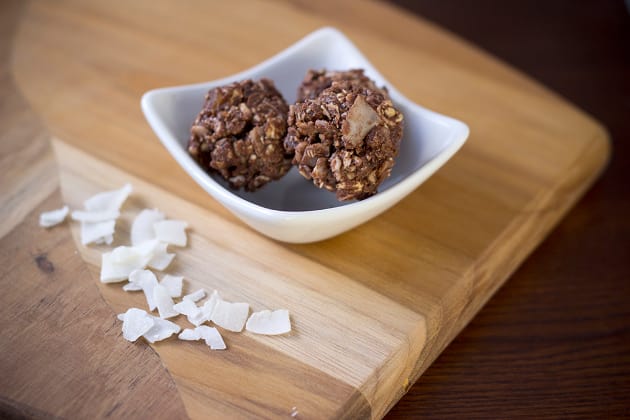 I have a thing for no bake healthy cookies in the summer. (This is a hint to check out my No Bake Peanut Butter Balls Recipe in a minute.) Sure, we have AC, but who feels like turning the oven on when it's a million billion degrees outside? Not this girl.
That being said, no-bake cookies are pretty great no matter what season it is. They're a go-to snack for me, whether it's hot or cold outside.
I keep a bag of these on hand in the fridge as a handy dandy grab-and-go snack. They'd be great for lunchbox treats for you or the kids too.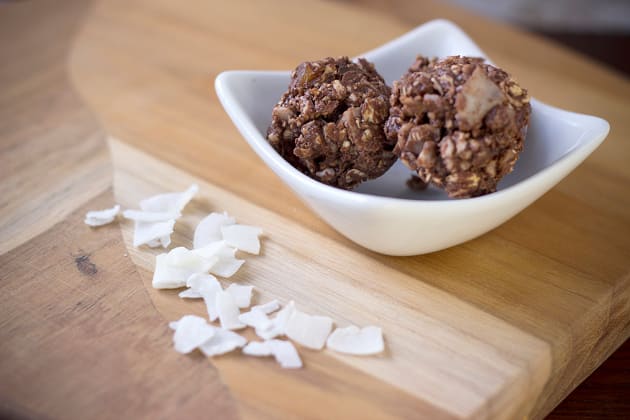 Dried apricots mixed with coconut and nutella might sound like an odd combination but the flavors really meld well together in these Apricot Coconut Balls. Did you know nutella is actually really easy to make? Whip up a batch of my homemade nutella, which happens to be vegan, and healthier because there's no added fat and only all natural sugars in my recipe. It's a keeper for sure.
What weird and fun flavor combinations do you love to pair together than end up being amazing?
Ingredients
1/4 cup Old Fashioned Oats
1/4 cup Unsweetened Coconut Flakes
1/3 cup Dried Apricots
1/2 teaspoon Agave Syrup
1/4 cup Nutella
Directions
Place oats in a food processor and pulse until they are a flour consistency, set aside.
Add dried apricots and agave to food processor and twirl until apricots are finely chopped.
Add in oats and coconut. Process until things start to come together and form a dough.
Form into 1 inch balls and chill to set. 
Notes
To make these cookies vegan, make my vegan nutella recipe to go in them.
To make these cookies gluten free, use certified gluten free oats
Recommended
Tags: Healthy, No Bake, Healthy Eating, Cookies, Snacks, Family Meals and Snacks, Vegan, Grain Free, Desserts, Apricots, Nutella