Apple Butter
Erin S. | Dinners, Dishes, and Desserts Updated
Apple butter is a wonderful Fall comfort food. The slow cooker makes it easy to have thick, rich, and smooth apple butter with little effort.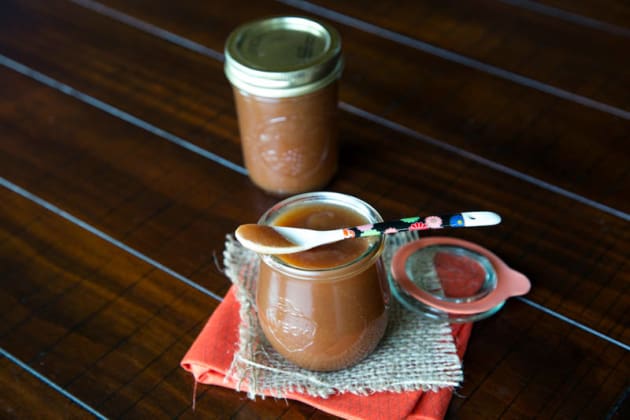 I am so excited that apple season is here! I love making fresh apple cider, apple bars, apple pie bread and just about anything else with apples.
When we lived in Iowa we lived about 5 miles from an orchard. It was owned by a very nice couple, and it was always fun to go. We haven't found an orchard that you can pick your own in Colorado yet. Hopefully this fall.
This year I was super excited to make my first ever batch of apple butter! I have seen it around all over the place in the fall, but have never actually made my own. In case you have never had it, it is kind of like a thick, rich, and smooth apple sauce.
It is so good on English Muffins (don't miss this English Muffins recipe!), pork chops, muffins, toast, baked on chicken, or even as a spread on a ham sandwich.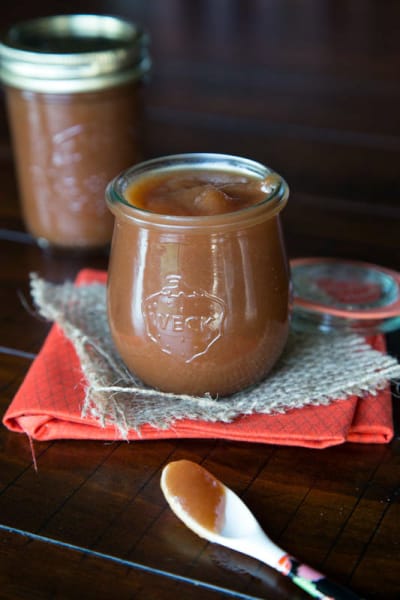 Apple butter is so easy to make. Peeling the apples is a little bit of a pain, but that is pretty much it. You dice them up, mix with sugar and some spices, and then let the slow cooker do all the work.
You will come home from work to the most amazing smell! Apples bubbling away in a cinnamon syrup mixture is just heavenly. To make the apple butter have even more flavor, be sure to use a variety of different apples.
I used Braeburn, Granny Smith, and Pink Lady when I made it. 
Looking for more fruit butter recipes? We got you covered - check out Tracy's Pear Butter Recipe too!
Ingredients
12 large Apples, peeled, cored, and diced (about 6 1/2 lbs)
1 cup Brown Sugar
1/2 cup Granulated Sugar
1/3 cup Honey
1 tablespoon Cinnamon
1/4 teaspoon Allspice
1/4 teaspoon Ground Cloves
Directions
Place the diced apples in a slow cooker. Sprinkle the brown sugar, sugar, cinnamon, all spice and cloves over the top of the apples. Drizzle the honey over the apples as well. Mix until everything is well coated. 
Turn slow cooker on low, and cook for 8-10 hours until the apples have cooked down and it is a thick dark brown mixture. You can stir occasionally while cooking.
Using an immersion blender, blend until smooth. Cook for another 2 hours, uncovered, until nice and thick. 
Spoon into jars or plastic containers. 
Store in the fridge for about two weeks, or freeze. 
Recommended
Tags: Apples, Fall, Preserving, Easy, Slow Cooker