Plum Clafouti: Wake Up with a Taste of France
Megan Myers | Stetted
Add some elegance to your breakfast! This simple plum clafouti seems like a decadent dessert, but it's perfect for lingering over in the morning, too.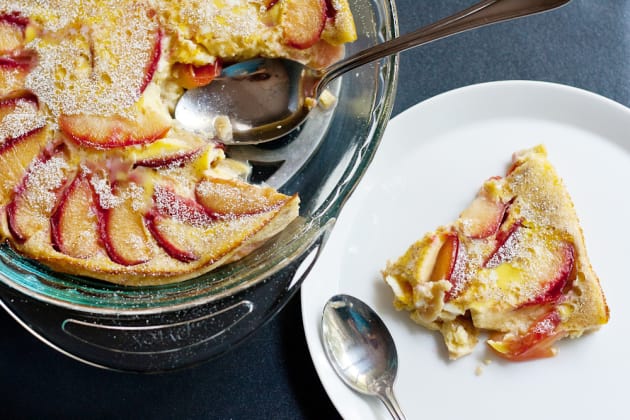 Obviously, I'm a breakfast person. I have been known to eat breakfast all day long. In fact, there have been multiple days when I've eaten nothing but breakfast dishes!
It's hard not to indulge in breakfast when there are so many options, from blueberry waffles to fluffy scrambled eggs. Now, I'm not going to lie - I love dessert as well. That's why I was really happy to learn about the dish called clafouti. It's traditionally a dessert made with cherries, but when you combine fruit with a fluffy custard batter, one can't say no to adding it to the breakfast repertoire!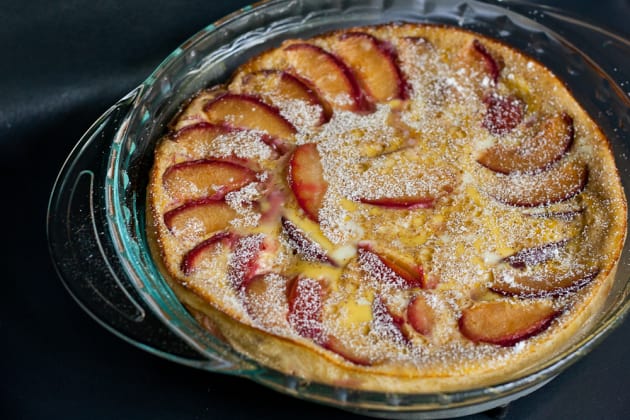 This version uses juicy plums instead of cherries, and I think their tartness really works well with the custardy batter. It's not overly sweet, but if you need that extra kick in the morning you can add a sprinkling of powdered sugar before serving. Technically, using other fruits makes it a flaugnarde, but what it's called doesn't matter as much as how happy your mouth will be to eat it.
Ingredients
4 Plums, small, red or black
4 Eggs, large
1 cup Milk
1 teaspoon Pure Vanilla Extract
1/2 cup Granulated Sugar
1/3 cup All-Purpose Flour
1/2 teaspoon Cinnamon
pinch of Salt
pinch of Nutmeg
Powdered Sugar, optional
Directions
Preheat oven to 350°F. Grease a pie plate with butter or canola oil spray.
Slice plums, discarding pits. Arrange slices in the pie plate, covering as much of it as possible.
Whisk together eggs, milk, and vanilla.
In another bowl, mix together sugar, flour, cinnamon, salt, and nutmeg thoroughly.
Add the egg mixture and beat well. Pour batter over plums.
Bake for 40 minutes. Clafouti will puff up in the oven, and then deflate slightly as it cools. Serve with powdered sugar sprinkled on top, if desired.
Recommended
Tags: Breakfasts, Baking, Plums, Fruit, Easy, Brunches