Firewire Flexible Wire Skewers Review
David Dial | Spiced Blog
Firewire Flexible Wire Skewers are a fun and extremely useful set of grilling tools. Being dishwasher safe makes them even better.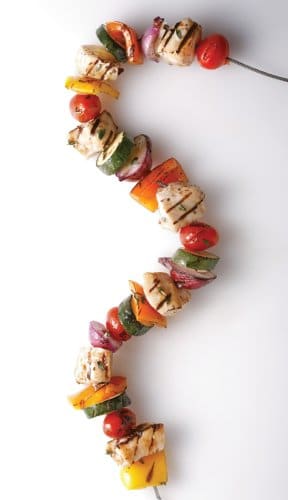 Cooking food on sticks has been done for thousands of years, but yet Fire Wire has been able to improve upon this simple grilling technique. Standard wooden skewers can be difficult to manage as they must be soaked in water just before placing them on the grill. This means you must stop and skewer the meats and veggies right before grilling. But Fire Wire has come up with an answer to this problem! Their Stainless Steel Flexible Grilling Skewers allow you to skewer the meats and veggies hours before they go on the grill. This means the whole kabobs (meat, veggies, and skewers) can be prepared and placed in a bag to marinate until it's time to grill.
Another benefit of the flexible skewers is the ability to maximize grill space. Since they can be placed on the grill full-length or in a circle, the flexible design makes these skewers perfect for any size grill. Additionally, these Fire Wire Stainless Steel Flexible Grilling Skewers are actually double the length of standard wooden skewers. Finally, these stainless steel skewers are dishwasher safe, which makes clean-up a cinch!
Pros:
Flexible skewers allow you to:
Maximize grill space
Marinate the whole skewers in a plastic bag
Double the length of standard straight skewers
Dishwasher safe
Cons:
Can be difficult to turn because of their flexibility
Tags: Grilling, Product Reviews
Sign Up for Weekly Personalized Recipes. FREE!