Dump Cake: Easy Potluck Favorite with Cake Mix and Frozen Berries
Stephie Predmore | Stephie Cooks
Homemade Dump Cake is a tradition at potlucks and family gatherings. Make yours with homemade cake mix, pudding mix, and frozen fruit instead of pie filling.
Some of my earliest food-centric memories are of church potlucks (or "pitch ins" as they were called in Indiana).
Church potlucks are a Mecca for anyone who loves comfort food and lots of it. I remember waiting anxiously during the sermon, knowing what delicious foods were waiting in the next room. After service the congregation would file into the dining hall, where a group of hard-working ladies had spent the last half-hour lining hams, barbecue, and every kind of casserole, salad, and dessert imaginable along banquet tables. Congregants would descend like the locusts upon Egypt, leaving nary a crumb in sight.
Everyone had a dish that they were known for bringing to these shindigs. Come without that dish and oh boy, there would be hell to pay. For my mother, it was her green bean casserole. For one of our friends, it was her dump cake – the incredibly easy but impossibly delicious love child of canned pie filling and yellow cake mix.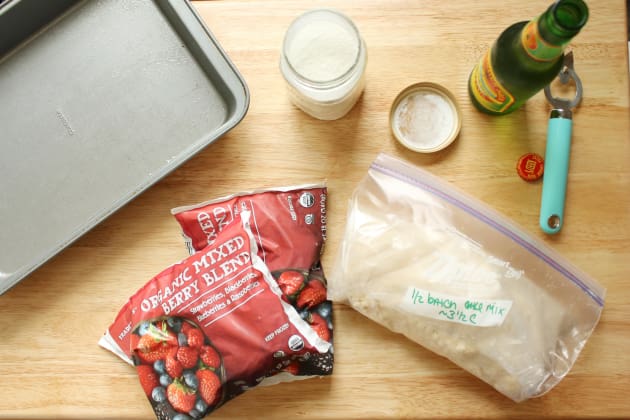 Canned pie filling and store-bought cake mix might not be ingredients that I keep in my pantry these days, but that doesn't mean I can't pull together a delicious dump cake at the drop of a dime. This dump cake, which could also be considered a cobbler, utilizes two recipes I have already shared with you – homemade cake mix and homemade vanilla pudding mix – along with the frozen fruit of your choice and a bottle of ginger beer. That's right, only four ingredients! You can mix this cake together in less time than it will take your oven to preheat.
Make this dump cake and you'll be well on your way to church potluck recipe fame.
Looking for more easy desserts using frozen fruit? Check out my slow-cooker berry cobbler recipe!
Directions
Preheat oven to 350°F. Lightly grease a 13" x 9" pan.
Evenly spread the fruit in the bottom of the pan. In a large bowl, whisk together the cake mix, pudding mix, and the ginger beer. Mixture will appear lumpy and a bit grainy – that is ok! Pour the batter evenly over the fruit.
Cover with foil and bake for 25 minutes. Uncover and bake for another 25-30 minutes, until golden brown and a toothpick inserted into the center comes out clean. Serve warm or at room temperature. 
Notes
I used mixed berries for the fruit, but you can use any frozen fruit you like.
Tags: Copycat, Copycat Desserts, Desserts, Cake Mix, Cakes, Fruit, Easy