Citrus Sweet and Sour Slaw: Gluten Free Side with A Punch
Joli Selten-Forbes | Joli Selten-Forbes
This is not your mama's coleslaw! This recipe is dairy-free, gluten-free and full of citrus and probiotics for natural health.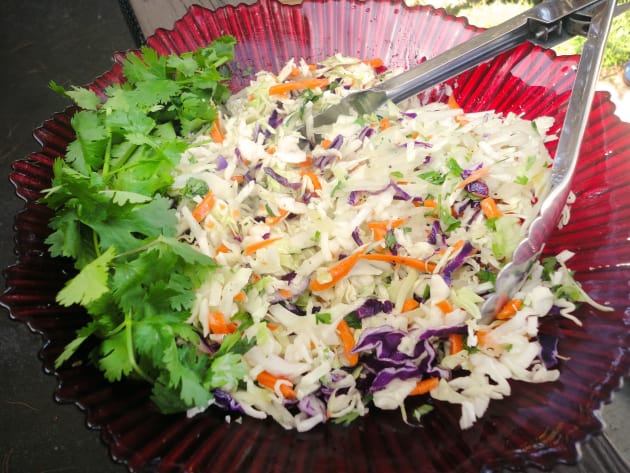 Coleslaw is coleslaw… or at least that's how I used to feel.  
I have completely changed my mind after eating this gluten- and dairy-free twist of the Dutch-turned-American summer classic. This recipe has become a staple for my little catering company when we hit the road cooking for festivals because it's a tried-and-true crowd pleaser. Mama Love Grub created it and now we'd like to share it with you!
Raw cabbage, sauerkraut, lime juice and cilantro… with a touch of agave, grapeseed oil, salt and pepper. Citrus Sweet & Sour Slaw is clean and good for the belly; it's also the perfect compliment to anything BBQ-flavored like a pulled pork sandwich.
The bones of this dish come from a prolifically rewritten recipe from Cooking Light  2007, and then Mama Love Grub took it to a more conscious culinary space for those interested in alkalinizing their diets and keeping their guts happy by eating raw, gluten-free dishes like this one.
I tend to buy Bubbie's Sauerkraut, which I've found at Sprouts and Whole Foods. They used to sell it at Smart and Final and Vons but have recently stopped (insert sad face here!) In my opinion, Bubbie's is the tastiest and most sustainable product I've found. Other brands of sauerkraut (and pickles, too, for that matter) in the larger chain stores have this scary green hue, and that's just not right!
As always, using locally sourced, organic produce is the healthiest and most sustainable route for this recipe. I will say, however, that buying pre-cut and packaged slaw mix drastically shortens prep time and it is extremely less expensive because organic cabbage is usually sold by the pound at a pretty price.
(Plus I broke my cheese grater and my hands grating/shredding multiple heads of dense, organic cabbage once. Not so fun.)  So based on your budgets of money and time, act accordingly! Haa!
xoxo
Ingredients
10 ounces Green Cabbage, shredded
3 ounces Red Cabbage, shredded
1 Carrot, shredded
1 cup Sauerkraut
1/2 Sweet Onion, chopped
1 tablespoon Lime Zest, approximately 1 lime's worth of zest
Fresh Lime Juice, from one lime
Salt, to taste
Black Pepper, to taste
4 tablespoons Grapeseed Oil
1/4 cup Organic Blue Agave Sweetener
1 bunch Fresh Cilantro, chopped
Directions
Mix all ingredients in a large bowl or serving dish.
If using packaged, pre-shredded coleslaw mix, be sure to discard any bad pieces or core pieces that are undesirable.
Gently toss with clean hands.
Season to taste.
Notes
This recipe is a wonderful topping to a BBQ tofu bowl, pulled pork sandwich or as a side dish to ribs.
Everything is raw, so this is very perishable and will get more pungent the longer it's in the fridge.
I use Bubbie's Sauerkraut.

Recommended
Tags: Gluten Free, Side Dishes, Barbecues, Summer, Vegetables, Vegetarian, Quick, Easy, Healthy Eating, Healthy