Chopped Review: "Hero Chefs"
Stephie Predmore | Stephie Cooks
Do local heroes have what it takes to not be Chopped? Find out in our latest recap and review!
This week, four contestants who are considered heroes in their communities entered the competition. Yet, as we discover every week, being a success in one's community does not guarantee success in the Chopped kitchen.
The Contestants:
Pedro, Head chef @ NYC's Rescue Mission
Nicki, Culinary instructor @ Fresh Air Fund
Wilhemina, Executive chef @ Children's Village in Philadelphia
Derek, Executive chef @ St Joseph Center in California
This Week's Judges: Amanda Freitag, Marc Murphy, and special guest judge Cheryl Barbar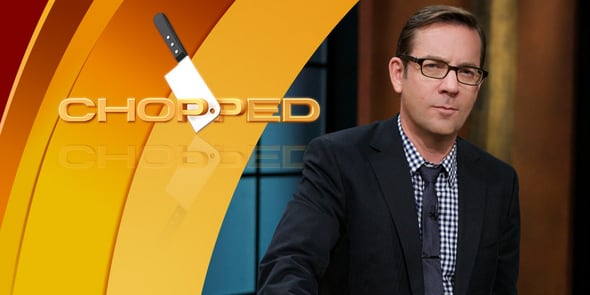 The Appetizer Round: The chefs had 20 minutes to create an appetizer using chicken soup, ground pork, pattypan squash and barbecue sauce.

All of the chefs in this round did an unusually good job of repurposing the basket ingredients, though the judges felt that most of the chefs needed an additional element on their plates.

Nicki's Jerk Pork Meatballs had outstanding Jamaican flavors, but needed to be lightened up with some whipped mascarpone or a similar ingredient. Wilhemina's Ground Pork Ragout had good flavors, but was overly sweet and lacked a chip or crostini to pull it together. Pedro's Bolognese was flavorful and inventive, but could have benefitted from an additional texture on the plate. Derek's Pork Dumpling Soup was the only dish that seemed complete as served.

At the end of the round, Wilhemina was sent to the chopping block for her overly sweet pork dish.

The Dinner Round: The contestants had 30 minutes to create an entrée containing scallops, Chinese broccoli, tamarillos, and finger limes – a surprisingly good basket, all things considered.

As in the previous round, the chefs were very good at using the basket ingredients, though each of their plates had a few small errors – and in the Chopped kitchen, it is often the small errors that make the difference between continuing to the next round and going home.

Nicki's Caribbean Scallops again demonstrated her familiarity with Caribbean seasonings, though her attempt at a fried scallop did not exactly work for the judges (though her tearful, heartfelt description of job may have helped them to forget that fact). Derek served the judges Seared Scallops with Thai Relish, and while his dinner recipe looked like it came out of a high-end restaurant, a chef at a high-end restaurant would not likely forget to season his scallops before placing them in the skillet.

Pedro, on the other hand, created great flavors in his Seared Scallops with Scalloped Potatoes, but failed to plate his dish in a cohesive way. Unfortunately, Pedro's presentation issues were enough to send him home, a decision that I personally question when faced with a chef who neglected to properly season his food.

The Dessert Round: The two remaining contestants had 30 minutes to create a dessert recipe using aged cheddar cheese, granny smith apples, hamburger buns, and vanilla frosting.

In what was perhaps a Chopped first, both contestants were presented with a bread product and neither of them chose to create a bread pudding, making instead much more creative desserts. The judges adored Nicki's Aged Cheddar Ice Cream, but her technical error with her caramel put Derek's Cheddar Apple Cookie just above hers, winning him the $10,000 prize, bringing his culinary journey full circle and proving that a non-profit chef can still create and serve first-class food.

Tags: Chopped, Cooking Shows