Top Chef Masters Review: "Sex, Greed and Murder"
Emily Caruso | Jelly Toast
Top Chef Masters was all about sex, greed and murder this week. Read our latest recap and review now.
Top Chef Masters was all about the drama this week - which is pretty typical for Bravo. Indeed, sex, greed and murder were on the menu.
Quick Fire Challenge
In the Battle of the Sous Chefs, the sous chefs were given the challenge to create a sausage, not knowing that whatever protein they had left was all that their chef would be able to work with during the quick fire challenge.
This looks fairly difficult seeing as how most chefs are left with no more than a bag of bones. Some of the chefs start to whine like babies about what their sous chef left them, but I honestly think that they should be able to come up with a dish fairly easily.
Douglas was feeling particularly cranky even though he was left with a sizable piece duck. He even goes as far as to insult Curtis' choice of sweater when Curtis doesn't love his dish.
Maybe it's past Douglas' nap time. In the end, Curtis and his guest judges, Amelia and Erika who are the owners of Lindy and Grundy Butcher Shop, choose Sang's Larb dish. It seems like Sang is firmly establishing himself in the front of the pack, which means he has a target on his back.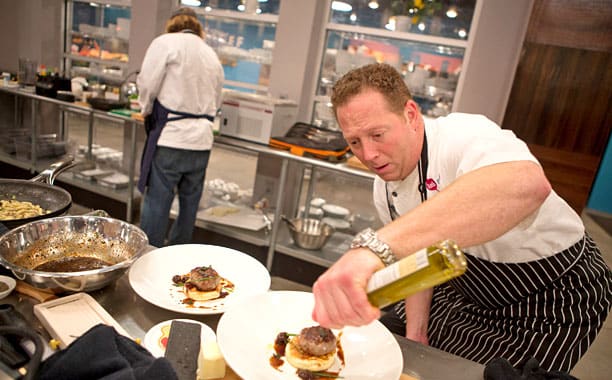 Elimination Challenge
With drama being the name of the game, the chefs will be cooking for the cast of - cue dramatic music! - Days of Our Lives! Each chef is assigned a category of either sex, greed or murder - which are the three major plot points of any decent soap opera, right?

Chef Lynn has immunity because her sous chef won The Battle of the Sous Chefs. Chefs Bryan, Sang and Franklin drew the short straws in this challenge (and possibly their sous chefs) because their sous chefs were in the bottom. They will be creatively penalized with a loss of time inspired by the crazy and hilarious plot twists of soap operas:

Bryan gets thrown in jail, Franklin gets put into a coma and Sang gets murdered. While unnecessarily over-the-top, this is pretty darn clever and the chefs are all pretty good sports about it. Unfortunately, the time loss really seemed to affect Sang as he didn't get his entire dish plated.

Tasting
The cast of Days of Our Lives are surprisingly harsh with their criticism, with only a few of the chefs earning their praise. Perhaps they're just stuck in their roles of gossipy back stabbing. The cast votes for their favorite and least favorite in each category which will determine which chefs are on the top and who is on their death bed.

Critics Table
The critics top three favorite dishes belonged to Sue, Franklin and Jennifer, but it's Jennifer's Seared Duck Breast & Citrus-Chili Duck Sausage with Fregola & Celery Salad that really killed it for the judges, winning her 10 thousand dollars for her charity.

The bottom three dishes belonged Douglas, Lynn and Odette. Douglas's Salem Sweet Shrimp with DiMera Bitter Crab was so aggressive that it frightened all of the critics, even those who tentatively liked it.

Lynn should be buying her sous chef drinks tonight for saving her. I wasn't expecting to see a chef riding the coattails of their sous chef, but that seems to be the case for Lynn. The critics were less than impressed by her not-so-sexy Bacon Wrapped Duck Breast with Carrot Puree, Grapes & Chocolate Port Sauce.

Odette is visibly shocked when her name is called in the bottom because she prepared one of her signature dishes, Mushroom & Soft Egg Yolk Filled Raviolo. Frankly, she thought she had this in the bag. The critics try to gently explain to Odette that perhaps the Days of Our Lives cast didn't have the most sophisticated of palettes, and the subtlety of her dish may have been lost.

Although, they do admit that her dish lacked a bit of flavor, and in the end, it's this lack of flavor that gets her sent home. The critics and fellow chefs seem quite broken up over Odette leaving.

This episode was the most entertaining of the season, so far. We're really beginning to see the personalities of each chef, as well as starting to pick our favorites, even though one of mine went home tonight.

Tags: Top Chef Masters, Cooking Shows