Top Chef Masters Review: "Restaurant Wars"
Emily Caruso | Jelly Toast
Top Chef Masters hosted a round of restaurant wars this week. Who was left standing at the end?
Top Chef Masters is down to 8 chefs, and that can only mean one thing: Restaurant Wars! With some strong personalities, this is bound to be a dramatic and revealing episode.
There is no Quickfire Challenge this week, so Curtis gets right down to business, dividing the remaining chefs up into two teams based on the performance of their sous chefs in the last Battle of the Sous Chefs.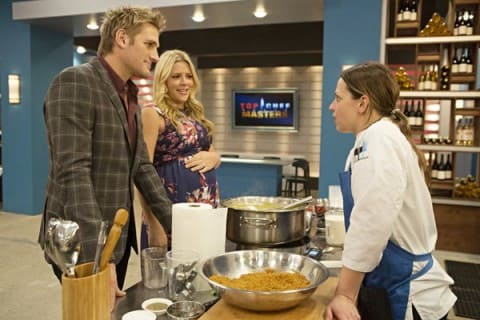 The chefs that had the highest performing sous chefs make up the Red Team and the chefs with the lowest performing sous chefs make up the Blue Team. Neal's sous chef has won him immunity and he finds himself on a team with Bryan, Lynn and Jennifer. The chefs on the Blue Team are Sang, Douglas, David and Sue.

This is the third week that Sang is at a disadvantage because of his sous. If history repeats itself in other ways, he shouldn't be worried. Sang is dominating this competition. In fact, it almost seems as if there isn't a competition.

As a penalty for having the lowest performing sous chefs, the Blue Team will not have the help of their sous chefs during the prep for Restaurant Wars, while the Red Team will have two precious hours of prep with theirs.

The guest critic tonight is Busy Philipps and she gives the chefs the challenge to open the restaurant of her dreams, which should highlight the LA food scene. The Blue Team is calling their restaurant '72 and Sunny' and it will feature the diversity of food in LA as well as each of their individual strengths.

The Red Team is calling their restaurant 'Artisan' and it will feature remakes of some classic LA dishes. Although Neal decides to make a New York Strip, so go figure.

Service
During the prep, the tensions are flying high with Sang unloading a serious amount of angst on the wait staff and Jennifer's micro managing rearing its ugly head. It is a competition after all and it's the details that can come back and bite them in the end.

Overall, the service goes smoothly at '72 & Sunny' with David schmoozing in the front of the house. Things are a little tense in the kitchen with Sang loosing his cool and making the rest of his team nervous. The service at 'Artisan' is a bit stiff with Jennifer in the front of the house. The critics have a few ups and downs with the levels of originality in some of the dishes.

Critics Table
The critics unanimously decide on the Blue Team for the win, which just goes to show that some of the most talented chefs in the competition have the weakest sous chefs. Once again, Sang brings home the win for his Strip Loin with Broccoli Two Ways & Black Bean Ghee. They were blown away with his interpretation of the classic Asian recipe, beef and broccoli.

The Red Team falls to the bottom, despite having the help of their sous chefs. Neal is lucky that he has immunity, as the critics were less than impressed by his ordinary, and not very LA-ish, New York Strip Steak with Twice Baked Fingerling Potatoes. Bryan breaths a sigh of relief because the critics actually adored his spin on a classic cobb salad recipe - Salmon with Dehydrated Bacon and Horseradish Snow. If it weren't for the fact that he was brought down by his teammates, Bryan would have given Sang a run for his money for the win.

This leaves Jennifer and Lynn in the bottom and in the end, it is Lynn's overly sweet brownie recipe that sends her packing. Her chocolate was even too much for Curtis and his self proclaimed sweet tooth. I can't even wrap my head around a brownie being too sweet, so this must have been a doozy.

Join us next week as we watch the Chefs cook up a storm for their toughest critics yet: kids!
 

Tags: Top Chef Masters, Cooking Shows