Top Chef Masters Review: "Curtis' Surprise Party"
Emily Caruso | Jelly Toast
Top Chef Masters aired an especially romantic episode this week. Read on for our recap of "Curtis' Surprise Party."
With just nine chefs remaining, the competition is heating up on Top Chef Masters. That's not the only thing heating up, either, because this week there's love in the air.
The chefs are going to be cooking at Curtis' (surprise) engagement party!
Quickfire Challenge
But before they can get to partying, the contestant are thrown headfirst into a Curry in 30 challenge. They must create a from-scratch curry recipe with no pre-made spice mixtures or pastes. This is no small task as typically, curry recipes take hours to develop flavor.
They also must pair their curry with a Goose Island Beer. Maybe Curtis and his guest judge, Jason Bentley, will drink enough beer to make up for the lack of flavor development in the chefs' curries.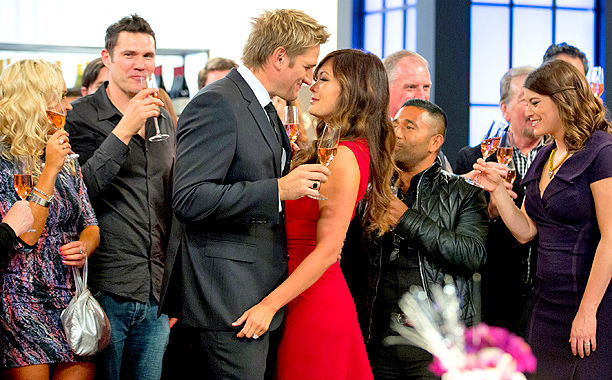 Douglas and Franklin find themselves in the bottom of the flavor pack, while Lynn with her Vegetable Curry with Green Apples and Cashews and Sang with his Thai Yellow Curry with Lime and Chicken Thighs are in the top two. Not surprisingly, Sang brings home the win and therefore another $5,000 for his charity.

Elimination Challenge
On a bright not for Douglas, his sous chef, Drew, won him immunity while Sang's, Bryan's and Lynn's sous chefs gave them a 15-minute shopping handicap. This is the second week in a row that Bryan and Sang were at the mercy of their sous chef's poor showing in the Battle of the Sous Chefs. Those sous chefs should think about dusting off their resume when they get home as they might very well need it.

Now, the Elimination Challenge itself is a bit of a surprise - for Curtis, at least. The chefs are catering a surprise engagement party for Curtis which is being thrown by his fiancé, Lindsay Price. The chefs split up into teams of three and plan a menu around Curtis and Lindsay's tastes, which seem to involve chocolate and Korean BBQ.

The surprise is pretty adorable, with Curtis being genuinely shocked to see all of his loved ones gathered on the set. After a bit of mingling, the food gets served and Curtis, Lindsay and the rest of the critics get to eating. They receive a whole host of variations on Korean BBQ, some of which are successful, and some get the big thumbs down from Lindsay and her mom.

Critics Table
The Red Team (Sue, Douglas and David) came in on top and in a true Top Chef Masters twist, all three chefs are named the winners. The critics loved Douglas' Umami Broth, Sue's Crab Beignet and David's Cheesecake Pop.

In the bottom are Jennifer, Neil and Franklin. Neil's Lamb Kofta was too simple and lacked flavor, while Jennifer's Lobster Ravioli featured thick, tough pasta and very little actual lobster. Franklin's chocolate-lacking donut was the real miss. Considering Lindsay spoke with the chefs during the brainstorming session and waxed poetic about Curtis' love affair with chocolate, it's inexcusable that Franklin delivered a dessert that was not dripping with chocolate.

Apparently, the critics felt the same and sent him (and his knives) packing.

Sorry, Franklin. This not only means you got sent home, but it also means that you're going to miss out on next week's fun: Restaurant Wars!!
 

Tags: Top Chef Masters, Cooking Shows
Sign Up for Weekly Personalized Recipes. FREE!