Top Chef Masters Review: "Asian Night Market"
Emily Caruso | Jelly Toast
We're back with another review of Top Chef Masters. Did you tune in for "Asian Night Market?"
Last week, the fifth season of Top Chef Masters got under way with a solid first episode.
The enormous cast is still going to take a while to whittle down to a manageable size, but this episode was full of interesting twists that all begin during the Battle of the Sous Chefs...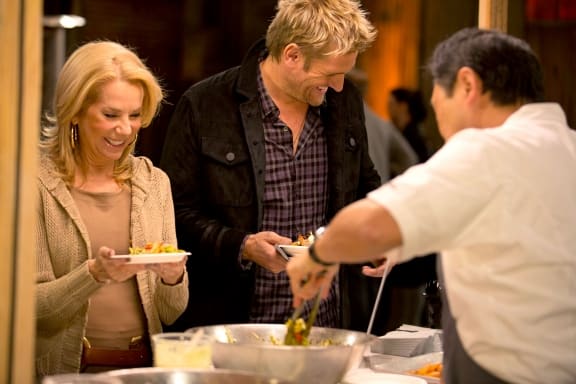 Battle of the Sous Chefs
The contestant get back to basics with a mise en place race. The first sous chef to finish his mise en place wins his chef immunity in the elimination challenge, while the remaining sous chefs set their chefs up for more work in the quick fire challenge.

For a sous chef, these steps of seeding a pomegranate, dicing celery root, cleaning squid and cutting a rack of lamb should be second nature. Some handle it fairly adeptly, moving methodically through the various ingredients, while others get hung on on the first step and barely move onto the second.

Sous chef Greg completely chops into his finger, slowing him and his chef, Richard Sandoval down. This is Greg's second week in the bottom, and I worry this will be his last. Sous Chef Ted flies through the prep work and gives Chef Sang Yoon immunity.

Quick Fire
The Chefs must pick up where their sous chef left off, and in the case of Sang Yoon, that means getting right to the cooking. The Chefs have only 30 minutes to complete the (if any) prep work and then cook their dish. The chef on the bottom will be going home.

Chef Sue wins the quick fire with her lovely and perfectly seasoned Seared Lamb Loin, Celery Root Puree, Fennel Pomegranate Slaw & Crispy Calamari. Chef Richard Sandoval and his sous chef, Greg (of the cut finger and slow knife skills) get sent home for a lackluster Lamb Tartare.  Apparently, a slab of uncooked lamb can not be considered a 'tartare' in Gail's book.

Elimination Challenge
For this week's elimination challenge, the chefs must choose a classic American dish and prepare it with an Asian twist. They will be doing their cooking at the 626 Asian Night Market. They will be doing their shopping at the 99 Ranch Market, which just makes this a bit confusing. Either way, the shopping session is tense, with Sang being very scattered in his ideas for his dish, Odette being unsure about cooking Asian style cuisine, and Franklin making a fool of himself by shouting and accusing people of stealing his cart. It turns out he just ran by it several times.

At the 626 Asian Night Market, the chefs get to work preparing their recipes. As the critics roll in, we see that they're also joined by Kathy Lee Gifford, who is guaranteed to make things interesting - even if that 'interesting' is accompanied by a lot of eye rolling. Kathy Lee seems less than impressed by some of the chefs' adventurous fare (namely shrimp heads and chicken hearts) but for the most part, James, Gail, Curtis and tonight's guest critic, Francis Lam, are pleased with the chefs' work.

Critics Table
Chefs Bryan, Douglas and Sang are in the top. Francis was blown away by the complexity of flavor in the broth of Bryan's Gyoza Dumplings, Chicken Feet, Green Daikon, Snap Peas & Floral Herbs, which typically can only be achieved with an extremely long cook time. While James was initially leery about Douglas' Cookies and Cream dish, he changed his tune as soon as he tasted it. He (reluctantly) admitted it was extraordinary.

In the end, it is Sang's Fried Shrimp Head & Poached Tail with Chili Garlic Aioli & Burmese Cabbage Slaw that puts the happiest faces on the critics. The layers of flavors and textures in his slaw, as well as the risky use of the shrimp head couldn't be beat.

Chefs Odette, Jenn and Sue find themselves on the bottom. For all three chefs, this is a drastic change from the top that they found themselves in just last week and during tonight's Quick Fire.

Sue struggled with pushing her Asian Lobster Roll far enough in the Asian direction. Also, both James and Gail chomped down on a fingernail sized piece of lobster shell in their sandwich. Odette's twist on spaghetti and meatballs was partly a success with the critics loving her noodles. They feel differently about her fish 'meatball' and it's off-putting texture.

However, they loved that she used a classic Italian recipe that is quite popular in America as her inspiration. In the end, it was Jenn's Banh Mi with Pork Meatballs, Chili Mayo & Cilantro-Cucumber Salad that the judges found the least appealing. The bread in Jenn's dish killed, or at the very least, covered up the lovely flavors of her meatballs.

This decision to send Jenn home was a bit shocking due to the fact that all of the critics admitted that the flavor's of her meatballs were absolutely spot on. It seems that finding bits of shell the size of a Lee press on nail in an under-seasoned lobster salad, or a poorly textured and seasoned fishball would have been more serious offenses than the soft texture of store bought bread. 

Perhaps it was a trick of editing that made Odette's and Sue's dishes seem worse than they were, or the fact that both Odette and Sue had won challenges so far and the critics weren't ready to see them go. Either way, Jenn and her sous chef, Cory, are out - proving that a bad baguette can send you packing.

Tags: Top Chef Masters, Cooking Shows