Pioneer Woman Review: "Alex's 16th Birthday"
Emily Caruso | Jelly Toast
It's Sweet 16 time on The Pioneer Woman this week. What was made for the occasion? Find out now!
It's a true carb fest on The Pioneer Woman this week because Ree is cooking up a mountain of pasta and sweets for her daughter, Alex's, (surprise) sweet 16 party.
This party is featuring Alex's favorite foods and judging by the menu I think we have a lot in common.
True to form, Ree gets things started with the most important element of the birthday celebration: the dessert. On the menu are Chocolate Chip Caramel Ice Cream Sundaes. No birthday dessert would be complete without 4 sticks of butter - at least in Ree's world.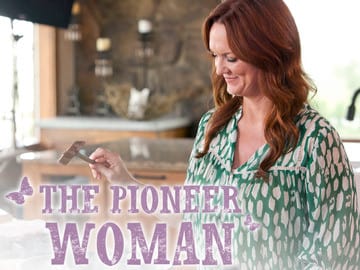 To the butter, Ree adds both brown and white sugar, eggs and vanilla and gives it a mix in her signature orange floral KitchenAid Stand Mixer. In a large bowl, she whisks together flour, salt, baking soda and her secret weapon: instant coffee. The flour mixture gets blended into the butter mixture along with chocolate chips to form the dough for the cookie base of these decadent sundaes.

The dough gets spread onto large, rimmed baking sheets to create one solid sheet of chocolate chip cookie. The cookies get cut into generous squares and topped with ice cream, caramel sauce and whipped cream. Simple and perfectly sweet.

Meanwhile, the rest of the Drummond family is doing their part to get ready for Alex's surprise party. Ladd takes Alex out for some boot shopping and quality and sweet dad/daughter time. While Ree is cooking, Paige, Bryce and Todd are hard at work blowing up balloons, making cards and hanging banners for the big celebration.

It's heart warming to see how much this family sticks together and works to make their sister's birthday special. That dynamic makes this show stand out from other cooking shows.

Back in the kitchen, Ree is mixing up a vat of spaghetti sauce to go with the pasta bar for tonight's party. This hearty sauce starts with onions, garlic and 5 pounds of ground beef. To the beef mixture, she adds crushed tomatoes, tomato paste and an actual jar of good quality pasta sauce. Ree admits that it's cheating a little, but is happy to take the short cut.

I don't know how necessary it is to add that small amount of jarred marinara to all of the other tomatoes, herbs and spices, but I'm not against a small short cut, either. To doctor this sauce up even more, Ree adds salt, pepper, oregano, thyme, bay leaves and 1/2 teaspoon of crushed red pepper. A bit of sugar helps counter act the acidity of all of the tomatoes.

While this meat sauce looks incredibly warm and comforting, Alex's favorite sauce is Alfredo. Ree is pulls together a simple to make Alfredo sauce recipe that starts with butter and heavy cream. To the heated butter and cream, she adds a touch of salt, lots of black pepper, and a large amount of parmesan cheese. I can see why it's Alex's favorite.

Classic red sauce and Alfredo sauce are not all she has on the menu. Ree is also whipping up a light and flavorful pesto recipe. To her blender, she adds basil, parmesan cheese, garlic, pine nuts, salt and pepper. A quick blend and this sauce is ready for some pasta. To add some additional protein to this party, Ree is also grilling up some simple marinated chicken to top the pasta.

Paige is second in command in the kitchen, prepping a variety of different 'fixins' for the pasta bar such as parsley, roasted red peppers, cheese, olives and banana peppers. The pasta bar full of different sauces, pastas and toppings is a clever idea for a casual party and a spin on the traditional salad bar. All of these elements will ensure that each guest will create a truly unique bowl of pasta.

The guests arrive and hide as Alex and Ladd come home. Alex looks truly surprised and even blushes a bit when they all jump out and yell surprise. Her friends and family look thrilled to be part of the big celebration, and at the rate that the food is getting dished out, it seems like they love the idea of a pasta bar. Home run, Ree.

Join us next week when Ree creates a fiesta fest full of Tex-mex recipes!

And remember to visit our section of Pioneer Woman recipes!

Tags: The Pioneer Woman, Cooking Shows, Food Network