Homemade Green Monster Popsicles: Healthy Summer Fun for the Kids
Steph S. | ::steph chows::
Your kids really will love these healthy popsicles. Made with spinach, strawberries and lemon, they're a real treat!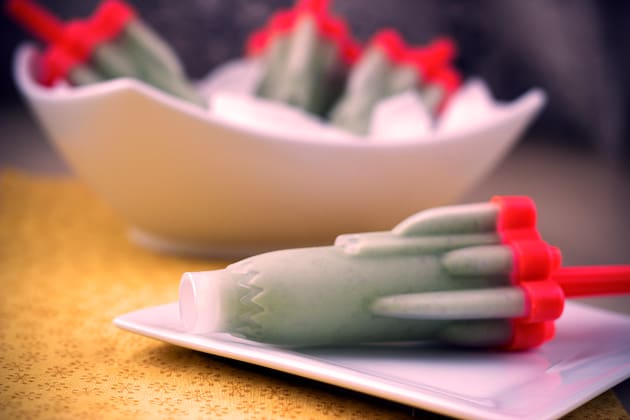 Looking for a kid friendly summer treat that also packs a punch of healthy veggies and some protein? Nope, no one is probably looking for that, but I made these anyway. Kid tested AND approved. Just don't tell them the green comes from spinach, they'll be none the wiser!
If you have little boys running around call these slime pops, or for the girls, call them green fairy pops. Either way, they will be running back for more. Bonus points if you can find some cute retro rocket shaped molds to use.
Serve in a bucket of ice and let the adults in on the fun too, and make enough for everyone. The little bit of half and half helps keep the texture more creamy than icy, and the lemonade powder is a total fresh and summery kick!
If you don't have protein powder laying around, no worries. Just leave it out and add a dash of vanilla extract instead. Don't let it be an excuse to not make these, they are so good!
Scared about the whole field greens and spinach in your ice cream? Seriously, don't be! You don't taste it, all it's doing is adding a little vitamin boost and some awesome all natural color! Now go get making these and bring on summer!!!
Ingredients
1/4 cup Half and Half
3/4 cup Plain Greek Non Fat Yogurt, (1 6 oz cup)
1 cup Spinach, packed
1 scoop Vanilla Protein Powder
1 teaspoon Agave Syrup, or more to taste
1 teaspoon Organic Lemonade Powder, more or less to taste
2 Strawberries
Directions
Stuff the greens into your blender and then top with the half and half and yogurt, take it for a spin to get things moving.
Add the rest of the ingredients and blend until smooth.
Fill popsicle molds, top, and freeze until frozen through.
Notes
If you don't have strawberries on hand, feel free to skip and add more agave. You don't really taste the berries, they are more for the sweetness.
You may use mixed field greens instead of all spinach if you prefer.

Recommended
Tags: Healthy Eating, Healthy, Frozen Treats, Desserts, Spinach, Strawberries, Summer