Food Network Star Review: "Network Pitch"
Stephie Predmore | Stephie Cooks
It was time to make a pitch on Food Network Star. We've rundown the penultimate episode of the latest season.
This week on Food Network Star, the remaining finalists put words to their dreams when they pitched their show ideas to the two most important people at the Food Network. Unfortunately, not everyone got the chance to turn those dreams into reality.

The Remaining 4 Finalists:
Damaris Phillips – 32, Chef instructor from Louisville, Kentucky.
Rodney Henry – 47, Owner of Dangerously Delicious Pies and father of two from Baltimore.
Russell Jackson – 47, Underground supper club owner from San Francisco.
Stacey Poon-Kinney – 34, Restaurant owner and mother from San Diego.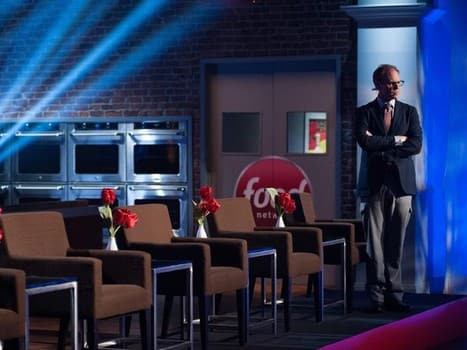 Things really picked up when the mentors informed Damaris, Rodney, Russell and Stacey that they would be pitching their show ideas to Bob Tuschman and Susie Fogelson, arguably the two most influential people at the Food Network.

Given that Bob and Susie have played much bigger roles in the judging of the show in past seasons, it makes sense that they would at least step in now to help determine who will actually make pilots of their shows.

Stacey presented the judging panel with Stacey's Modern Magic. a show that would visit restaurants or families with languishing classic recipes and bring new life to them with some modern twists. I certainly thought this was a more solid pitch than Russell's, but in the end, Stacey's attempt to emotionally connect with her pitch – the thing that she was told to be lacking in previous weeks – came back to bite her.

Going from too rehearsed to too emotional indicates that perhaps Stacey is simply an over-achiever who doesn't know how not to take things too far.

The remaining three finalists got the chance to actually make the pilots of their dream shows with the help of Guy Fieri. Rodney set out to create Pie Style, a dare-based show where he visits restaurants and sets out to make their signature dish into a pie recipe. Rodney may have a big personality (which I personally find to be a bit irritating), but unfortunately I still cannot understand much of what Rodney says. Ever.

He is a chronic mumbler who incessantly babbles, which seems like a tragic television combination to me. Not to mention, that pie he made does not look like anything I would want to make at home, and isn't that really the point of the Food Network?

Russell dreams of creating Guilty Pleasures, in which he will go to a restaurant, take one of their recipes, and, apparently, add bacon or bourbon to it. In his own words, he wants to take something "ordinary and plain and turn it into a culinary delight." My main problem with this concept (aside from the fact that I still don't fully understand it) is that surely it can only go so far. I'm not sure how many restaurants would be willing to have Russell come in and try to add to their "ordinary and plain" menu with a "sinful culinary delight." I do like Russell better than Rodney…but that really isn't say much.

Damaris finally pulled her passion and personality together when she presented the panel with Eat, Date, Love, a show that would aim to show love-struck men how to woo their women with southern food and charm. I love this idea, and I thought her pilot was outstanding. Not only is it fun and warm, thanks to Damaris's sparkling (and quirky) personality, it is something new and different that I think would be a hit with a lot of the Food Network's viewers. Damaris said herself, "Those boys don't stand a chance," and I personally agree.

I'm not telling you who got my vote to win…but I think you probably already know. Make sure you vote for your favorite finalist and tune in next week to see who wins!

And remember to visit our section of Food Network recipes now!

Tags: Food Network Star, Food Network, Cooking Shows